'It's a quicker route but at your peril': the obstacles to walking in Liverpool
"When I'm walking, I do have to go on the road itself because the kerb either has construction, or there just isn't one, or cars tend to take up a lot of space," says Sara Ettamri.
The nursing student is making her regular walk from Everton in Liverpool, where she lives, to Liverpool John Moores University, a journey of about 45 minutes.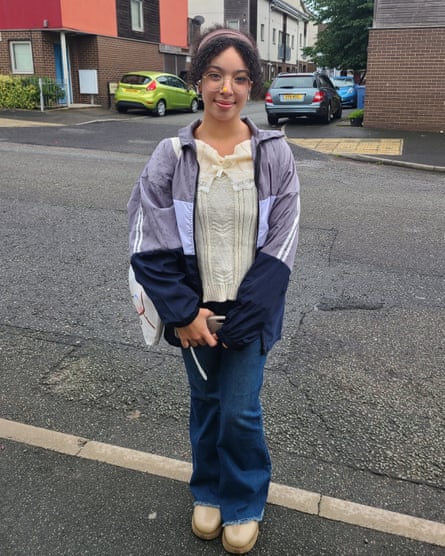 Ettamri says she loves walking for its physical health benefits but finds it impossible to traverse the city without risk.
"I find that most ways to get into town you have to go through some shady alleyways, so it is hard, especially like as a young female, to walk in those areas. And when winter comes around it gets darker and harder to walk around safely so I get a friend to accompany me."
Liverpool Riverside, the constituency that Ettamri makes her way through most days, has been rated the worst for walkways in England and Wales, according to a new report by the walking association Ramblers. Liverpool as a city rates among the bottom five authorities in the study, which looked at more than 140,000 miles of public rights of way.
Riverside is a mixed community, taking in the wealth of the Albert Docks area with its Tate gallery and exhibition centres, city centre shops and cafes, and landmarks such as the Royal Liver Building and Radio City Tower, as well as working-class areas, which have historically suffered from a lack of investment.
It is areas such as Vauxhall, north of the city centre, that the Ramblers report suggests could most benefit from improved public pathways.
"There are potholes all over this road," says Denise McKenna, gesturing to Vauxhall Road, where a few days ago she fell on the kerbside.
The 58-year-old is wearing sunglasses but the yellow-black bruising she sustained in the fall is still visible through them. "The paths aren't that good."
McKenna says there are roads she avoids when walking around the area, either because the pavements are broken or because they are poorly lit, making her worried about crime.
"Round by where the old flyover was, there's an underpass and it's a quicker route [to the city centre] but at your peril."
Dr Morag Rose, a lecturer in human geography at the University of Liverpool, says she is unsurprised by the study's findings.
Her own research, into people's experiences of walking in Liverpool and Manchester, has found numerous "blockages" for pedestrians, especially the visually impaired and those who use wheelchairs or mobility scooters.
She says that as well as the physical condition of pavements, the street furniture of city streets – for example, A-boards placed outside shops or tables blocking pavements outside cafes – can force people to veer out into the roads.
"There's also the kind of wider blockages that are to do with [government] cuts that you might not immediately think of as stopping people from walking, like the lack of public toilets and the need for benches. For a lot of people, if they don't feel able to use the toilet safely then it stops them going out."
Dr Rose was part of a team of academics and artists who studied the benefits that walking during the Covid-19 lockdowns had on people's mental and physical health. Their survey, of about 1,200 people, found regular walking gave people a sense of routine, connected them to their communities, made them see their environments in "new and creative ways" and provided solace and inspiration.
But it also found that women and those from marginalised groups were in some cases suffering significant barriers to walking in urban areas.
"People often feel concerned that they're going to get harassed or not feel welcome, that it doesn't feel like a place for them to walk, and then there are issues that are often not considered when we think about poverty. It's not just about 'is there a path?' It's, 'is there a safe path? Is it well lit? Or does it feel kind of intimidating?'"
Liverpool city council is investing in improving car-free areas around the city and this summer signed off on more than £10m of funding to create permanent cycle paths, repair walkways and create new crossing facilities.
The city can be a fantastic place to walk, says Arron Hart, chair of Fillyaboots, Merseyside's young Ramblers' group, if only you know where to go. The 28-year-old says that walking routes around the city need to be highlighted with better signage and on local websites.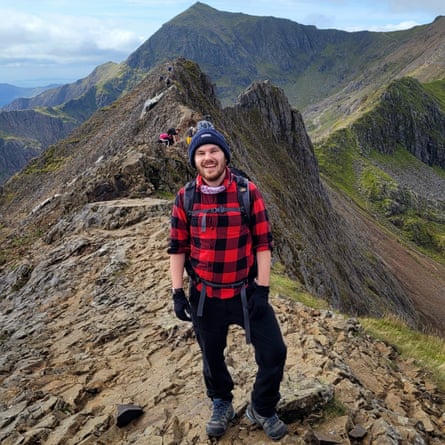 The NHS psychotherapist says joining a walking group seven years ago gave him a "sense of purpose" when he found himself unemployed.
Fillyaboots, which is for people aged 20-30, runs a range of walks for different abilities, from short strolls in the city area to more challenging trips, like the one to Snowdonia that Hart is currently recovering from. "We have a minibus that picks people up in the city who can't drive. It's low cost, so we take people out to the countryside who wouldn't necessarily be able to access [it]." The group pays £3 a month to be part of Ramblers, which Hart points out is "not even the cost of a cup of coffee", with minibus trips capped at £12 for the day.
Hart says walking is a levelling activity. "Because you're all there doing the same thing, it makes making friends and conversation that much easier. It kind of gives you a drive and then before you know it, you can just be chatting away and then 30 minutes have gone by. You'll comment on the landscape. You're looking at the trees. 'Oh, my gosh, we just saw a buzzard! Let's take a moment to reflect on that.'"