Romanian steel: how Theo Dan's grandfather forged his love for rugby | Gerard Meagher
Theo Dan's rapid rise into the England ranks came thanks to a breakthrough season at Saracens – via a stint at Ampthill – but it was forged in Romanian steel. His grandfather, an engineer from Bucharest, was a keen player in his day and built a set of posts for Dan to learn his trade, locking horns with his cousins for days on end in the long summers of his youth.
The 22-year-old speaks Romanian with his parents – who moved to the UK in the late 1990s – with the odd word of English thrown in and he was due to spend another summer in Romania until a call from Steve Borthwick. The England head coach informed him he would be capping a fine season, one that began in the Championship but ended with Saracens' victory in the Premiership final, with a place in England's training squad for the World Cup.
He could have still squeezed in a trip but as he points out: "Every time we go out there, especially in the summertime, you come back two or three kilos heavier and the preseason becomes a bit harder. It's a lot of meat."
Dan, who is in the frame for his second England start at hooker against Chile having made his debut during the warm‑up campaign, says: "My bloodline is from Romania, but I was born in the UK, grew up in the UK, went to school here. I consider myself as English as they come. But at the same time I'm still very proud of my heritage, where my parents are from, as I've got very strong memories and still feel very close to my Romanian side for sure.
"A lot of my family are still back there. As a kid I spent most of, if not all of, my summers back there. I'm still really close with my uncles and aunties who are still there.
"My mum's dad was a massive rugby fan and a player in Romania. He was very insistent and keen and got me and my cousin to try it out as kids. He was an engineer so he took steel beams and installed two rugby posts out in his garden and we would spend days, months, weeks there just kicking the ball around."
Dan dreamed of playing for England since a youngster but had that not materialised he would have had nothing but pride to represent Romania. They are the weakest team currently taking part in France, nothing like their heyday in the 80s, but Dan is forever mindful of his roots. "It was always my dream since I first picked up a rugby ball, to emulate my English heroes," he says.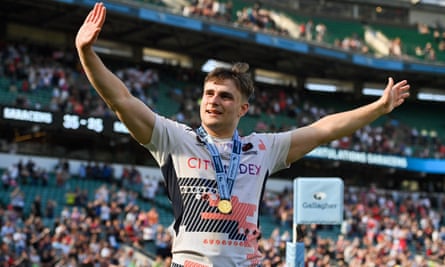 "As you grow a bit older you think that might not be possible. Me playing for Romania would be a complete honour, but the opportunity presented itself when I started playing for Sarries, that I could be getting closer to playing for England, and then it was very much the case of playing for England is all I wanted to do."
By his own admission, that seemed far-fetched as recently as the start of the 2022-23 season when Dan was on loan at Ampthill in the Championship. The Bedfordshire side have enjoyed a meteoric rise of their own – they were playing at the seventh level of English rugby less than 20 years ago – and there remains a community feel to the club. He is one of 16 of the squad to have sampled life in the second tier and he considers his time in the Championship as invaluable.
"It's been crazy to look back on it," Dan says. "To go from 12 months ago playing in the Championship to being at the World Cup, it's been pretty wild. This time last year I was lining up to play for Ampthill on loan. I started the year as fifth or sixth choice at Sarries. It did seem like it was a long way to even play in the Premiership because it was so competitive.
"The journey from the changing rooms to the pitch [at Ampthill] is through a forest. That was definitely an experience. I did nearly a year and a half there. I learned so much from that time in the Championship.
"Whenever you play Jersey, you are coming up against the biggest pack in the league and I got taught a load of lessons there. Especially the first few playing against them, getting drilled in the scrum. You just have to take your medicine and learn from it. Those lessons at the time felt like the end of the world but they put me in good stead now."