Love over money: footballers who have gone home to finish their careers
During his heyday Sergio Ramos would not have won many popularity contests outside his own club's fanbase. As an exponent of the dark arts Ramos was irascible, spiky and often infuriating. His career was littered with various misdemeanours, including 28 red cards, 20 of which he received in La Liga – a record for individual dismissals. However, Ramos's return to his hometown club, Sevilla, has brought the 37-year-old acclaim. At his emotional homecoming he outlined his motivation: "It wasn't a matter of money or a contract but a question of philosophy, mentality and feeling. At Sevilla we come together in these values."
In light of so many high-profile players moving to Saudi Arabia in the last few months, it was refreshing to see someone eschewing the riches on offer to return to the club where it all started. "I have always been moved by impulses and heart, not by money," said Ramos. "That's why I didn't go to Saudi Arabia or MLS. The time to return was now, as I could help the club in a delicate moment. The economic issue has not been a problem – we solved it in five seconds."
Ramos joined Sevilla at the age of seven and spent 11 years at the club before making his debut in 2004. The following season he signed for Real Madrid, where he would win five league titles and four European Cups. After a couple of seasons at Paris Saint-Germain he has returned to Sevilla, 18 years after leaving. Having lifted every trophy on offer – including the World Cup and two European Championships with Spain – Ramos remains ambitious.
Even though Sevilla started the season with three straight defeats – a run they ended on Sunday when he made his debut in a 1-0 win against Las Palmas – Ramos has his eye on more silverware. "I had the opportunity to return home, to do it as a leader with the hope of lifting a title," he said. "I wake up every day for this goal. I believe we can do it. We know it is very difficult, but the first thing we can do is believe in it."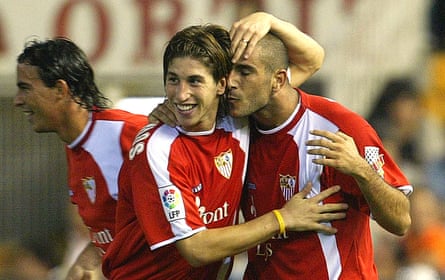 Ramos is the latest in a line of players who have gone back to the club of their youth to bookend their illustrious careers. Carlos Tevez returned to Boca Juniors not once but twice after spending the majority of his career in Europe. Tevez's return was very much like his career: an explosive mixture of controversy and success.
During his second stint in Argentina, Boca won a league and cup double. But, after just 18 months back in Buenos Aires, Tevez joined the plethora of players attracted to China in the mid-2010s. Uninspired by his life in Shanghai – he called it a "holiday" – Tevez made his way home to Boca. As Diego Maradona, who had also returned to Boca at the end of his career, put it: "He went to China, filled up Santa's sack with dollars and came back to Boca. Perfect." Tevez had another glorious spell back at La Bombonera, winning league titles in 2018 and 2020.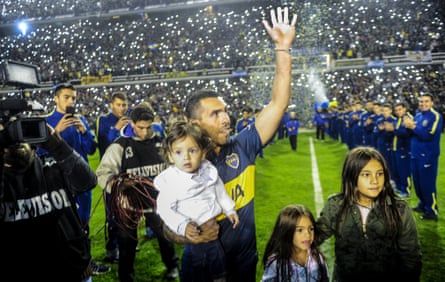 Tevez's fellow Argentina international Ángel Di María decided against the lure of the Saudi league this summer, opting instead to return to his first European club, Benfica, who he first joined in 2007. Benfica won the Portuguese title in 2009-10, his last season, before he went on to play for four of Europe's top clubs: Real Madrid, Manchester United, Juventus and PSG.
At the age of 35, in what is likely to be Di María's last move, he was adamant that money would not be his main motivation. "I had many calls from Saudi Arabia," said Di María. "The numbers they are offering are crazy, but I chose with my heart. I wanted to return to Benfica."
Rui Costa, the Benfica president who started and finished his playing career at the Estádio da Luz, confirmed that finances were the last thing on the player's mind when he signed. "Di María's salary doesn't go over the salary cap," said Costa. "He came without any signing bonus. He didn't want to know what his salary would be. He didn't even ask for another Euro. He just told me: 'I really want to play for Benfica for any Euro you'll give me.'"
Di Mária has been quick out of the blocks in his second spell in Portugal, scoring in five of his six outings so far – including in his first game back, Benfica's victory over Porto in last month's Super Cup.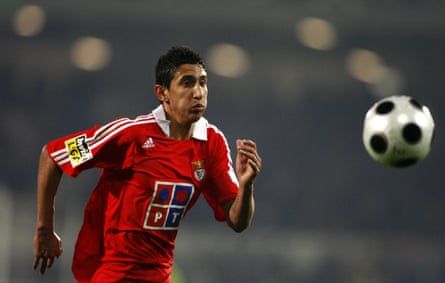 Like Di María, Santi Cazorla was on the move this summer. Having spent the last three years playing in Qatar for Al Sadd, the Spanish midfielder has chosen to travel in the opposite direction to many of his contemporaries. He has returned to Europe and gone back to his hometown club Real Oviedo, some 20 years after leaving.
In recognition of his debt to the club where he started, Cazorla has waived all but 10% of his image rights and that money will go to the club's academy rather than his own pockets. This is not the first time Cazorla has helped the club financially. In 2012, alongside fellow former players Juan Mata and Michu, he bought shares in Oviedo to prevent them from going bankrupt. The club has since climbed back up to the second tier and Cazorla will be hoping he can help them regain their top-flight status, which they relinquished in 2001 when he was playing in their youth team as a 16-year-old.
The Spanish midfielder is being paid the lowest earnings possible. "I didn't come to earn money," he said. "If I could play for free I would, but because of La Liga rules I have to earn a minimum wage. The club made me a fairly acceptable offer, but I rejected it. I came out of excitement and to give everything. It's my club and I want to help. That's why I put in those conditions. They accepted it and helped me make it so it will help the academy and the club.
"When I was a nine-year-old boy I had the dream of playing in my city, with my people and with my family. I had the objective of fulfilling it and it is a challenge that must be accepted. I want to live this experience and be with my people. It was a very easy decision. A lot of people may think I have a lot to lose and nothing to gain, but for me it's the opposite."
As they come towards the end of their careers, Ramos, Di Mária and Cazorla have chosen their new clubs with their hearts rather than their pockets. Ramos might even have gone up in the popularity stakes.