Yet another Bank of England rate rise looks likely – but this may be the last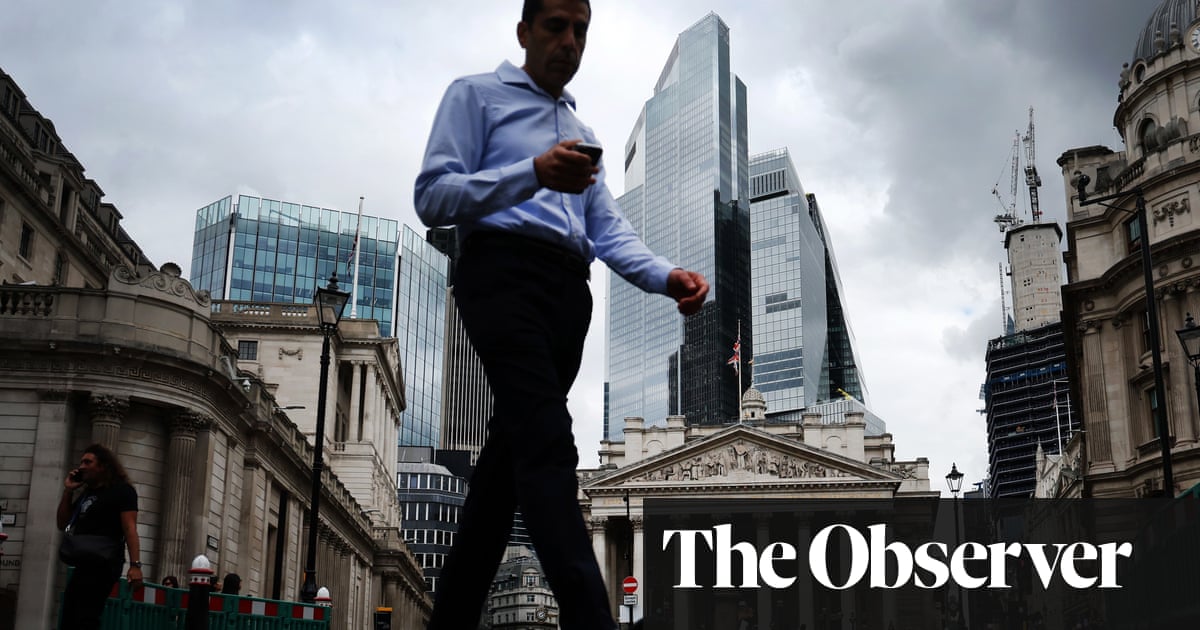 The Bank of England is poised this week to raise interest rates for a 15th time in a row as Threadneedle Street's policymakers continue their prolonged battle to tame inflation.
Despite rising unemployment and sluggish growth, the City believes concerns over pay pressures will persuade a majority of the Bank's nine-strong monetary policy committee (MPC) to push up the official cost of borrowing by another 0.25 percentage points to 5.5%.
An increase in interest rates on Thursday is not nailed on, but comments by MPC members in recent weeks have strongly suggested a continuation of the gradual tightening of policy since December 2021.
Criticised for being slow to respond to inflation after the end of Covid-19 lockdown restrictions, the Bank has been making up for lost time. Not since the then chancellor Nigel Lawson doubled interest rates from about 7.5% to 15% between June 1988 and October 1989 have borrowing costs increased so rapidly.
This week's increase – assuming it materialises – may be the last for now, although the path of interest rates will depend on the economic data. The Bank's governor, Andrew Bailey, told the Commons Treasury committee earlier this month that the peak in rates was approaching.
"I think we are much nearer now to the top of the cycle," he said. "And I'm not therefore saying we're at the top of the cycle, because we've got a meeting to come, but I think we are much nearer to it on interest rates, on the basis of current evidence."
The governor's comments chime with remarks made by the Bank's chief economist, Huw Pill, in Cape Town in August. Pill said the profile for interest rates would be more like the plateau-shaped Table Mountain than the jagged Matterhorn.
Financial markets saw that as a broad hint that rates will not go much higher than their current 5.25% but will then remain at that level until the Bank is convinced inflation is definitely on track to return to the government's 2% target.
One MPC member – Swati Dhingra – thinks rates are already high enough and that further increases will cause needless damage to the economy. Her argument was bolstered by last week's sharp drop in employment by 207,000 in the three months to July and a rise in the jobless rate from 3.8% to 4.3% over the same period.
Hannah Slaughter, senior economist at the Resolution Foundation, said: "Britain saw the biggest employment fall outside of a recession this summer. This is the clearest sign yet the Bank of England's rate rising cycle is starting to cool the jobs market."
But as another MPC member, Catherine Mann, made clear last week, the Bank is still concerned that inflation could prove tough to shift. Mann said she would rather err on the side of overdoing rate rises than living to regret doing too little.
The headline inflation rate, as measured by the consumer prices index, has come down from a peak of 11.1% in October 2022 to 6.8% in July. However, the latest reading covering August, due out on Wednesday, is set to show a slight increase as a result of petrol and diesel price rises. That will not unduly bother the MPC.
Instead, it is looking closely at three measures of underlying price pressure: core inflation (which excludes volatile items such as food and fuel), service-sector inflation, and private-sector regular pay growth. Threadneedle Street thinks all three reflect the strength of domestically generated inflation. At the last count covering July, core inflation was running at 6.9%, service sector inflation at 7.4% and regular private sector earnings growth at 8.1%.
However, as the Bank itself points out, interest rates work with a lag, and the full impact of raising them 14 times has yet to be felt. The labour market is weakening more rapidly than the MPC expected and house prices are falling. So while a 15th successive increase in borrowing costs would come as little surprise, the next move in interest rates after that could well be down rather than up.