The week in TV: Laura Kuenssberg: State of Chaos; My Mum, Your Dad; Wilderness; Welcome to Wrexham – review
Laura Kuenssberg: State of Chaos (BBC Two) | iPlayer
My Mum, Your Dad (ITV/X) | itv.com
Wilderness (Amazon Prime Video)
Welcome to Wrexham (Disney+)
Who could forget the political turbulence after Brexit? Even through my hot, salty remainer tears, I couldn't help noticing that Westminster going into complete meltdown made for riveting television. Now Laura Kuenssberg has produced a three-part BBC Two docuseries covering this tumultuous era: State of Chaos.
As BBC political editor for seven years, Kuenssberg has attracted criticism for being "too close" to the Tories, but is there a sulphurous (and illogical) whiff of sexism about that? As with her weekend politics show, Sunday With Laura Kuenssberg, isn't it her job to form connections with those in power?
It's evident from the start that Kuenssberg has pumped her contacts list hard. While she doesn't appear to have landed interviews with any of the "five prime ministers in six years", the screen churns with Westminster bigwigs (including Philip Hammond, Sajid Javid, Amber Rudd and William Hague), Brexiters (yup, Nigel Farage) and what Kuenssberg calls Westminster's "real cast list": aides – civil servants and advisers who don't usually talk on camera and may feel a strange urge to tell the truth.
Some interviewees have a ties loosened/off-duty look, like they're a few tumblers of plonk in at the office party and ready to vent. Others come across like buck-passing arsonists protesting that the matches provided weren't damp enough to stop them from starting the fires. Others relive their glory days: Jacob Rees-Mogg, the UK's premier Victorian performance artist, carps about "anti-democratic" ploys; Steve Baker smirks about plotting to bring down Theresa May. Nadine Dorries trashes May, like a sly cat delivering a dead mouse as an offering to Boris Johnson.
The second and third episodes cover the pandemic and Johnson's downfall, so start steeling yourself for footage of "bad boy" chief aide Dominic Cummings scuttling around like Gollum styled by Millets. Watching the opener, I kept thinking, why did we let this shower of solipsists and gas lighters anywhere near power? And frankly, State of Chaos's core message (that no one knew what to do about Brexit) is hardly a revelation.
But what gripping television – even with rather too much indulgent footage of Kuenssberg lurking, hovering, snuffling out stories (we get it, Laura: you were there). While obviously Tory-dominated, the newsy pace brings to mind the 2021 docuseries Blair and Brown: The New Labour Revolution. The result is a window into a dark, critical time, featuring key players, many of whom, for their own good, should probably now stop talking.
Davina McCall's new 10-part ITV dating show, My Mum, Your Dad (adapted from a US format), made me realise something fundamental about myself: I'm a complete hypocrite. Hearing about what's been dubbed "middle-aged Love Island", I felt that duty of care should be paramount. These forty- and fiftysomethings, battered and bruised by life, should be treated with compassion.
Now it's here, shown over consecutive week nights, and – voilà! – the mature lonely hearts, residing in a country retreat, are fully clothed and handled with sensitivity. The tone is eHarmony meets Magic FM, and McCall's empathy dial is switched to the max. Wounds and scars (one man lost his beloved wife to cancer) are rightly respected. Even the "twist" (their progeny holed up together, secretly dictating who their parents date) is offset by the kids being absolutely lovely.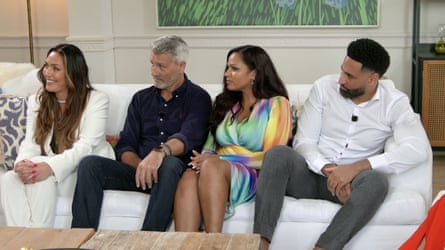 Unfortunately, it's (cough) a little dull. I appreciate I may have dating show burnout: I've been conditioned to expect industrial flirting in swimwear, lashings of fake drama and savage dumpings at fire pits. As the aforementioned hypocrite, I've certainly got a nerve complaining about MMYD being done as respectfully as I hoped it would. Still, there's a limit to watching nice people engage in polite conversation about their "journeys". We were promised "middle-aged Love Island", not TV Horlicks. That said, four episodes in, feelings are growing and a prickle of rivalry is setting in.
On Amazon Prime Video, the six-part Wilderness (based on the novel by BE Jones, scripted by Marnie Dickens) is a glamorous, overblown thriller that thinks it's a long-lost Bette Davis epic. It stars Jenna Coleman as Liv, a wronged wife plagued with bad thoughts about her handsome, cheating husband Will (Oliver Jackson-Cohen).
We know Liv has bad thoughts, because we never stop hearing them, via Coleman's omnipresent anguished (occasionally droning) voiceover. Liv has been devoted to Will, to the chagrin of her embittered mother (Claire Rushbrook). When the couple embark on a relationship-rescue US road trip, Liv starts to consider some very dark options.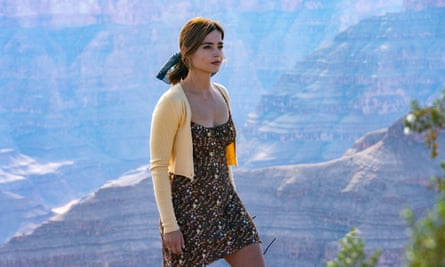 Wilderness seems to allude to the trip, the marriage and Liv's psychological state all at once. Two episodes in, Will is so slimy and awful, you wouldn't judge Liv for giving him a cheeky shove into a handy ravine. The tone is similar to The Undoing or Chloe, but it's scuppered by melodramatic overkill and unlikely coincidences. Subtract the road trip element and Wilderness is a solid posh kitchen island thriller: silly, improbable, but deeply moreish.
The end of the first series of Welcome to Wrexham must have shocked Ryan Reynolds and Rob McElhenney. The Hollywood actors and unlikely purchasers of Wrexham AFC sought to lift the ailing Welsh club out of non-league football – why had this failed to happen in real life? Fire the scriptwriters.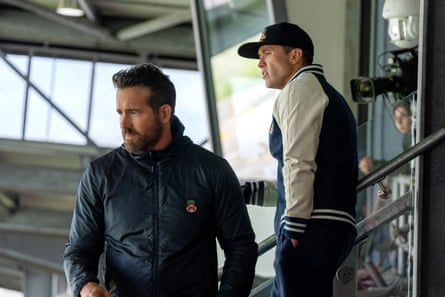 With this second 15-part show, if you're aware of football (or even Google) you know the on-pitch outcome. Elsewhere, it's another deep dive into the lives of players and locals (including a touching look at autism). There's also a visit from Charles and Camilla, an episode about the female team, and glimpses of Reynolds and McElhenney going pale at the cost of replacing stands.
Sometimes there's too much synthetic cooing over how Welcome to Wrexham has boosted the community. As a card-carrying snarky Brit, I object to my buttons being so brazenly pressed. WTW needs to work as a documentary (OK, a football docusoap) and not a soft-focus promotional film. That said, it's still a lovely series, with a big, pumping heart, even if it is floating in glutinous syrup.
Star ratings (out of five)
Laura Kuenssberg: State of Chaos ★★★★
My Mum, Your Dad ★★
Wilderness ★★★
Welcome to Wrexham ★★★
What else I'm watching
The Morning Show
(Apple TV+)
Series three of the glossy drama about a TV network, starring Jennifer Aniston and Reese Witherspoon, and Jon Hamm as a tech zillionaire. Brace yourselves for some disorienting shark jumping (space rocket missions, cyber-attacks) in the opening episodes.
Living Next Door to Putin
(BBC One)
A thought-provoking documentary, in which Katya Adler travels across eastern Europe looking into how the war in Ukraine is affecting people in Russia's other neighbouring countries.
Jamie Cooks the Mediterranean
(Channel 4)
Jamie Oliver's life must be a blur of cooking and filming, but at least the nibbles look decent. In this vibrant new series on traditional and innovative Mediterranean cuisine, he first travels to Greece for a tasty meze of TV delights.