The forgotten Australian hero who saved thousands from the Nazis crimes
A young Australian who joined the French Resistance, worked undercover for British intelligence, and helped to save thousands of lives in war-torn France was guillotined by the Gestapo in 1943 after he was betrayed by a British double agent.
Yet Corporal Bruce Dowding's bravery and ultimate sacrifice have been largely forgotten because France's attempt to award him its highest national honours – the Croix de Guerre and Légion d'honneur – came up against his own country's bureaucracy.
Now Dowding's family are calling for him to receive the honours that he deserves and for Australia to recognise him as one of its heroes, after he aided the escape from France of allied servicemen and Jews fleeing the persecution of the Third Reich.
His nephew, Peter Dowding, told the Observer that the family had been astonished to discover that Australia seemed to object to a foreign government bestowing posthumous honours on an Australian citizen.
"Protocol had required only the approval of the Commonwealth of Australia, but bureaucratic indifference in his home country derailed the process," he said.
"The Australian government inquired whether he had been an Australian serviceman. When they found out he had fought for the British, they just simply responded to the French: 'Well, he wasn't an Australian serviceman.' "
It is only in recent years after archives were opened up that the family have pieced together Dowding's full story. His nephew said: "We just didn't know much of what had happened to him. Suddenly, over the last five or 10 years, archives have made released materials which were never available before."
He will present the evidence in a forthcoming book, co-written with Ken Spillman. Secret Agent, Unsung Hero: The Valour of Bruce Dowding tells the story of a young teacher in Melbourne who took a year off in 1938 to take up a scholarship at the University of Sorbonne in Paris.
He fell in love with France and its culture, refusing to leave even after the start of the war. In a 1938 letter home, he wrote: "Should 'la guerre' break out by any chance while I'm over here in Paris, you would assure everybody that I'd soon get out of harm's way."
While raised as a pacifist, Dowding wanted to support France and so he volunteered as an interpreter with the British army in Boulogne. He was taken prisoner there in 1940, after the Nazis attacked the town. But he escaped by crawling through a sewer beneath the prisoner of war camp.
He managed to reach Vichy France, where he joined the French Resistance. Under the code name André Mason, he helped to smuggle escaped or shot-down allied servicemen out of Nazi-occupied France and on to Spain.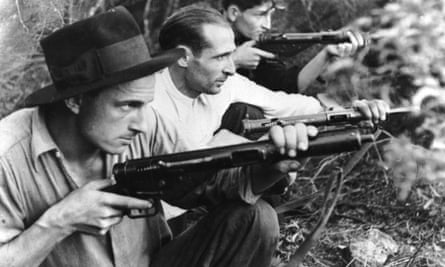 On an escape line supported by MI9 and the Special Operations Executive in London, he helped to move escapers to the foothills of the Pyrenees and others from a safe-house holding area in Lille. Dowding also worked with Varian Fry's celebrated American rescue mission, which saved thousands of Jews.
In the book, his nephew writes: "He had utilised his gifts – intuition, intelligence and a gift for languages – to solve complex logistical problems in a hostile wartime environment."
But Dowding was eventually betrayed by Harold Cole, one of the second world war's most notorious traitors. Arrested by the Gestapo, he was executed by guillotine in Dortmund prison in 1943, shortly after his 29th birthday.
Peter Dowding, a lawyer turned politician who served as the premier of Western Australia at the end of the 1980s, has had little joy persuading his government to give his uncle the prominence he feels he deserves.
Last week the minister for veterans' affairs, Matt Keogh, wrote to Dowding that "it appears the award may not have progressed as Cpl Dowding did not serve in the Second Australian Imperial Force".
He added: "It is the consistently held position of Australian governments that representations are not made to other countries regarding foreign awards for Australians. However, this in no way diminishes Australia's respect and acknowledgment of the important contributions Cpl Dowding made."
Refusing to give up, Peter Dowding said: "I want the Australian government to tell the French it is their error that led to the impasse. I would like to see the French acknowledge we are not asking them to consider an award but to complete the offer they made."
Then he will turn his attention to Britain, he added: "The British gave Bruce a mention in despatches – but before the full details of his service was known."
In his book, he writes: "War is indiscriminate in the way it inflicts pain and suffering …
"Part of life is due remembrance … I remain determined that [Bruce] and the others who died with him – for France, and for freedom – will not be forgotten."