Rick Astley: 'There's definitely something in the idea that music saved my life'
Born in Newton-le-Willows, Lancashire, in 1966, Rick Astley signed a production deal with Stock Aitken Waterman in his late teens, where he also worked as a teaboy and tape operator. His debut single, 1987's Never Gonna Give You Up, got to No 1 in 25 countries, including the US, and later fuelled the internet phenomenon of Rickrolling, where a person is sent a link to its video that first appears to be something else (to date, the video has 1.4bn views on YouTube). Astley became one of the hits of this year's Glastonbury with his self-deprecating Pyramid stage solo show and an afternoon set of Smiths covers with the indie band Blossoms. His ninth studio album, Are We There Yet?, is released next month.
How did you become such a sensation at Glastonbury?
We got very lucky. Half an hour before my Pyramid stage set there was nobody there – my wife and I thought it was going to be a disaster. But my daughter, Emilie, who was steaming my trousers backstage – she doesn't usually, I might add – said: "Dad, go and enjoy it like when you're playing in a pub with the band… Forget about the cameras and everything." And we did. And then there was the Smiths show later with Blossoms, which was bonkers.
People have been surprised that a pop star like you loved the Smiths.
My big brother Mike introduced me to them, and I went a bit nuts about them. The fact they were from my nearby city, where I'd go and buy records, blew my mind – a friend and I stalked [bassist] Andy Rourke around town once, amazed he was real. They still sound so unique, with this very English way of singing that only a few other bands, like Pulp, do well. I couldn't sing about love in anything but a mid-Atlantic twang.
Johnny Marr tweeted criticism of your original Smiths covers shows with Blossoms in 2021. He's since made up with them in person. Have you ever met?
No. We both played Electric Picnic recently and I watched his show – his style of playing and technique is also like nobody else. But I wouldn't talk to him because it's really strange and weird. Really, nobody should cover the Smiths, but all this came from a real love of the songs, and a chat I had with Blossoms, where I said: "In another universe, I'm going to be in a Smiths pub covers band", then them later asking me if I fancied it. And it grew into this mad thing. It turns out lots of people want to go to a full concert of just Smiths songs!
What are your thoughts about Morrissey?
I haven't delved into things he's said – I don't feel that I want to, as I idolised him as a kid. I still have a quiff! Maybe I should own [the controversy around him] a bit more, but I've separated the art from the artist.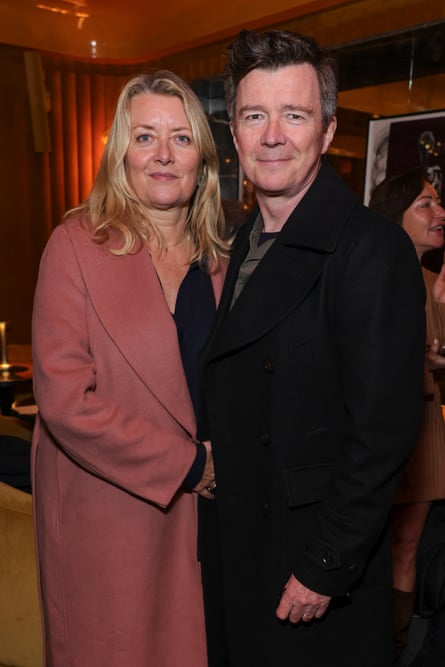 The second song in your Glastonbury solo set, 2016's Keep Singing, talked about your tough childhood [Astley's parents divorced when he was five; he then lived with his father but estranged himself from him as an adult]. How do you handle those memories?
I'm not sure why it came when it did, but that first line – "When I was a boy/ I saw my daddy crying at the steering wheel" – fell out of me. It's a true memory. That was a different era, when boys looked up to their dads as strong, silent types, and it frightened me. Joining a choir, and then teenage bands, got me out of the house, and singing made me feel other emotions, like joy. Some people think it's a bit strong when they hear someone saying music saved my life, but for me there's definitely something in that.
What's the best Rickroll you've seen?
One where they've cut up Barack Obama's speeches to make it look like he's singing the song. Apparently, the staff in the White House Rickrolled each other – and I assume the president is staff? I hope so!
A video of you dancing to Dua Lipa's Don't Start Now while jet-washing your bins went viral during lockdown. Do you have any other hobbies?
I'm a bit of a snob with wine these days. Not super-expensive stuff – only at Christmas or something – but I like a Chilean chardonnay or a posh white burgundy. My Danish friends have this joke where they sniff any wine I've brought and say "buttery", as that's apparently what I do.
Your wife, Lene Bausager, is Danish, and you've been together since 1989. What's the secret of a long relationship?
Respect. I've seen friends who've lost that, and without it you're screwed. Obviously I still fancy Lene, but I think the truth and reality of it is I've got such respect for who she is as a person. Everything else comes second.
What's better about the music industry today?
Hardly any women used to work in live music crews, but we now have a female lighting director, a female guitar tech, female monitors, which is brilliant. It's mind-boggling to think there used to be a time when girls were told: "You can't do those jobs – go to wardrobe, love."
And worse?
The internet can be very brutal for younger artists, but it can also be an amazing tool, where you can post something intimate, from the horse's mouth, without gatekeepers. Then again, I heard Warners are releasing an AI pop singer, so for some kinds of music it's probably already over. But at the end of the day we need to be around human beings. I don't think we'll ever lose that.