England use lucky break to beat Japan but bonus-point win marred by boos
England are taking the concept of "winning ugly" to a whole new level at this World Cup. If there are no marks for artistic impression at major tournaments this was a game which could only be described as "entertainment" by serious masochists and leather-boot manufacturers. Steve Borthwick's side are now effectively into the last eight but the boos which rang around the stadium as the ball was endlessly booted skywards summed up the general mood.
Yes, England will point to the scoreboard which now reads two wins from two games as vindication of their kick-obsessed tactics but anyone who hails the first 65 minutes of this game as a step forward for perceptions of English rugby is kidding themselves. It was fitting in a way that their pivotal second-half try was a comedy of errors, the ball ricocheting off Will Stuart's arm and Joe Marler's head before failing into the path of Courtney Lawes with Japan having stopped playing in anticipation of a knock-on being called.
They did at least perk up towards the end but until Freddie Steward latched on to a well-judged George Ford cross-kick in the 66th minute to score his side's third try it had been a distinctly tough watch. England's tenacity at the breakdown and their scramble defence deserves recognition but compared with Fiji, Portugal and Uruguay, all of whom have made positive impacts in recent days in terms of how they have sought to play the game, it was often like watching a different sport.
It was just as well, then, that they finally managed to cross the tryline four times, with Lewis Ludlam also being rewarded for a typically character-laden display with a first-half score and Joe Marchant rounding things off with a try at the death. George Ford was again heavily involved and contributed 10 points with three conversions and two penalties but, all in all, it was a strictly relative collective achievement.
Japan will also not look back at the tape with much pleasure, particularly their recurring inability to hang on to a greasy ball. They could yet qualify for the quarter-finals but, on this evidence, the chances of them beating both Samoa and Argentina are remote.
Having watched Fiji strike a glorious blow for rugby's so-called underdogs, few expected Japan to back up their own famous World Cup wins over South Africa in 2015 and Ireland and Scotland four years ago. Captain Kazuki Himeno was back in a powerful back-row alongside Michael Leitch and Pieter Labuschagne, with the proven threat of Kotaro Matsushima lurking on the right-wing.
They could only hope England would prove as ruinously divided as the Rugby Football Union currently seems to be. A significant number of council members have now lost faith in the RFU's chairman – Tom Ilube – and the chief executive Bill Sweeney and, regardless of how far England progress at this tournament, are increasingly concerned about the union's governance and financial outlook.
Discord in the boardroom, though, did not stop England responding well in adversity against Argentina and here was an obvious chance to continue that momentum. It had been breezy on the Cote d'Azur during the day, so much so some restaurants in the old town folded away their sun umbrellas as a precaution. In the steep-sided stadium, though, it was humid, warm and still, the sort of conditions which make for a slippery ball and sweaty fingers.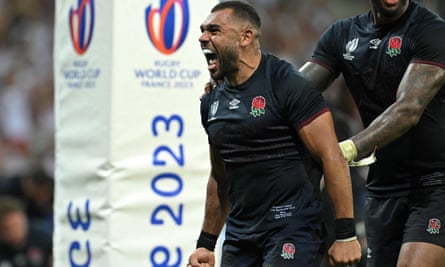 It certainly looked to be a problem for both sides, not least the full-back Semisi Masirewa who contrived to knock on an overhit Elliot Daly kick in his in-goal area and placed his pack under instant, entirely avoidable pressure. It cost a swift three points via Ford's right boot and did not bode at all well from a Japanese perspective.
When Masirewa then hobbled off, his right leg having buckled following a slight push by Ben Earl, it completed one of the less glorious cameos of this tournament to date. Japan needed to start playing at the other end and, when they finally did so, strung together some nice attacking phases which could easily have yielded more than just a penalty for Rikiya Matsuda.
Matsuda also created momentary panic in English ranks when he charged down an attempted Ford clearance, another example of Japan having done their homework. Sticking to an ultra-prescriptive gameplan is all very well but it means the opposition tend to know exactly what is coming.
The Brave Blossoms were also causing problems with little chips over the top and England suddenly found themselves 6-3 behind courtesy of a second Matsuda penalty. They were suitably grateful when another Japan fumble close to their own line presented the ball to Ollie Chessum and supplied the platform for Ludlam to force his way over with 24 minutes gone. Other than that, it was a pretty desperate first half for any neutrals watching. Kicking the ball intelligently and well is a key part of the game. Kicking incessantly without contemplating any other possibilities is the mark of a team with seriously limited horizons. In terms of enriching the soul, a wet week spent sleeping out in an abandoned gasworks would be marginally more uplifting.
When Japan fought their way back to just 13-12 down after 54 minutes through Matsuda's fourth penalty it even seemed faintly possible that England would pay the price for their conservatism. Just as well, then, that Stuart's arm and Marler's cranium manufactured something out of nothing and gave the scoreline a slightly healthier look. If you missed it, though, it's probably better for your blood pressure not to seek out the "highlights".