Thousands lose power as post-tropical cyclone Lee batters New England and Canada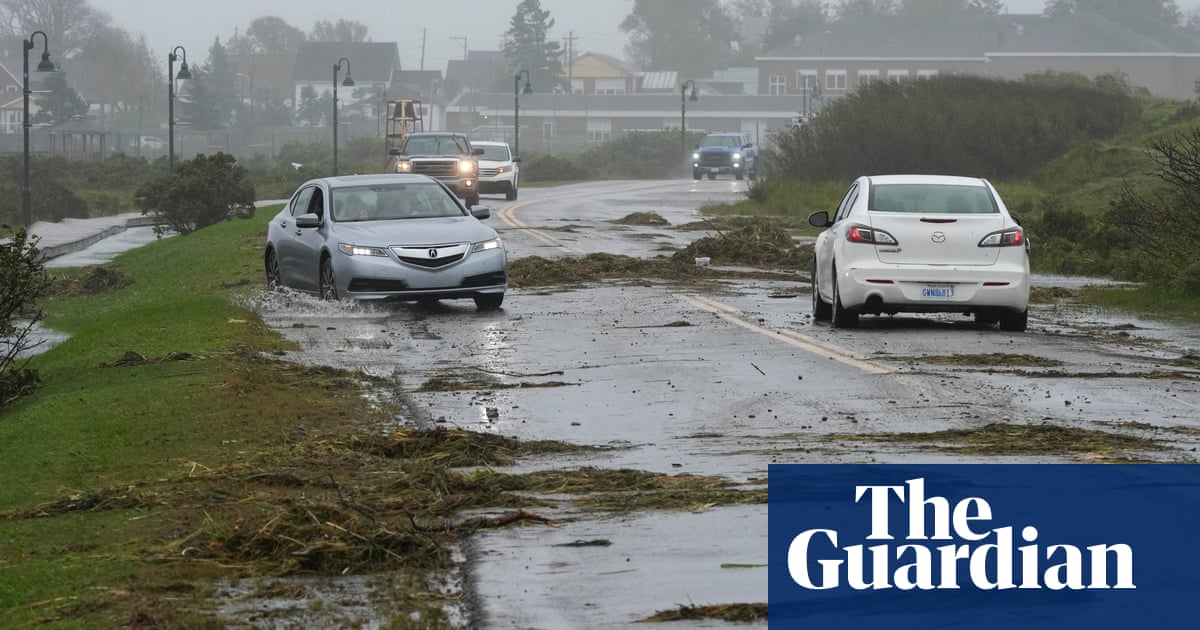 Post-tropical cyclone Lee started to batter New England and eastern Canada with violent winds and relentless rains on Saturday, cutting off electricity to tens of thousands while threatening to bring dangerous flooding on its path toward landfall.
While Lee was downgraded from hurricane status early on Saturday morning, the storm still boasts winds of 80mph, which is the "equivalent" of a category 1 hurricane, the Washington Post reported.
Forecasters issued a tropical storm warning for areas stretching from the New Hampshire-Maine border into Nova Scotia and Prince Edward Island. Meanwhile, New Brunswick and Nova Scotia were under a hurricane watch.
President Joe Biden on Friday declared a state of emergency in Maine as Lee barrelled northward. Maine's governor, Janet Mills, remarked on Friday: "I continue to strongly urge all Maine people, especially those Down East, to take the necessary precautions to stay safe as Hurricane Lee moves closer."
The US's National Hurricane Center (NHC) alerted residents of torrential downpours. "Heavy rainfall from Lee could produce localized urban and small stream flooding in eastern Maine into portions of New Brunswick and Nova Scotia from tonight into Saturday night," the NHC said on Friday.
Meteorologists predict that Lee will make landfall on Saturday afternoon near or east of the US-Canada border, and then curve north-east along Atlantic Canada during the evening into Sunday. Lee – which at one point had achieved the highest intensity classification given to hurricanes, category 5 – battered Bermuda, the Bahamas and the US Virgin Islands with tropical storm conditions before moving northward, according to the Associated Press.
The NHC warned that Lee was poised to cause "life-threatening surf and rip current conditions" – with waves of up to 15ft in some areas of coastal Maine. The conditions threaten erosion in Maine, which is the US's most densely forested state, as the AP noted.
Pam Lovelace, a Halifax, Nova Scotia, councilor reported that coastal roads were flooded and boats were submerged along St Margarets Bay's harbor. The powerful waters come in the wake of extreme flooding this summer.
"People are exhausted," Lovelace reportedly said. "It's so much in such a small time period.
"From a mental health perspective, we're asking people to check in on their neighbors."
The National Weather Service meteorologist Todd Foisy described the ground as saturated, further imperiling trees that had been weakened by summertime rains. "We have a long way to go, and we're already seeing downed trees and power outages," Foisy told the Associated Press.
Officials in Canada have predicted that Lee will not be as damaging as the tail end of Hurricane Fiona in 2021. Fiona's waters washed homes into the Atlantic Ocean and cut off power to most of Nova Scotia and New Brunswick.
The AP said disastrous hurricanes are somewhat of an anomaly this far north. In 1938, the Great New England Hurricane packed winds as high as 186mph – with sustained gusts of 121mph – at the Blue Hill Observatory in Massachusetts.
However, meteorological authorities have described the 2023 Atlantic hurricane season as unprecedented. This summer's uniquely warm sea surface temperatures – caused by the climate crisis – are fertile grounds for tropical storms and hurricanes.
The Associated Press contributed reporting. This is a developing news story and will be updated.