The Guardian view on Starmer's asylum gambit: Labour is putting sense before spectacle | Editorial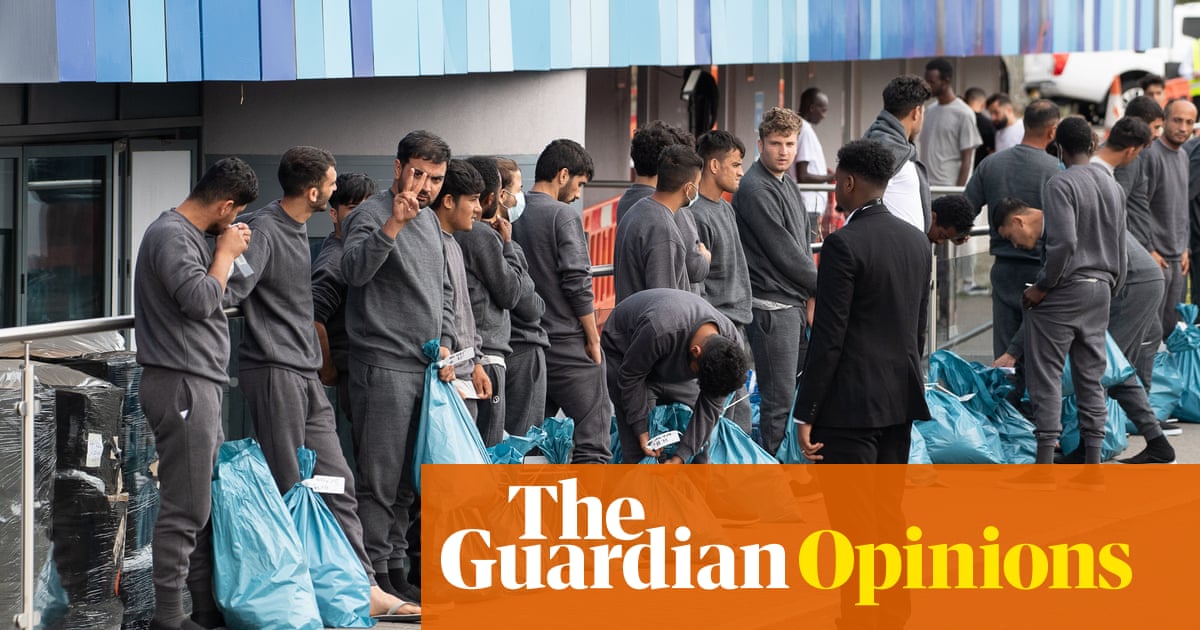 Rishi Sunak wants to send asylum seekers to Rwanda, paying Paul Kagame's government to take them off the UK's hands. Sir Keir Starmer wants a return to a multilateral system, the heart of which would be a restored partnership with the EU.
Labour's newly announced immigration and asylum policy creates a clear dividing line between the two parties. The issue does not have the salience it once did. Public support for reducing immigration has fallen in recent years – from 67% in 2015 to 48% now, according to the thinktank British Future. But inflammatory rhetoric about the rise in small boat crossings has made them a significant issue, particularly for Conservative voters, and the question of how to deal with them is sure to figure in the next election.
Recognising the issue as a challenge, electorally speaking, Labour has gone on the attack. The party knows it doesn't have all the answers. No one does. But by signalling that a future Labour government would be open to joining an EU-wide quota system, in return for a deal on Channel migrants, and insisting on the UK's duty to consider applications, rather than offshore them, Sir Keir has indicated a change of direction. After a series of legal defeats, ministers hope their Rwanda deportation scheme will win the approval of the supreme court next month. Whatever the outcome of the hearing, the public now knows that Labour opposes sending refugees to Rwanda as impractical and inhumane.
In place of the Conservatives' offshoring project, which until recently would have been inconceivable, Labour is offering a return to basics. The commitment to recruit 1,000 new staff to process applications, and to raise their grade (and pay) to guarantee competence, is a solid one. The promise of temporary courts to clear the backlog also sounds good, even if shortages and delays in the legal system will make it hard to deliver. The current situation, in which thousands of people are stuck in limbo, is both cruel and wasteful.
It is far from clear that the EU wants to work with Sir Keir in the way that he hopes. The bloc has its own internal difficulties over quotas to deal with first. But given the scale of the challenge, Labour's pitch for cooperation is well judged. Just over a year ago, Liz Truss said publicly that she was unsure whether President Emmanuel Macron was a "friend or foe" to Britain. Labour's message seems designed to expose such foolish posturing. Even if an EU deal is some way off, it should boost the chances of bilateral cooperation with France.
The pledge to treat people smugglers as terrorists is another matter. Asylum seekers deserve our compassion. The horror unfolding in Libya is a reminder of the kinds of devastation many are fleeing. But Sir Keir's pledge to "smash" the gangs seems little more than an attempt to sound as tough as the government. It should be possible to hold accountable those responsible for unsafe journeys without treating everyone involved in boat crossings as potential terrorists.
In the UK and elsewhere, the humanitarian principles encoded in the 1951 UN convention on refugees are in jeopardy. The Conservatives want the UK to outsource its international obligations and encourage other, much poorer countries to set up markets in asylum. Labour's alternative policy may not be perfect but it is immensely preferable: rebuild the broken system we have here.