Luis Rubiales appears in court and denies sexual assault over World Cup kiss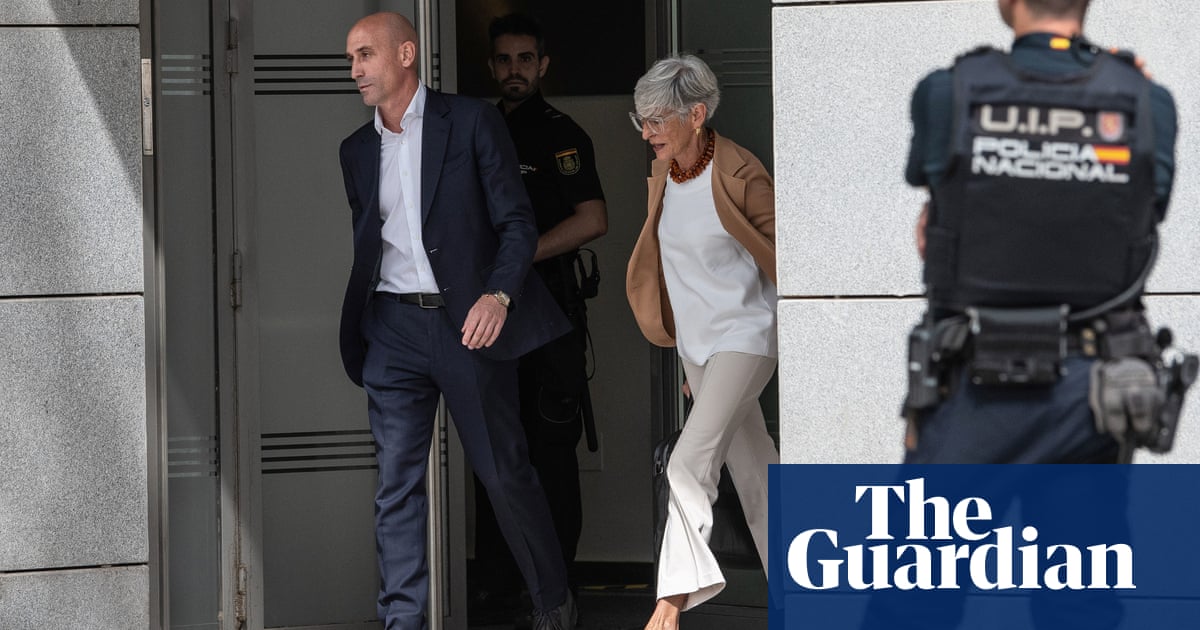 The former Spanish football federation president Luis Rubiales has appeared in court in Madrid, where he denied sexually assaulting the World Cup-winning player Jenni Hermoso by giving her a kiss that prompted a national and international debate on sexism and eventually led him to resign five days ago.
On Friday, state prosecutors asked the investigating judge, who will decide whether to send the case to trial, to consider imposing a restraining order to ensure that Rubiales did not attempt to communicate with Hermoso or come within 500 metres of her. They also submitted a request for Rubiales to appear before a court every 15 days to make sure he would not leave the country.
Rubiales insists the kiss he planted on Hermoso's lips after Spain's women's team won the World Cup last month was consensual.
Hermoso has denied giving her permission and has said the incident left her feeling "vulnerable and a victim of aggression". The midfielder has filed a criminal complaint against Rubiales and state prosecutors have accused him of sexual assault and coercion for allegedly pressuring her to speak out in his defence after his actions prompted a global controversy.
Rubiales, 46, made no comment to the large press pack as he arrived at Spain's highest criminal court, the Audiencia Nacional, on Friday morning. He had been summoned to testify by judge Francisco de Jorge, who is investigating the allegations and will determine whether a trial should be held.
The judge has ordered media groups, including the state broadcaster RTVE, to provide footage of the incident and its aftermath from all angles.
Under new sexual offences legislation introduced last year, the former federation president could face a fine or a prison sentence of up to four years if found guilty of sexual assault.
Hermoso's lawyer, an expert in gender-based violence, said she had also asked the judge to consider precautionary measures in the interests of her client.
"As you can imagine, Jenni is deeply affected by these events – by the humiliating action she endured in the stadium, which has tarnished a sporting landmark," Carla Vall said. "Given that, we ask that the necessary steps are taken to help her get through this process emotionally."
After the hearing, Vall said Hermoso's legal team were satisfied with how it had gone. "We can continue to affirm that the kiss was not consented to, which is what we have said from the very beginning," she said. "Thanks to the [images of the kiss], the entire world, the entire country, has been able to observe there was no type of consent. And we are going to prove that in the courtroom."
Rubiales had initially attempted to brush off the scandal provoked by the kiss after the team's 1-0 victory over England in Sydney. But pressure increased, leading to his provisional suspension by Fifa, and prompting his mother to embark on a hunger strike in protest at what she termed the "inhumane and bloodthirsty" persecution of her son.
On Sunday night, Rubiales released a defiant statement announcing that he had decided to step down as the president of the Royal Spanish Football Federation and as a Uefa vice-president.
"After the rapid suspension by Fifa, and the rest of the proceedings against me, it's clear that I cannot return to my post," he said.
Rubiales said "the powers that be would get in the way of my return", adding: "I don't want Spanish football to be damaged because of a campaign as disproportionate as this one."
He also said he would fight to clear his name. "I believe in the truth and I will do everything in my power to make sure it prevails."
The statement was preceded by a clip from a TV interview with Piers Morgan, in which Rubiales announced he would be stepping down.
He told Morgan: "I cannot continue my work. My father, my daughters, I spoke with them. They know it is not a question about me."
News of Rubiales's resignation was hailed a belated victory for feminism.
Spain's acting equality minister, Irene Montero, greeted the announcement with the two words "Se acabó" – "it's over" – a reference to the #SeAcabó hashtag that had been shared after the kiss and used as rallying cry during Spain's #MeToo moment.
"The transformation and improvement of our lives is inevitable," the acting labour minister and second deputy vice-president, Yolanda Díaz, wrote on social media. "We stand with you Jenni, and with all women."
Spain's World Cup-winning players – who are seeking significant changes to the federation and its leadership – are maintaining their refusal to play for the national team until their demands are met.
On Friday, shortly before Spain's new coach, Montse Tomé, was due to announce her first squad, the federation confirmed the players were continuing their boycott.