Why Pelosi's right about McCarthy's 'incredibly shrinking speakership'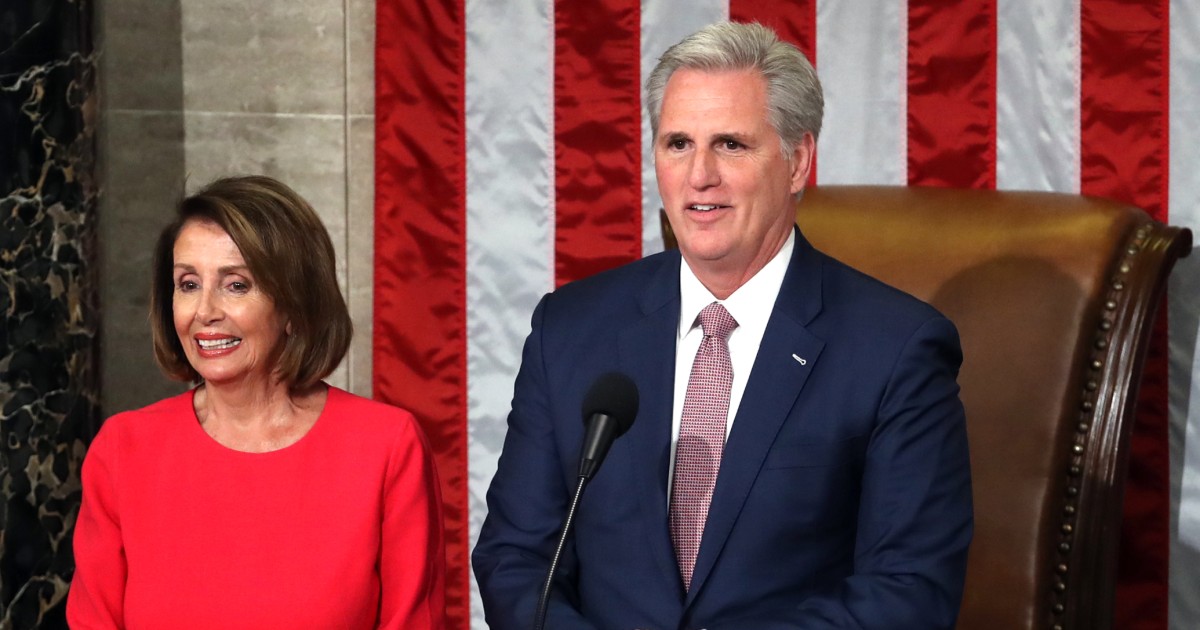 It's not a secret that Rep. Nancy Pelosi holds House Speaker Kevin McCarthy in low regard. It was last fall, for example, when the Democratic speaker emerita said, in reference to her fellow Californian, "I have served under four presidents as speaker or leader. I served with many leaders on the Republican side. Unfortunately, that gentleman is the least substantive person. There is nothing of substance there."
A year earlier, Pelosi was heard describing McCarthy as "a moron."
But the congresswoman's latest criticisms of the GOP leader were qualitatively different. As Politico reported, Pelosi is not taking aim at McCarthy's capacity to do the job she knows quite a bit about.
House Speaker Emerita Nancy Pelosi said on Wednesday that House Speaker Kevin McCarthy's concessions to conservatives on his right flank to win his leadership position have diminished the worth of the position. "I think it's an ever incredibly shrinking speakership," Pelosi told CNN's Anderson Cooper, pointing to the concessions McCarthy made to become speaker.
There's ample evidence to bolster the point.
It was just 24 hours ago, for example, when House Republican leaders began the day with a straightforward plan: GOP members would advance their defense spending bill, as part of a larger effort to prevent a government shutdown in a couple of weeks.
Hours later, that plan collapsed. Far-right members pushed for "unrelated spending concessions," and Democrats wouldn't rescue the bill because they're opposed to many of its key provisions. Left with little choice, the House speaker and his leadership team pulled the bill.
A Politico report summarized the significance of the developments the right way:
To take a step back, this is a pretty dismal position for McCarthy to find himself in. He's not stretching to pass a monumental piece of legislation. This is a routine spending bill — one that is typically the least controversial, seeing as it funds troop salaries and otherwise provides for the national defense. If he can't pass this, what can he pass?
That's a good question for which there is no obvious answer.
What's more, if the conversation were limited to one failed effort to advance a spending bill, it might be easier to shrug off the House speaker's troubles. But by any fair measure, this was just one part of a larger story.
It came against a backdrop of McCarthy launching an evidence-free impeachment inquiry targeting President Joe Biden, which had the inevitable effect of dividing his party further, and reinforced impressions that the House speaker was being pushed around by radicals. What's more, when pressed to explain why he was kicking off the inquiry without an authorization vote, despite committing to the opposite course 11 days earlier, McCarthy simply couldn't think of a defense for his own actions. The Republican didn't want to acknowledge what was plainly true: He simply couldn't secure enough votes from his own members.
Around the same time, the House speaker and his leadership team also abandoned efforts to pass an agriculture funding bill, again due to intra-party divisions.
It's against this backdrop that several of McCarthy's own members are talking about efforts to possibly fire him, and the speaker has no credible plan to avoid a government shutdown on Sept. 30.
Asked for his assessment of where things stand in the chamber, Republican Rep. Mike Simpson of Idaho, who chairs a panel on the House Appropriations Committee, said, "It means we're in trouble." Republican Rep. Steve Womack of Arkansas, who's also on the House Appropriations Committee, added, "We're in a bad spot. We're in a difficult spot."
When House members left Capitol Hill in July for their lengthy summer break, McCarthy was struggling on multiple fronts. Indeed, The New York Times reported on July 27, "House Republicans abandoned efforts to pass a spending bill to fund the Agriculture Department and the F.D.A. on Thursday before heading home for summer break, stymied by internal divisions over funding and social policy that threaten to make it impossible for them to avoid a shutdown in the fall."
That report was published exactly seven weeks ago today. How much has changed in the interim? Effectively nothing.
House Republicans still can't govern, and McCarthy still can't control the floor or his conference. An "incredibly shrinking speakership," indeed.