Retirement announcement brings Romney well wishes – but not from Trump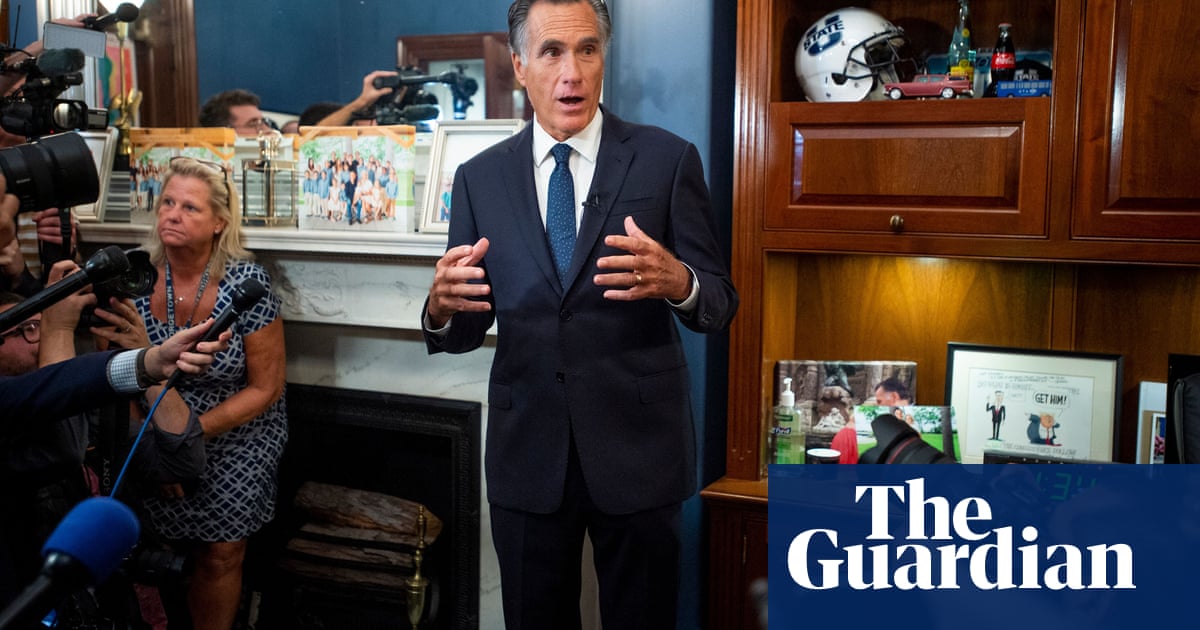 Mitt Romney's long career in politics has taken him from the governor's office in Massachusetts to presidential ballots nationwide in 2012 and finally to the Senate, where he became known as the Republican who stood up to Donald Trump.
On Wednesday, Romney, 76, announced he would not stand for another six-year term as Utah's senator next year, and made no secret that Trump's presence at the heart of Republican politics was a factor in his decision.
"We're probably going to have either Trump or Biden as our next president. And Biden is unable to lead on important matters and Trump is unwilling to lead on important matters," Romney told the Washington Post in an interview.
The announcement attracted well wishes from fellow Republicans and even some Democrats, for whom he had become their chief antagonist in 2012 during his unsuccessful campaign to keep Barack Obama from a second term.
Former Obama White House adviser David Axelrod tweeted that he disagreed with Romney "on some issues but respect him greatly for his courage, decency, long and distinguished service and palpable commitment to our country. He will be greatly missed but his parting message today about passing the torch offers a powerful example".
But Trump, the current frontrunner in the contest for the Republican nomination next year, made clear he was not ready to forgive the only GOP senator who had voted to convict him in both of his impeachment trials.
"FANTASTIC NEWS FOR AMERICA,THE GREAT STATE OF UTAH, & FOR THE REPUBLICAN PARTY", the former president wrote on his Truth Social account after Romney announced his decision, claiming that, as senator, Romney "DID NOT SERVE WITH DISTINCTION".
Romney had also clashed with Utah's other Republican senator, Mike Lee. He did not endorse Romney during his Senate primary in 2018 and last year, Romney did not endorse Lee for another term, even as he publicly pleaded with him to "Please, get on board." The hatchet appeared to be buried on Wednesday afternoon.
"I want to thank [senator Romney] for his many years of public service. I wish him the very best of success in his future endeavors, and I know that his family will enjoy the opportunity to spend more time with him," Lee wrote on Twitter, which was recently renamed to X.
Evan McMullin, the independent candidate who had briefly given the Lee campaign jitters last year but then lost overwhelmingly, was similarly gracious.
"Senator Romney has proven to be one of the great patriots of our time, devoting his life to the preservation of American democracy and our Constitution – not for personal gain, but for true love of country," he tweeted.
In a statement, top Senate Republican Mitch McConnell said the chamber "is known to attract bright and proven public servants. However, we rarely get to welcome new senators already as accomplished and well-regarded as Mitt Romney. The Senate has been fortunate to call our friend from Utah a colleague these past four and a half years, and I am sorry to learn that he will depart our ranks at the end of next year."
Utah's Republican governor, Spencer Cox, wrote on his official X account Romney "has served with distinction at the highest levels of government and we're incredibly grateful for his commitment to this country".
On his personal account, Cox retweeted an excerpt from a forthcoming biography of Romney, published in the Atlantic today, that details how Romney wrote a text message to McConnell on the eve of 6 January, warning him of the threat posed by Trump's most extreme supporters.
"There are calls to burn down your home, Mitch; to smuggle guns into DC, and to storm the Capitol. I hope that sufficient security plans are in place, but I am concerned that the instigator – the President – is the one who commands the reinforcements the DC and Capitol police might require," Romney wrote.
He did not receive a response, according to the biography written by the Atlantic journalist McKay Coppins.