Mother of blood cancer survivor in drive for stem cell donors in England
A campaign to get more people to donate stem cells is taking place across England this weekend, as charities say there is an urgent need to increase the register in the UK.
A network of mothers have teamed up with the blood cancer charity DKMS to raise awareness and encourage more people to register to donate their stem cells at drive-in events on 17 September.
Sarah Cripps, whose son Teddy was diagnosed with acute myeloid leukaemia – an aggressive form of blood cancer – when he was 18 months old, organised the Swab to Save a Child campaign to "give other children the chance to a life".
After filling out a short questionnaire to check eligibility, people between the ages of 17 and 55 are asked to swab their cheeks using a cotton bud. "It's one minute per swab, and with a drying time of two minutes," said Cripps, who has spearheaded the movement. "You will pop them back into your packet, seal it, scan it to link your application with your swab and drive away, knowing that you're a lifesaver in waiting."
Teddy was given a 13% prognosis and needed a bone marrow transplant to survive, which required a donor. His twin brother was not a match, and his parents were unable to donate, so they had to rely on a donor from the stem cell registry.
After an agonising six-week wait on the donor list, Teddy was found a match. He is now almost three, it is a year since his transplant with 97% probability of cure, and he started nursery earlier this month.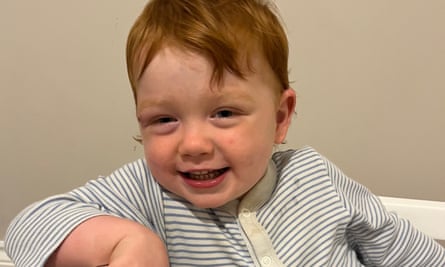 "For the first time, it felt like we could plan for a future," Cripps said. "As a mother, being able to think about his first day of school with his twin, there are no words … it's because he had an amazing donor."
Not all people are as fortunate as Teddy. There are about 2,000 people in the UK waiting for a stem cell transplant, but only 3% of the population are registered as donors.
DKMS's donor recruitment team lead, Hannah Tarrant, said this was because a lot of people did not know that stem cell donation was possible or what it involved.
There are two ways stem cells can be collected. "The first one is a bit like giving blood, and used in 90% of cases. It's called peripheral blood stem cell collection. You have two needles, one in each arm, and your blood is extracted," Tarrant said. It then goes through a machine, where the stem cells are separated off, and then the blood is put back in the other arm.
For five days leading up to donation, people are injected with G-CSF, a glycoprotein that occurs naturally in the body and stimulates the bone marrow to make more stem cells. The procedure itself takes between four and six hours on average, and people can usually go back to work the next day.
The second is a "minimally invasive procedure", where bone marrow is extracted from the pelvic bone under general anaesthetic. "Within a week, at the longest, you're feeling much better and sort of back to normal," Tarrant said.
About 1.3m cases of blood cancer were diagnosed globally in 2020, according to the charity Worldwide Cancer Research. It is the most common type of childhood cancer.
People from minority ethnic backgrounds have a 37% chance of finding a matching donor, compared with 72% for white European backgrounds, so it is important that people from minority ethnic backgrounds donate to diversify the register, Tarrant said.
The events will take place in Basingstoke, Burton, Caddington, Colchester, Crawley, Corby, Crowborough, Croydon, Dunstable, Horsham, Medway, Liverpool, Saffron Walden, Sheffield and Uxbridge.
Cripps said she hoped the campaign would at the very least start conversations about stem cell donation. "It's a mission of mine to not only get people on the drive, but also to get more people talking over their dinner tables, or in pubs about it.
"I hope one day, doctors say when it comes to blood cancers or bone marrow failures, 'you need a bone marrow transplant, but don't worry. In the UK, we've got one of the best registers and there's a 90% chance we'll find you a match', regardless of your ethnicity or background."