K2-18b: the exoplanet that could have signs of life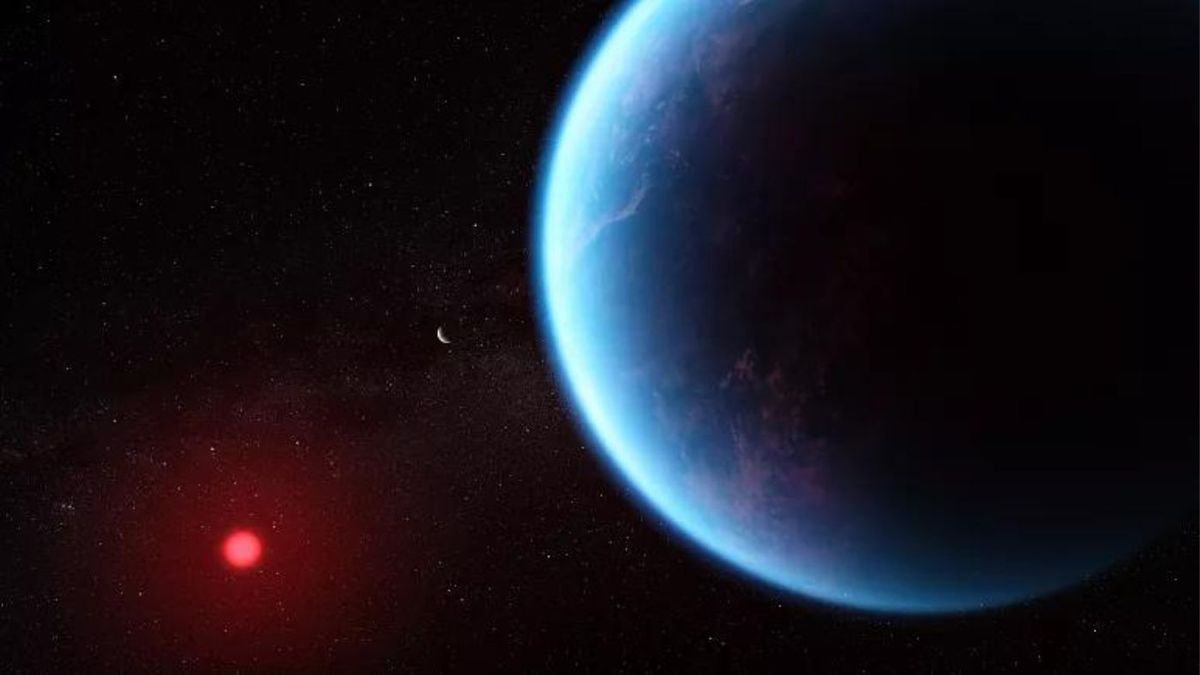 The tantalising prospect that we might not be alone in the universe is a step closer to reality thanks to the discovery of a possible sign of life on a distant planet.
Nasa's James Webb Space Telescope may have found a molecule called dimethyl sulphide (DMS) on a planet called K2-18b. This is significant, the BBC said, because "on Earth, at least, this is only produced by life" – specifically, according to experts, in the form of farts from marine creatures.
Data from the massive telescope also suggests the exoplanet, the name for a planet outside the solar system, may also have a surface covered in water and an atmosphere rich with hydrogen.
Sign up for The Week's Free Newsletters
From our morning news briefing to a weekly Good News Newsletter, get the best of The Week delivered directly to your inbox.
From our morning news briefing to a weekly Good News Newsletter, get the best of The Week delivered directly to your inbox.
Despite the excitement, scientists have stressed that the discoveries on the planet that sits 120 light years away are "not robust" and will require significantly more research to confirm.
What and where is K2-18b?
K2-18b orbits the dwarf star K2-18 in the constellation Leo around 120 light years from Earth.
In size, it sits between Earth and Neptune, but what makes it most interesting to scientists is that it demonstrates traits astronomers refer to as "Hycean" – a combination of hydrogen and ocean. According to Nasa, Hycean planets are good candidates for searching for life beyond Earth.
The star it orbits is much cooler than our Sun but because it sits closer to its star, it is in what is known as the "habitable zone", explained Brad E. Tucker, an astrophysicist at Australian National University, on The Conversation. "This is the area that is not too hot and not too cold, where liquid water can exist (instead of freezing to ice or boiling into steam)".
Is this a sign of life?
For many commentators, the most exciting of the findings was the possible detection of the DMS molecule.
Professor Nikku Madhusudhan, of the University of Cambridge, who led the research, told the BBC that his entire team were "shocked" when they saw the results.
"On Earth, DMS is only produced by life. The bulk of it in Earth's atmosphere is emitted from phytoplankton in marine environments," he said.
Specifically, DMS is created through flatulence from marine life and plankton, said Tucker in The Conversation. "So yes, scientists are excited by the potential idea of alien marine farts."
What next?
The possible observation of DMS on K2-18b "remains preliminary", said Smithsonian magazine.
"Upcoming Webb observations should be able to confirm if [dimethyl sulfide] is indeed present in the atmosphere of K2-18 b at significant levels," Madhusudhan said in Nasa's statement.
And while the new data suggests an ocean of water might sit below the exoplanet's atmosphere, it is still possible that the ocean may be too hot either to be liquid or for life to survive.
Additionally, K2-18b would need to have a rocky surface in order for liquid water to sit on it. "It might have a rocky surface, but it is more likely a giant ball of liquid and gas, like Neptune," Nasa wrote in 2019.
The Cambridge team will now continue to observe K2-18b "as they aim to validate their findings and also gather more intel about the environmental conditions on the exoplanet", said Space.com.
"Our ultimate goal is the identification of life on a habitable exoplanet, which would transform our understanding of our place in the universe," Madhusudhan said. "Our findings are a promising step towards a deeper understanding of Hycean worlds in this quest."