'Joyous': Cornish seed-scattering event begins fightback against habitat loss
It was, all agreed, a heartwarming scene: dozens of smiling children and adults scattering wildflower seed on a Cornish country house estate in the autumn sunshine accompanied by the sound of fiddles.
But there was a serious point to it, too. The event at Lanhydrock, a grand house and estate above the River Fowey, was organised to mark the launch of a three-year project to create 324 hectares (800 acres) of wildflower meadow across Cornwall, part of a fightback against the UK-wide loss of this species-rich habitat.
"It was joyous," said Jon Stewart, the National Trust's general manager for north Cornwall. "We had staff, volunteers, members of the public helping spread the seed. Everyone seemed to have a good time – the sunshine helped."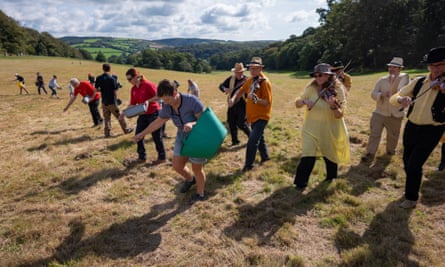 The community fiddle group Bagas Crowd provided the tunes and led the participants in a "serpent dance", a traditional Cornish jig, which helped trample in the seed. "You would normally do it with tractor and roller," said Stewart. "It was nice that human feet did it on this occasion."
An important element of the project is that rather than buying seed, the trust is carefully harvesting it from other sites. It is a potentially cheaper method but also more sustainable. In turn, the meadows that are planted now will, hopefully, become donor sites for others in the future.
Sites where meadows are to be planted include the cliffs around Tintagel, the Lizard peninsula and Penwith.
On Wednesday, oxeye daisy, betony and black knapweed seeds were among those sown. Another seed that will be important to the project is yellow rattle, a semi-parasitic plant that feeds off the nutrients in the roots of nearby grasses, allowing more delicate, traditional species to push their way through.
The daisies and yellow rattle should appear next year at Lanhydrock, with other species blooming in years two and three.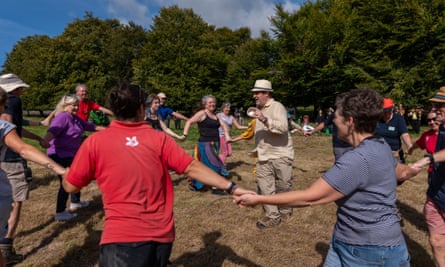 About 97% of UK wildflower meadows have disappeared since the second world war, mainly because of the intensification of farming.
The project hopes to continue to get people involved in the planting. "It's a lovely way of connecting people with nature," said Stewart. "Perhaps they'll go back in a year or two and see what they've helped create. It's such a positive experience being in a beautiful flowering space with lots of insects and birds.
"Because of the humongous decline in species-rich grassland, a lot of people alive today have never experienced it. We've become acclimatised to what we have, not knowing there is something better out there. Projects like this can help us appreciate the environments we could have and, perhaps, deserve."