How we met: 'I told him to come to mine, because I'm classy like that'
When Ellie started taking photos of her children at their local rugby club in Perth, it wasn't long before someone spotted her talent. "I was asked to take official pictures for the club, featuring some of the senior players," she says. "It was a new hobby, but it was really nice to be asked to help out." Having split up with her husband the previous year, she was taking time to focus on her interests, her job as a nurse and, most importantly, her two children, who were then aged six and seven.
In March 2022 she was approached by Bryan, one of the senior players, at the rugby club. "I had my camera out and he asked me to take a picture of him and his dad," she says. The pair exchanged Facebook details so she could send him the snap. "I sent it with the message 'pleasure treasure x'. I always add kisses so I didn't think anything of it."
Bryan admits it sparked his interest. "I started noticing her more and more at the club," he says. "She was always really happy and I thought she seemed pretty cool."
That August, one of Bryan's teammates had a fancy-dress 21st birthday party, and Ellie was invited to take pictures. "I was dressed as Queenie Goldstein from Fantastic Beasts and Where to Find Them. Bryan was Elton John." Later in the evening, he asked her to grab a drink with him outside. "We had this really in-depth conversation about ethics and values in rugby," he says. Despite their age gap, they discovered they had lots of similar life experiences, including both having had gastric bypass surgery. "At the time, I'd also just had surgery to remove my excess skin and had some complications," says Ellie. "I wasn't feeling my best."
At the end of the night he kissed her "on the side of her mouth" and later sent her a text message to say it was "one of the greatest conversations" he'd ever had. They agreed to go for dinner, but then they saw each other at a party at the rugby club. Ellie had to leave early to take her mum to the airport. "At about 1.30am, Bryan texted me to say he was also going home. I told him to come to mine instead, because I'm classy like that," she laughs.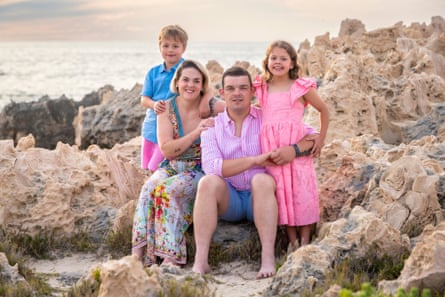 When he arrived, they had a long chat about her situation and priorities. "I told him that my children come first, and he completely understood. He was so accepting and there was no pressure," she says. Bryan was happy she was honest from the outset. "I had a lot of strong feelings for Ellie," he says. "I just really wanted to give things a go between us."
They shared a kiss that night and since then have barely spent a day apart. "We have slotted into each other's lives really easily – it's like two pieces of a jigsaw coming together," says Ellie.
As well as sharing the same sense of humour, Bryan says they bonded over their struggles with weight loss. "I used to hide from mirrors and cameras, but my life has changed so much. It's not just about the weight-loss surgery – it's about changing your whole mindset."
The pair moved in together at the end of 2022, and Ellie has encouraged her partner to find a career he loves. "I'm now a quality assurance manager for a cheese company, but I would never have taken that leap of faith without her," he says. "Before that I was a forklift driver in a warehouse and didn't really enjoy my job."
They both feel lucky to have met each other. "When Bryan and I crossed paths, I felt more confident and knew what I wanted from my life," says Ellie. "He's so incredibly generous with the children, too, both through time and affection. He leaves me a note every day just to say how much he loves me."
While they come from very different backgrounds, Bryan knows that, whatever happens, they can always talk about anything. "Ellie went to university and travelled the world; I came from a home where we were just about getting by. But I see how she makes so many sacrifices to make sure the kids get everything they need, just like my mum did when I was young. I also really love the appreciation she shows for me."