Football Daily | Roy Keane's punditry may well be the only Irish representation at Euro 2024
THE BOSSMAN RULE
For those not paying attention, September's international break was a bloodthirsty one. The welcome sight of Rudi Völler in Germany's dugout, hair thinned and greyed yet still resplendent, was a marker of Hansi Flick's unceremonious binning. The face on Joshua Kimmich, unused sub as Rudi's boys beat France in Tuesday's friendly, suggested Herr Flick was not the only one carrying blame. Anyone desperate enough – it was international week and Top Boy was only six episodes – to watch Amazon's All Or Nothing series on Germany's demise in Qatar would recognise Kimmich as someone whose strong opinions rarely stay secret, a Lothar Matthäus without the chops, if you will.
Poland also gave Fernando Santos the push after a not untalented group of players played dull football during his short spell. Anyone who watched Santos's 109 games in charge of Portugal, even allowing for winning Euro 2016 and that time he dropped Cristiano Ronaldo and beat Switzerland 6-1, could not be surprised. Still, Poland can reach Euro 2024 through the complicated Nations League-related backdoor process that perhaps only FPL legend Magnus Carlsen and members of the coefficient mafia are across – unlike Ireland who, according to Football Daily's dusty slide rule and unless a mathematical miracle descends, will be represented solely by Roy Keane's punditry. Stephen Kenny, the Bossman Steo himself, has not yet joined Flick and Santos in walking through the Do One door, though the corridor beckons after defeats to France and the Netherlands made it four qualifying losses from five.
At Thursday's FAI media briefing, chief suit Jonathan Hill roared: "We want to qualify for major tournaments, the public want it, the FAI want it and football in Ireland needs it." That Kenny failed to qualify Ireland for Euro Not 2020 – when brought in for the playoffs – the Human Rights World Cup and, in all likelihood, Germany next year rather suggests his fate is sealed. However, Hill instead announced Kenny would remain in charge for the last three games and November's friendly against New Zealand, after which his position will be reviewed. That the last such FAI review binned off Vera Pauw, despite getting Ireland to a first Women's World Cup, further points to an extended Bossman's holiday. Should any backdoor playoff opportunity present itself next March, it's unlikely Kenny would be handed it.
Shorn of Evan Ferguson, whose knee-knack is said to be sufficiently cured for him to play for Brighton against Manchester United this weekend, he had little hope against Europe's big hitters in the week's qualifiers. It's just that Ireland, barring a couple of flashes, have rarely looked like getting anywhere desirable under his management. Kenny, the self-made football progressive, has often worn repeated disappointment with the face of someone accused of a crime he didn't commit. So who will be next in? Smart-ish money is on 40-capped former Thomas Gravesen impersonator Lee Carsley, who led, er, England to Euro Under-21 glory in July.
QUOTE OF THE DAY
"I've seen some of the replies that have come into Jill. 'Get back in the kitchen', 'Stick to the game you know, love', that type of condescending, ignorant tweet … there's no doubt that in football, women who have an opinion on men's football basically get told to go back in their box" – Gary Neville explains what happened when he and Jill Scott swapped social media disgrace accounts.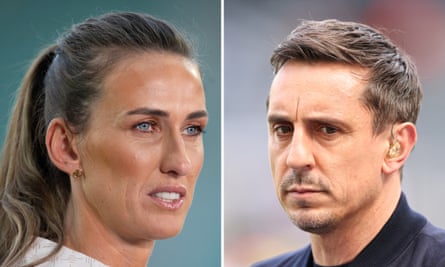 Not wishing to be churlish, but I think it might be machine guns that would mow morale-sapped troops down (yesterday's Football Daily). I think it is fair to say that heavy artillery would be responsible for obliterating defensive positions and other strategically important targets. Just saying" – Russell Pulford.
The Football Weekly Book is out on pre-order but the letter o' the day is still prizeless? Might your investigative journos see if they could be connected somehow?" – Robert Macmillan [watch this space – Football Daily Ed].
Send your letters to the.boss@theguardian.com. Today's winner of our prizeless letter o' the day is … Rollover.
RECOMMENDED LISTENING
The Football Weekly Extra pod picks over Manchester United's perma-crisis and the return of the Premier League.