'Sea is constantly dumping bodies': fears Libya flood death toll may hit 20,000
International aid is slowly starting to reach the devastated port city of Derna as an inquest starts into how as many as 20,000 people might have perished when Storm Daniel hit the northern coast of Libya on Saturday night.
Ten thousand people had been declared missing by official aid agencies such as the Libyan Red Crescent, but the new, ominous higher estimate of 20,000 deaths came from the director of Al-Bayda Medical Center, Abdul Rahim Maziq.
Corpses still litter the street, and drinkable water is in short supply. Whole families have been wiped out by the storm and with the remoteness of some villages and the rudimentary nature of municipal government, it will take time for the death toll to be confirmed.
But the scale of devastation appeared even worse than officials had initially predicted. The "sea is constantly dumping dozens of bodies", said Hichem Abu Chkiouat, the minister of civil aviation in the administration that runs eastern Libya, adding that reconstruction would cost billions of dollars.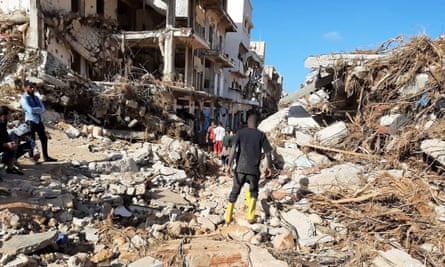 The International Organization for Migration (IOM) in Libya said on Wednesday that at least 30,000 individuals were displaced in Derna, the town most affected by storm Daniel. IOM added that 6,085 were known to have been displaced in other storm-hit areas including Benghazi, with the number of deaths still unverified.
Such was the need to bury the bodies to avoid the spread of disease that hundreds were being buried collectively in one grave. Derna residents have also been pleading for a new field hospital as the two existing hospitals in the town have become makeshift morgues.
Sea patrols were working along the coast trying to locate washed-up bodies, many of which were being taken to Tobruk for potential identification.
Food and drinking water were in short supply and authorities were struggling to fully reinstate the internet. A technical committee for assessing the damages, formed by the roads and bridges authority, announced that the extent of the collapsed road network in Derna was estimated at 30km (20 miles). The area devastated by the floods covered 90 hectares (220 acres) and five bridges had been wiped out.
Aid agencies have been battling to reach the town of just over 100,000 people. Hampered by the destruction of roads, helicopters were required, mainly provided by Egypt.
Aid is arriving from countries historically linked to Libya including Turkey, the United Arab Emirates and Egypt, where three days of mourning were declared. Help in the form of trucks and doctors is being sent from the west. .
The country has been politically divided for years. But the impression remains that the international emergency aid operation has been slow to spring into action with attention focused on the earthquake in Morocco, and experts taking time to realise the scale of the disaster.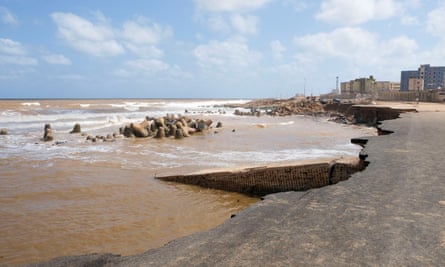 France was sending a field hospital and about 50 military and civilian personnel able to treat about 500 people a day, Paris said on Tuesday.
Political infighting in Libya has already started on how Derna was so exposed to the damage caused by Storm Daniel. Musa al-Koni, a member of the Libyan presidential council, said "it had not been expected that this hurricane would be this strong and destructive to this extent, especially since the country had not witnessed such devastating storms before".
Speaking on the Libya Al Ahrar channel, he said: "We dealt with the crisis without plans, and it is clear to the public what happened. We want everything to be done to the maximum and fastest, and now we do not have time to blame each other, and we must work as much as we can. None of us were exposed to what our people were exposed to in Derna, and it is natural for us to blame our institutions."
Maj Gen Ahmed al-Mismari, a spokesperson for the Libyan National Army, which dominates in the east, said its units acted within the first hours of the storm's arrival and carried out their duty to the fullest extent.
He said: "The Libyan people are patient and believe in fate and destiny, and what happened is God's destiny, and we do not hold anyone responsible at all, and we console ourselves, the Libyans, and Muslims with this number, which is likely to increase in the coming days, but people must adhere to the instructions issued."
Listing all the roads that had been closed, he added: "All the bridges in Derna had been vulnerable to these floods, and this created a challenge as all transportation routes were closed to us. We tried to find alternative routes, and every soldier must reach the citizen whatever the problem or dilemma was facing him."
He said Libyans were welcoming displaced families, and hotels and schools had been opened to provide accommodation as development agencies provided cover, medicines and humanitarian services amid the ongoing search and rescue mission.
He said support was arriving by air and sea but added that there were people south of the Green Mountain about which little had been heard.