From Starstruck to The Bear: why are text messages on TV so impossible to read?
It was when I was crouched on all fours in front of my television, squinting at the screen with my head tilted, that I realised TV might have a texting problem.
My partner and I were bingeing the new season of Rose Matafeo's BBC romcom Starstruck – a solid four stars from us – but on-off lovers Jessie and Tom would insist on playing out their situationship via text. We kept having to rewind, freeze-frame and approach the screen to read them. OK, we are "of a certain age", but I shudder to imagine how the properly elderly or vision-impaired coped.
It's not just a Starstruck issue. Texts between Carmy and Sydney in The Bear were often blink-and-you'll-miss-'em. Viewers complained about unreadable texts during BBC divorce drama The Split and ITV police procedural The Bay. It has become a regular grumble with soaps, as viewers get a couple of seconds to decipher some tiny letters on a pixellated screen.
Text messages can make for killer drama. Who can forget Roman Roy's misdialled dick pic in Succession or The Caddy's "Urgent exit required" in Line of Duty? How about Bad Sisters' JP tricking Ursula into sexting him over the family's Easter dinner table? Or Happy Valley's mighty Catherine Cawood receiving that "TLR dead. Hospital just rang" message at her daughter's graveside? When they're a vital plot point, viewers need to be able to read them.
There's always "the Sherlock solution". Steven Moffat and Mark Gatiss's 21st-century reboot of the Baker Street sleuth devised a method as elegant as Benedict Cumberbatch's swishy Belstaff coat. Rather than having phone screens in shot, text chats (as well as emails and web searches) popped up as overlaid on-screen graphics. It felt fresh, witty, seamlessly contemporary and, crucially, easy to read.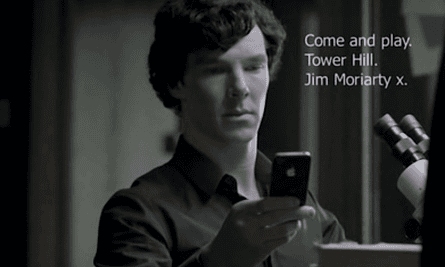 Something similar was adopted by the David Fincher-directed Netflix remake of House of Cards, which used alert sounds and floating text bubbles as Frank Underwood schemed his way to the White House. It was hailed as zeitgeist-capturing and cool-looking. Even little old Hollyoaks has used on-screen text boxes for the past decade. Yet this approach hasn't become standard practice.
Fair enough. Not every showrunner will approve it as a creative choice, perhaps viewing it as too gimmicky or cluttering up the frame. The main alternative – a closeup of a phone screen – is arguably even uglier. Besides, who wants to spend their downtime staring at phone screens on TV when they've been doing that all day?
A decade ago, in romcom The Mindy Project, recipients of Mindy Kaling's texts heard them read aloud in her voice. Cute initially, but soon irritating. In the TV texting annoyance stakes, it was right up there with Love Islanders squawking "I got a text!".
In a way, it was ever thus. Period dramas often use old-fashioned letters to advance the plot. If they're not read aloud by the recipient or heard in voiceover, the audience rely on fleeting glimpses of flowery handwriting to glean vital information. The 90s saw "snail mail" replaced by chat boxes on computer monitors. Now that they're on smartphone screens, the type size is ever-shrinking.
The smaller the screen you're watching on, the harder they become to read. Watching on your mobile, trying to decipher what it says on a phone-within-a-phone, is nigh-on impossible, and precisely nil fun. Current BBC One conman caper The Following Events Are Based on a Pack of Lies gets around this by having its texts in a laughably large font, as does Amazon's upcoming Neighbours reboot.
It's an increasingly common storytelling dilemma. As our lives become ever more digital, how can that be compellingly represented on screen? If it's any consolation, Hollywood movies haven't cracked it either. Recent griefcom Love Again's pivotal texts littered the screen in cheap-looking turquoise speech bubbles, making its Céline Dion appearance seem subtle by comparison.
Don't even get me started on early episodes of beret-clad Netflix confection Emily in Paris, in which characters had no text history whatsoever. Every message had white space above it, rather than a conversation thread – as if it was the first text they'd ever received from their best friend or long-term partner.
Suitably chastened, Emily in Paris later switched to "the Sherlock solution". See also the finale of 2020 series The Undoing, when Hugh Grant sent "Miss you buddy" to his teen son and it appeared to be the first time they'd ever texted. Did it take a murder trial for you to message me, pop? Gee, thanks.
Texting has been part of our daily lives for almost 25 years. Writers can't ignore it as the dominant means of interaction. But directors and broadcasters need to depict it better. Fleeting glimpses of glowing phone screens are too hit-and-miss – the televisual equivalent of nosing over someone's shoulder on the bus. Until they do, I'll see you on hands and knees in front of the telly, trying to work out if that emoji is crossed fingers or a raised one.