Destruction in Derna: how floods ravaged Libyan port city
What do we know about the flooding?
Parts of eastern Libya has been hit by devastating flooding in recent days after storm Daniel pounded the country's Mediterranean coast. As of Tuesday afternoon the toll had been put at 5,200 dead and 8,000 injured or missing, the majority in the port city of Derna, from where apocalyptic footage has emerged of widespread damage:
This footage shows inundated farmland south of the city:
Why was Derna so badly hit?
The city with a population of 90,000 is bisected by the Wadi Derna, a seasonal river that flows from highlands to the south, and normally protected from flooding by dams.
This map and satellite image from before the floods show the topographical landscape south of Derna.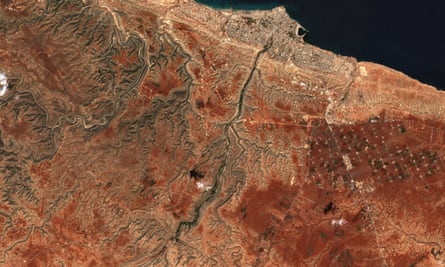 On Sunday night two dams collapsed, unleashing raging waters that swept away residential neighbourhoods on both banks of the river.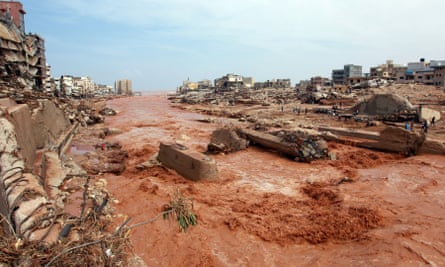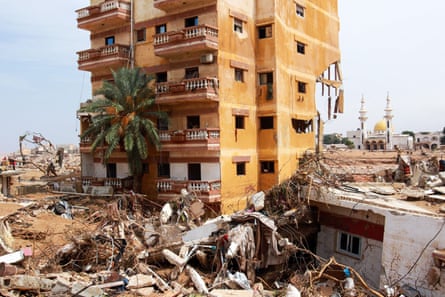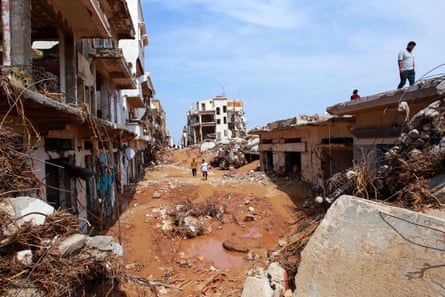 Where else was hit?
Other badly affected areas included the town of Bayda, where about 50 people were reported dead, as well as the towns of Shahatt and Marj, where images from before and after the floods lay bay their extent:
In Susa, about 47 miles west of Derna, footage showed cars piled up on each other:
Is Libya equipped to deal with the devastation?
The collapse of the two dams on Wadi Derna underscored the weakness of Libya's infrastructure after more than a decade of chaos. The oil-rich nation remains divided between two rival administrations: one in the east and one in the west, each backed by different militias and foreign governments.
Which other countries have been affected by Storm Daniel?
The storm killed at least 27 people when it struck parts of Greece, Bulgaria and Turkey last week before moving south.
Footage from Greece showed cars being swept into the sea and sinkholes opening in roads.
Days of torrential rain lashed the centre of the country, triggering landslides and causing widespread destruction: