Sinfield gave England players 'a bit of a rocket' to spark World Cup heroics
Among the more misleading statistics from the opening weekend of the World Cup is that England missed 23 tackles against Argentina. That is just four fewer than in their dismal defeat by Fiji in their previous outing but whereas defensively they were dreadful against the Pacific Islanders, last weekend Steve Borthwick's side, reduced to 14 for the most part, were inspired.
What changed in the space of two weeks? The defence coach Kevin Sinfield gave the players "a bit of a rocket" according to Freddie Steward and it seems clear that reading the riot act had the desired effect. If tackles were missed, the intent was evident from the first whistle.
Tom Curry was clearly fired up for his first England appearance under Steve Borthwick and paid the price for an overzealous tackle inside three minutes. But even before that, Ben Earl had set the tone with a fizzing tackle, Courtney Lawes was soon thundering out of the line while Manu Tuilagi blasted Santiago Chocobares into next week in the second half. It was the kind of performance that made you wonder if England's ears were still ringing. "We got a bit of a rocket after that [Fiji] game," revealed Steward. "There were no complaints about that, it needed to happen. We had a very thorough review, which we needed, and I think we reaped the benefits out there [against Argentina]. That was necessary for that to happen.
"He motivates us so much and he's the sort of bloke you don't want to let down. When you go out there, part of it is you do it for him. You don't want to see a guy like that, who puts his heart and soul into us in his work with his defence, feel let down."
Before Saturday's victory, Sinfield's impact on England had been less than apparent. Thirty tries conceded in nine matches, the capitulation against France in the Six Nations and a collective body language that suggested the players would rather be anywhere else all combined to suggest that his methods were not working.
But much like in the second Test of the 2016 tour of Australia, when Paul Gustard was defence coach, or against Ireland in 2020 when John Mitchell was in role, or the Wallabies again last summer in Sydney under Anthony Seibold, this was a statement performance for Sinfield.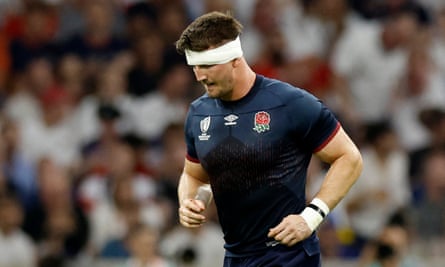 "There were a fair amount to fix weren't there," said Sinfield. "It was more a general team meeting that we held. The big message was we have to be better. We're not showing what we're doing in training, it's not transferring. The boys have been excellent. I've really enjoyed working with them, but we'd not seen the transfer. Thankfully we started to see some of that on Saturday. I am pleased but I'm also really disappointed with that final passage. I'd have loved to keep them to zero tries. To do that against a world class team like Argentina would have sent a message out. It shows we've still got plenty left to do. We saw a fight, a spirit and attitude that the people at home supporting us and in the ground would have loved to have seen and for us as coaches that is particularly pleasing, we know we need to be better."
Japan are England's next opponents, in Nice on Sunday, and are likely to pose a different threat altogether. Like England they endured a difficult buildup to the tournament but Sinfield is wary of the pace they possess in their backline. "They are a big ball movement team," he said. "We know they will bring some different challenges with how they move the ball. They have got some big men. They have got some power. They have got some pace, but they are a very skilful team. We know they have some wonderful coaches and have got some players who have been together for some time. The backline has got a load of pace and some threat, Then they have the talisman in Michael Leitch. It will be another challenge for us."