Did Lil Wayne Troll Vice President Kamala Harris in Her Own Backyard?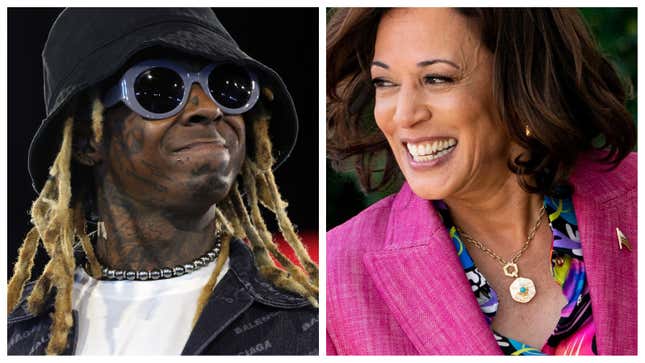 Over the weekend, Vice President Kamala Harris threw a big backyard bash of sorts in honor of hip-hop's 50 anniversary. With acts like Common, Jeezy, Remy Ma and more in tow to perform—the event was sure to raise the White House roof (I'm so sorry, I know that was cringe.) But out of all the acts, rapper Lil Wayne remains the only one garnering the most attention.
Jon Basíl Tequila Is Not Your Average Spirit & It's Co-founder Adamant About That | Securing the Bag: Part 1
Why? It's mostly due to the fact that footage of the night shows him performing his 2008 hit "Mrs. Officer" in front of the VP and other partygoers. Now, that's all fine and dandy on the surface because, again, the song is one of his biggest hits. But where the immense amount of irony comes into play is the fact that Wayne would have the audacity to perform a song about a female officer when VP Harris herself had been referred to and thought of as "California's Top Cop" during her time as the state attorney general. And not only was she sometimes referred to as a top cop, she's previously come under fire for her controversial reputation back in the 90s and early 2000s for being "tough on crime."
So when you add that reputation, the "Top Cop" nickname, and multiply it by Lil Wayne's audacious song choice—the only thing you can surmise from it all is that the "A Milli" rapper took a page of of the book of petty and decided to troll the VP in her own backyard…literally.
And if I'm honest, I'm having a hard time deciding whether I should be tickled, impressed, or slightly taken aback by it. Maybe the answer will come to me while I watch this clip again. Let us know your thoughts in the comments!