Billy Vunipola set to return for England in World Cup game against Japan
England are ready to welcome Billy Vunipola back for their second World Cup match against Japan on Sunday and potentially offset the loss of Tom Curry, who learns whether he will be suspended following his red card against Argentina on Tuesday.
Vunipola is available to face Japan in Nice having sat out last Saturday's 27-10 victory over Argentina after a red card against Ireland during England's warm-up campaign. Last week Vunipola was seen training on his own, away from the rest of the squad, but the defence coach Kevin Sinfield has confirmed the No 8 is fit for selection.
Like Owen Farrell the week before him – and Curry last Saturday – Vunipola was sent off after a yellow card for a dangerous tackle which was upgraded to red via the bunker review system. Ben Earl impressed against Argentina but if Curry is suspended at Tuesday's disciplinary hearing in Paris he would likely move to openside flanker with Vunipola coming into the side at No 8. Vunipola was the only specialist in this position selected by Steve Borthwick in England's World Cup squad and with the 30-year-old short on game time and his head coach eager to get him up to speed, he is likely to feature against Japan.
"He is a big powerful man, he has got some wonderful leadership qualities which we have seen since he has been back in camp," said Sinfield. "[He's a] fun guy, enjoys his rugby, enjoys his training but I think he is one of those players that lifts people and once he is on the field he gets sevens out of 10 and eights out of 10 out of those people around him. He is going to bring some carry, we have worked hard on his technical skill again and will continue to do that."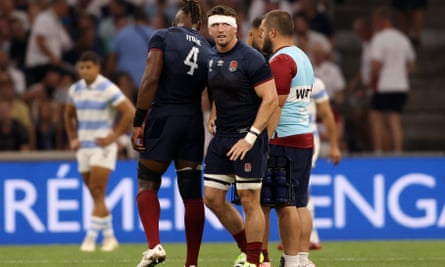 Vunipola missed just two matches – the defeat by Fiji as well as the victory over Argentina – after completing tackle school in order to reduce his ban. With Farrell, Vunipola and Curry all seeing red in the past month, however, Sinfield has conceded that eliminating the jeopardy of red cards is not possible. He added: "People expect it just to be fixed because they have gone through tackle school, as I pointed out last time, just because you do a speed awareness course, doesn't mean you are never going to speed again, so we continue to do that. These guys are humans and will make mistakes and we will continue to mitigate that."
Curry, who was sent off inside three minutes for a head-on-head collision with Juan Cruz Mallía – just as the Argentina full-back had landed after gathering a kick – is facing an entry level ban of six matches if his red card is upheld but can expect that to be reduced to two if he attends tackle school. He may also have reason for optimism after both Jesse Kriel of South Africa and Chile's Martín Sigren avoided citings on Monday for similar, if far from identical, incidents.
While Scotland's head coach, Gregor Townsend, was among those who queried what he called "inconsistencies" in decision making after Kriel's collision with Jack Dempsey, World Rugby is understood to be satisfied that the correct process was followed in all three incidents. Speaking before confirmation that Kriel had avoided a citing, the Springboks director of rugby Rassie Erasmus said: "We are really comfortable; there hasn't been a citing [and] I'm pretty sure there won't be a citing. If it isn't direct head contact – and it wasn't, it was tackled on the ball and then he moved up after tackling on the ball. I've seen a few stills where people just [show] after direct contact to the ball. If you took it a millisecond or a second or two back, you'll see that he clearly tackled on the ball. So we're very happy with how it was refereed."