The Joy and the Shame of Loving Football
This is an edition of The Atlantic Daily, a newsletter that guides you through the biggest stories of the day, helps you discover new ideas, and recommends the best in culture. Sign up for it here.
Welcome back to The Daily's Sunday culture edition, in which one Atlantic writer reveals what's keeping them entertained. Today's special guest is the staff writer and author Mark Leibovich. Mark has recently written about the long-shot presidential candidate who has the White House worried, and how Moneyball broke baseball.
First, here are three Sunday reads from The Atlantic:
---
The Culture Survey: Mark Leibovich
Mark wrote a little introductory note for our newsletter readers, so I'll attach that here before we get to his culture-survey responses:
Okay, I will admit to just rereading a bunch of these recent culture surveys and marveling at how well-read, well-watched, and well-listened some of my Atlantic colleagues are. Intimidating! They set such a high and considered bar. Now allow me to lower it.

In comparison, my tastes are a hodgepodge of high-low delights that I pick up from random films, TV shows, or social-media feeds, which then lead me down various other rabbit holes. In other words, my tastes tend to be a meandering mess, depending on my moods, whereabouts, chemical intakes, endorphin bursts, and general exposures (or maybe I just flatter myself, and some algo-god is reading this from a Menlo Park lair, laughing like hell).

Here's an example from an hour ago: I was driving my daughter to school, hopped up on espressos and flipping around on SiriusXM. Thankfully, Franny (my daughter) shares my quickness to punch the presets, my need for better options at all times, and my jumpy attention span (shorter version: ADHD). I happened to land on the '80s-on-8 station and somehow found myself hooked on a cover of Bruce Springsteen's "Pink Cadillac" by Natalie Cole (!). Who knew that existed? I didn't until this morning, and wouldn't you know it, the song stuck to my predilection lobes like bubble gum. Then, for some reason, the DJ—the former MTV VJ Mark Goodman—felt the need to come on and trash Natalie's effort. Totally bogus, dude. And wrong.

This also reminded me that I once had tea with Nat King Cole's widow, Maria, sometime in the '90s, at the Ritz Carlton in Boston, where she happened to be living. Lovely woman, since departed. I have a cool story about Mrs. Cole too, which I started to tell Franny, but she was by then deep into her phone.

Anyway …
The upcoming event I'm most looking forward to: I'm writing this on the first weekend of the NFL season. There's a reason most of the top-rated television shows every single year are NFL games. America's most successful sports league is such a juggernaut, and I'm definitely part of the problem. Why problem? Because, among other things, football is morally precarious, causes incalculable damage to its players' bodies and brains, and is run and owned by some of the worst people in the world, nearly all of them billionaires.
Even so, I will definitely tune in to a bunch of games this weekend, with generous bowls of Trader Joe's kettle corn and reheated leftover pad thai on my lap. Which is a great segue into …
A favorite story I've read recently in The Atlantic: One of the teams that kicked off the season Thursday night, the young and promising Detroit Lions, is the subject of a great romp by the long-suffering, lionhearted Tim Alberta. The story is packed with poignancy, hitting many levels and themes: futility and resilience, legacies and character, fathers and sons. Also, faith rewarded: Lions 21–Chiefs 20. [Related: The thrill of defeat]
I'm going to cheat and suggest another article from The Atlantic, even though I read an early version and it is not yet online: next month's cover story, by my desk-neighbor and pal Jenisha Watts. I have truly never read a story like this in my life, ever, and can't even begin to describe the wonder of its triumph, or the triumph that is Jenisha, whom I am so proud to know.
The television show that I'm most enjoying right now: Daisy Jones and the Six (on Amazon Prime Video). A total joy. L.A. in the '70s, road trips, and "you regret me, and I regret you" (that's a lyric). Speaking of which …
Best work of nonfiction I've read recently: The Daisy Jones title cut is "Dancing Barefoot," by Patti Smith, which led me to Smith's memoir, Just Kids, which I purchased at my favorite local independent bookstore, Politics and Prose, because screw Amazon, even though it gave us Daisy Jones. (Like football, it's complicated. Or maybe not.)
Aside: Riley Keough, if you or your reps are reading this, I want to interview you. MLeibovich@TheAtlantic.com.
An author I will read anything by: Christopher Buckley. The maestro's been on my mind lately because I just finished Make Russia Great Again, an utterly hilarious Trump-era novel. And yes, there actually is a "Trump-era novel" genre (another pearl being The Captain and the Glory, by Dave Eggers).
I'll also mention that Buckley once reviewed one of my books, and it was pretty much the highlight of my life—and damn right I'm linking to it.
Something I recently rewatched, reread, or otherwise revisited: The Worst Person in the World and Licorice Pizza. These were two of the few movies I've seen in theaters since (or during) the pandemic, both of which I rewatched on a long flight this summer. Each got into my bones, in their own wanderlusting, generationally particular way. The Norwegian film Worst Person is better than anything the Oslo Chamber of Commerce could ever have spawned (salmonlike!). It also led me to Todd Rundgren's glorious song "Healing," which has been feeding my heart ever since.
As for Licorice (again, L.A. in the '70s), the film blissfully reacquainted me with a long-lost friend of a song, "Let Me Roll It," by Paul McCartney and Wings. We've kept in touch since via Spotify, usually while I'm on my stationary bike, which I try to ride every day in an attempt to mitigate the various erosions of being in my 50s. Speaking of aging and life cycles and the transience of it all … [Related: Licorice Pizza is a tragicomic tale of 1970s Hollywood.]
A poem, or line of poetry, that I return to: "Nothing Gold Can Stay," by Robert Frost. The title is also the last line of the poem, and is now the last entry in this scavenging of serendipity. May the golden wisdom of these words stay, eternally.
---
The Week Ahead
A Haunting in Venice, Kenneth Branagh's supernatural mystery film (in select theaters Friday)
The Vaster Wilds, a new novel by Lauren Groff (out Tuesday)
How I Won a Nobel Prize, a novel by Julius Taranto (out Tuesday)
---
Essay
The Album That Made Me a Music Critic
By Spencer Kornhaber
Smash Mouth has long been, as its guitarist, Greg Camp, once said, "a band that you can make fun of." The pop-rock group's signature hit, 1999's "All Star," combines the sounds of DJ scratches, glockenspiel, and a white dude rapping that he "ain't the sharpest tool in the shed." Fashionwise, the band tended to dress for a funky night at the bowling alley. And over nearly three decades, Smash Mouth has remained famous partly because of the flatulent cartoon ogre Shrek.

But the affection Smash Mouth commands is serious—the result of music so simultaneously pleasing and odd that it could rewire a young listener's brain. In fact, the sad news of the death of original front man Steve Harwell at age 56 has me wondering if the band's 1999 album, Astro Lounge, is the reason I'm a music critic. Most people can point to songs that hit them in early adolescence, when their ears were impressionable but their interest in other people's judgment was still, blessedly, undeveloped. Smash Mouth's second album, the one with "All Star," came out when I was 11. Every goofy organ melody is still engraved in my mind, and today, the album holds up as an ingeniously crafted pleasure capsule.
---
More in Culture
---
Catch Up on The Atlantic
---
Photo Album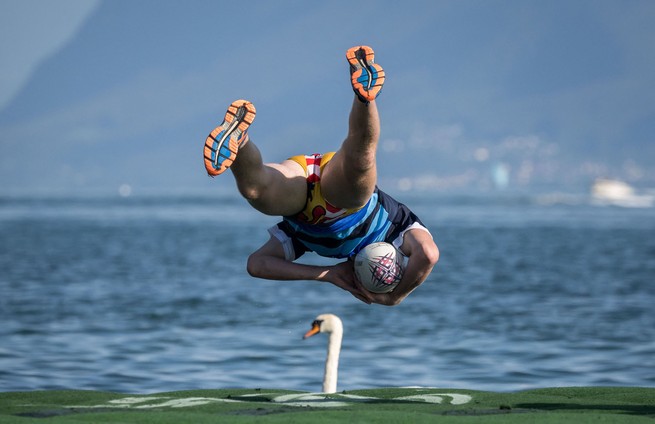 The World Tango Championship in Argentina, a scene from the 80th Venice Film Festival, a cricket game in Afghanistan, and more in our editor's selection of the week's best photos.
---
Isabel Fattal contributed to this newsletter.
Explore all of our newsletters.