Kevin McCarthy faces battle with hard-right Republicans as shutdown looms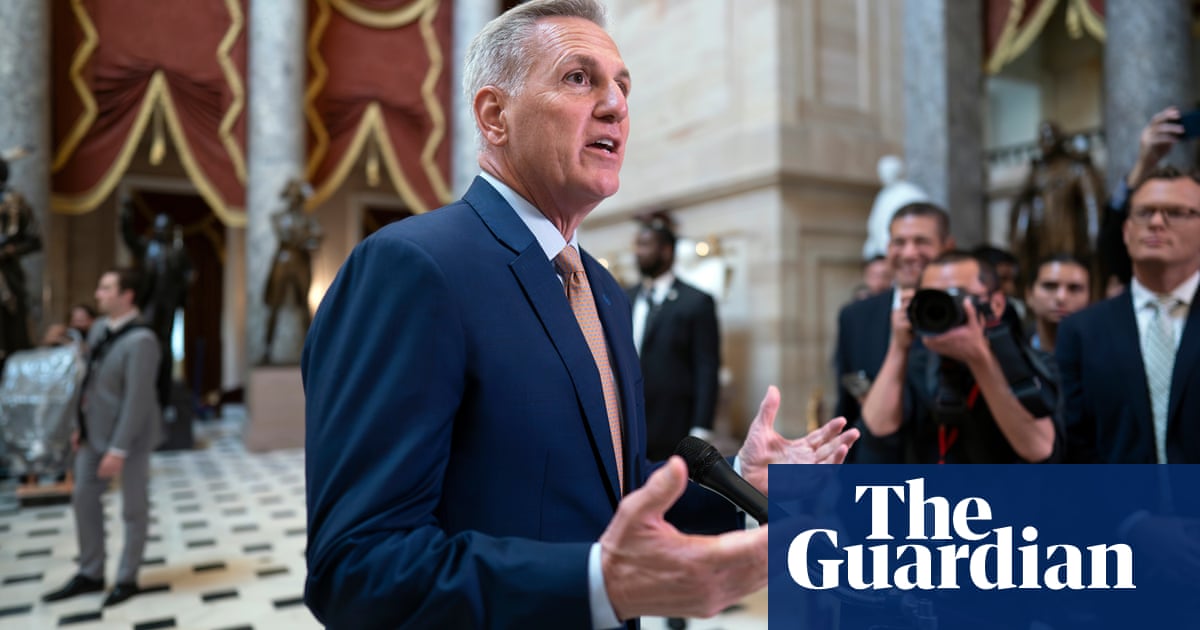 Kevin McCarthy will return from his August recess on Tuesday facing the latest in a long series of conundrums for the Republican House leader: should he force a government shutdown, leaving hundreds of thousands of government workers without a paycheck, or burn more bridges with the hard-right flank of his conference, risking his speakership in the process?
With just 12 legislative days left before the end of the fiscal year, the Republican-controlled House must quickly pass some kind of spending package to keep the federal government open after 30 September. If the chamber does not approve a spending bill, the government will shut down for the first time in nearly five years, furloughing federal employees and stalling many crucial programs.
McCarthy has indicated his preference to pass a continuing resolution, which would keep the government funded at its current levels for a short period of time as lawmakers continue to negotiate over a longer-term deal. But members of the hard-right House freedom caucus, who are still furious over the deal that McCarthy and President Joe Biden struck to suspend the debt ceiling earlier this year, insist they will not back a continuing resolution unless the speaker agrees to several significant policy concessions, such as increased border security and an impeachment inquiry into Biden.
Given House Republicans' narrow majority and a new rule allowing any single member of the chamber to force a vote on removing the speaker, McCarthy's handling of this fraught situation could determine whether he loses his gavel after just eight months in power.
The trouble for McCarthy started in the spring, after the House passed the compromise debt ceiling bill, known as the Fiscal Responsibility Act. Seventy-one members of the House Republican conference opposed the legislation over concerns that it did not go far enough to reduce government spending, and they sharply criticized McCarthy for agreeing to the inadequate deal.
Gordon Gray, vice-president for economic policy at the center-right thinktank American Action Forum, said he had been bracing for a potential shutdown ever since the debt ceiling showdown concluded.
"Since the debt limit grenade was diffused, there's a big chunk of House Republicans who just want to break something," Gray said. "That's just how some of these folks define governing. It's how their constituents define success."
Now House Republicans have reneged on the debt ceiling deal, instead choosing to advance appropriations bills with spending levels below those agreed to in the Fiscal Responsibility Act. Democrats warn that the proposed cuts could deal a devastating financial blow to early education programs, climate initiatives and housing assistance.
"The deal in the Fiscal Responsibility Act was roughly a freeze. It could be worse, but a freeze effectively is a cut in purchasing power because costs go up every year," said David Reich, senior fellow at the left-leaning Center on Budget and Policy Priorities. "So what was agreed to was a reasonably tight level, and now come the House Republicans marking up their bills."
House Republicans' strategy in the spending talks has been met with exasperation in the Senate, which returned from its recess on Tuesday. Before the upper chamber adjourned at the end of July, the Senate appropriations committee advanced all 12 spending bills for fiscal year 2024 with bipartisan support. The Democratic Senate majority leader, Chuck Schumer, has implored the House to take a similar approach to the budget process.
"Both parties, in both chambers, will have to work together if we are to avoid a shutdown," Schumer said on Wednesday in a floor speech. "When the House returns next week, I implore – I implore – my Republican colleagues in the House to recognize that time is short to keep the government open, and the only way to avoid a shutdown is through bipartisanship."
Even the Senate Republican leader, Mitch McConnell, offered a mild rebuke of his colleagues in the House when asked about the spending fight last week.
"Speaker McCarthy agreed to certain spending levels in the debt limit deal he reached with President Biden earlier this year," McConnell said. "The House then turned around and passed spending levels that were below that level. Without saying an opinion about that, that's not going to be replicated in the Senate."
McConnell indicated that the most likely outcome at this point would be the approval of a short-term continuing resolution to buy more time in the budget talks. But members of the House freedom caucus, who abhor the idea of extending funding at levels previously approved by a Democratic Congress, have already outlined a litany of demands in exchange for their support on a continuing resolution.
In a statement released late last month, the caucus said its members would only back a continuing resolution if it included a Republican proposal on border security and addressed "the unprecedented weaponization of the justice department and FBI", an implicit reference to the four criminal cases against Donald Trump. The caucus also demanded an end to the so-called "woke" policies at the department of defense, which has faced rightwing criticism for providing funding to servicemembers and their family members who need to travel to access abortion care.
Hard-right Republicans have now added another item to their list of demands: the launch of an impeachment inquiry against Biden.
"I've already decided I will not vote to fund the government unless we have passed an impeachment inquiry on Joe Biden," Marjorie Taylor Greene, a far-right Republican congresswoman from Georgia, said last week.
Another hard-right House member, Matt Gaetz of Florida, has warned that McCarthy's failure to act on impeaching Biden could cost him his speakership.
"I worked very hard in January to develop a toolkit for House Republicans to use in a productive and positive way. I don't believe we've used those tools as effectively as we should have," Gaetz said on Tuesday. "We've got to seize the initiative. That means forcing votes on impeachment. And if Speaker McCarthy stands in our way, he may not have the job long."
But the possibility of an impeachment inquiry has failed to gain widespread favor among Senate Republicans, several of whom have acknowledged that Greene and her allies have presented no valid evidence of high crimes and misdemeanors on Biden's part.
With the likelihood of a shutdown increasing by the day, the White House has attacked hard-right Republicans' demands as a political stunt that could reap devastating consequences for millions of Americans.
"Lives are at stake across a wide range of urgent, bipartisan priorities for the American people," Andrew Bates, a White House spokesperson, said on Thursday. "Like Senate Republicans, Speaker McCarthy should keep his word about government funding. And he should do so in a way that acts on these pressing issues – including fentanyl, national security and disaster response – rather than break his promise and cave to the most extreme members of his conference agitating for a baseless impeachment stunt and shutdown."
Past shutdowns prove the widespread upheaval caused by lapses in government funding. During the last partial shutdown, which ended in January 2019, roughly 800,000 federal workers went without a paycheck. The Trump administration tried to keep national parks open with limited staff, resulting in damage to the grounds. Loan programs overseen by the Small Business Administration and federally funded research projects were also halted or delayed.
"It's very disruptive. Federal agencies spend a whole lot of time trying to figure out what they're allowed to do and not allowed to do," Reich said. "It's a total waste of effort and energy."
Even though history shows the fallout of government shutdowns, Gray still anticipates a lapse in funding – if not in October then later this year.
"I could envision a brief [continuing resolution] – like two weeks – with some disaster supplemental funding in it," Gray said. "My expectation is that we'll still have a shutdown this fall."