Greek rescuers working through the night to locate villagers trapped by flood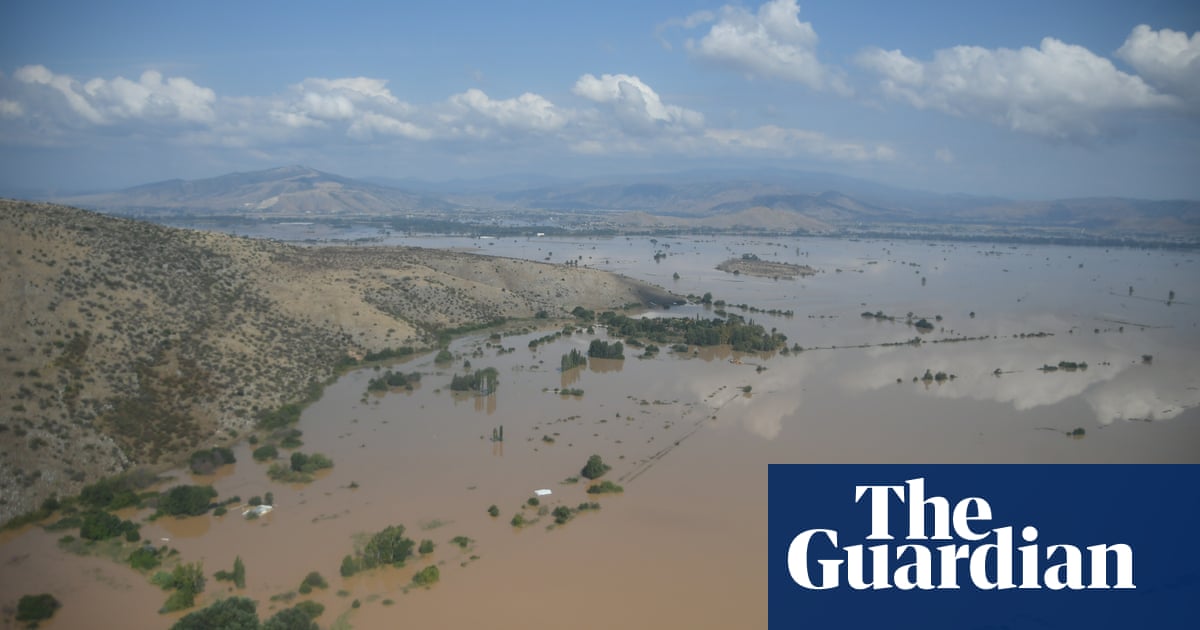 Rescuers in central Greece were working through the night to locate people trapped in villages deluged by flood waters as the death toll from rainstorms rose to 11.
Emergency services, backed by elite commando units and an ever-growing army of volunteers, sought to find hundreds still thought to be marooned in homes five days after downpours, described as the worst in the country's history, struck.
By late Saturday, 48 hours after the rains eased, the operation was still under way with helicopters and rubber boats being deployed to rescue families unable to evacuate in time.
Military personnel waded knee-deep in water, rescuing people from the balconies of homes – others were airlifted from roofs by helicopters.
"Where access isn't easy drones are [being used] to provide food, water and medication," said Ioannis Artopios, a fire department spokesperson, calling the operation "continuous and uninterrupted". Authorities have described several villages in the Pelion peninsula, where tourists were also brought to safety, as being completely cut off.
Throughout the day, a further 767 people had been rescued, the fire service announced, bringing the total number of those saved since Storm Daniel hit Greece, Bulgaria and Turkey on Tuesday to 3,443. Six men and women are missing, according to civil protection officials.
The nation's breadbasket, the once fertile Thessaly plain now lies metres deep under mud and silt, with great swaths resembling a lake.
Flood waters engulfing villages and towns have destroyed almost everything in their path, with roads, bridges, water and electricity supplies, buildings and infrastructure all damaged
Almost no one has been left unaffected with thousands believed to have lost homes, crops, properties and livestock in a region that until recently was one of Greece's richest agricultural hubs. One farmer told state-run TV he had lost "600 sheep and 600 cows, goats, dogs and cats".
"The damage we have all suffered to our homes is irreparable. A lifetime's worth of work [was lost] within two hours," said Haralampos Tsergas, 59, in Palamas, south of Larissa. Much of the town remained under water on Saturday.
Official recording of the destruction – a process that has already begun – is likely to take weeks. In the port city of Volos, where water cuts have been reported since Wednesday, entire streets have been turned into impassable mud-strewn zones, accessible only by bulldozers and tractors.
Visiting the flood-stricken area, the Greek prime minister, Kyriakos Mitsotakis, vowed Friday to "mobilise every European resource" in addition to national funds to facilitate compensation for households.
Experts have warned of a public health emergency – amid a discernible rise of gastroenteritis cases – and urged the government to fast-track distribution of drinking water.
Evacuation orders were also issued for outlying communities close to the city of Larissa as the waters of River Pineios rose dangerously high prompting fears of yet more flooding around one of the nation's largest urban centres.
The third longest river in Greece, parts of the Pineios burst its banks on Friday. By early Sunday, waters were almost 10 metres high. A fire department spokesperson, described the river as posing "great difficulties" for emergency services.