Cardi B And Megan Thee Stallion Twerk It Out In A Colorful Paradise In Their New 'Bongos' Video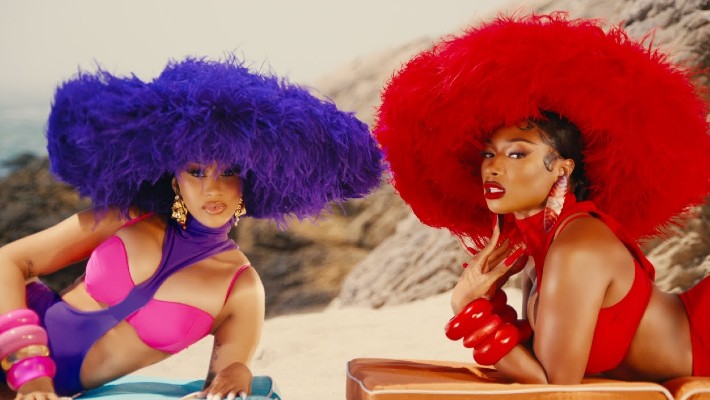 Three years after leaving the world shook with their "WAP" collaboration, Cardi B and Megan Thee Stallion have teamed up for another collab. Their newest single, "Bongos" is a pounding dembow-influenced heater which will surely be in heavy rotation for the foreseeable future.
Cardi opens the song, letting us know right out the gate who's in control. She commands the beat, instructing one of her beholders to "eat this ass like a plum." She continues her raunchy verse, declaring, "p*ssy tight like a nun / Better chew it up like it's gum / Then wipe your mouth when you done."
Reminding us of their musical chemistry as a duo, Meg pops in, putting the clout chasers on notice, letting them know she can't be bothered with the fakes.
"This ass sit like a stallion, all these wannabes my lil ponies / These hoes camped out in the comments, always talkin' like they know me," she raps
The accompanying music video sees Meg and Cardi on a colorful island wearing flashy outfits and twerking to their hearts' content.
You can see the video for "Bongos" above.
Cardi B and Megan Thee Stallion are Warner Music artists. Uproxx is an independent subsidiary of Warner Music Group.