'Ashamed of our presence': Delhi glosses over plight of poor as it rolls out G20 red carpet
The first time that Saroaj Devi heard about the G20 was when tall green walls began to be erected around the slum in Delhi where she lives.
The new barricades, she soon realised, were to hide their impoverished homes from the foreign leaders and dignitaries who will descend on India's capital this weekend for the G20 leaders' summit: part of a £100m facelift that has seen Delhi undergo a glossy upgrade, while its poor communities have been removed from sight and several slums razed.
"They have covered our area so that poor people like us, and poverty in the country, is not witnessed by the people arriving from abroad," says Devi, 50. "When it is election time, every politician comes to see us. They eat with us and make promises. But today, they are ashamed of our presence."
On the outside of the hoardings that now surround their slums, large posters bearing the face of the prime minister, Narendra Modi, have been placed, welcoming the G20 summit delegates who are likely to pass by.
For Devi and others living in Coolie camp in South Delhi, this weekend's political summit will deal a blow not only to their dignity but also to their livelihoods. In a bid to keep security tight and the roads clear as the likes of Joe Biden, Rishi Sunak and Olaf Schultz arrive, a sweeping shutdown has been imposed on the 32 million people living in Delhi. All schools, offices, workplaces, markets, restaurants and non-food shops have been ordered to close for three days, movement on the roads will be restricted, all food deliveries have been banned and people recommended to stay at home.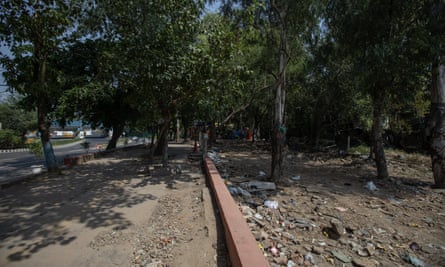 While the Delhi police have made several statements to assure people that this is "not a lockdown", the poorer residents and daily wage earners of the city, many of whom live hand-to-mouth and cannot afford to lose even one day of work, say the impact will be devastating.
"Do we not have to go to work and eat food? Should we die because we are poor?" says Devi, who works as a cleaner earning 3000 rupees (£28) a month but will now have to endure a cut to her pay she can't afford.
"I don't miss any day of work, even when I am sick, only because I cannot afford to lose any money. But what can poor people like me do in these situations? Poor people like us will only curse this event because we are going to suffer and our bellies will be hungry."
Vineet Singh, 35, who runs a small grocery shop in the slum, says the barricades had hidden his business from view and he had to cut a hole in it so customers could enter. His earnings had already plummeted from 1,000 rupees (£10) a day, to just a few hundred rupees. "I have a family to feed," he said. "Who will compensate for my losses?"
In Hafiz Nagar, a slum settlement opposite the gleaming new conference centre where the summit will take place on Saturday and Sunday, residents say they have been stopped from going out by police for days. Mohammad Imran, 45, says he has not been able to work for several days: "We are being treated like insects, not humans."
In recent days, more than 4,000 homeless people, who were living under flyovers and on roads, have been shifted to shelters on the outskirts of Delhi. Harsh Mander, a civil society activist in Delhi, says there has been "a kind of feverish attempt to either expel the poor from the city or to erase them from public view".
"We are the fifth-largest economy in the world, but the reality is that we also have the largest population in the world of people living in poverty," says Mander. "Expelling the large mass of impoverished people from view is an attempt to cast a veil on this other side of economic prosperity, which is extreme inequality."
For roadside vendors, who will bear three days of losses, the shutdown was also particularly galling. Earlier, they had been ordered by the Delhi government to renovate and refurbish their businesses for the G20 summit at their own cost, but now are not able to open shop.
Sunil Sharma, 39, who runs a tea shop near a Delhi metro station, says he had to take out a loan of 50,000 rupees (£500) for repainting and refurbishment after he was ordered to paint his shop saffron. "The authorities want this city to look better by making us suffer," he said. "I am yet to repay that loan. Things appear better from outside now but for us life is becoming more difficult."