Abused, traumatised and powerless: South Korea's teachers on why they are protesting
Park Seo-yoon* says South Korea's teachers know why a young primary school colleague killed herself after being subjected to abuse from parents. "We've all had similar struggles," she says.
"We've all received late-night calls from parents accusing us of disrespecting their precious children because they were disciplined for not participating in class," says the elementary school teacher. "We've had parents yell at us for not providing extra materials to students who didn't bring their own, insisting that students who don't do their homework shouldn't be punished, or complaining about giving three sentences of praise to one student but only two to the other."
Teachers across South Korea have been protesting this week, expressing their growing frustrations over the abusive treatment they say they receive from both parents and students, including being accused of child abuse for disciplining students. They are calling for better protection for themselves.
The teachers' movement was sparked by the death of a 23-year-old elementary school teacher in July. She was found dead at her school in Seoul in an apparent suicide after reportedly expressing anxiety over complaints from abusive parents.
Thousands walked out of their classrooms on Monday to mourn her and other educators who had taken their own lives, and to demand change. The government has promised to "thoroughly take care of" enhancing teachers' rights, but protests are likely to continue until key legal revisions are met, such as the passage of a bill granting teachers immunity from child abuse claims, and their authority is restored. On Friday, news emerged of the suicide of another elementary school teacher, having suffered from malicious complaints from parents in the past, according to a teacher's union.
South Korea's education system is known for its high pressure and hyper-competitiveness. Good grades and prestigious university degrees are regarded as critical for securing stable and well-paying jobs. As a result, students devote a significant amount of energy to university entrance exams, which frequently entail long hours of study as well as substantial financial investment in private academies for extra tuition. Heavy traffic has been banned and even planes grounded at times during parts of the exams to avoid disturbance. Pressured by such expectations, some turn to unruly behaviour. In some extreme cases, to suicide.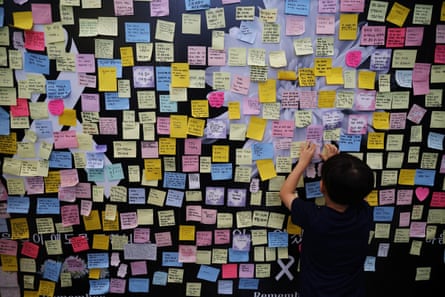 For another middle school teacher, who wished to be referred to only as "B", the nightmare began when students returned to classes following the pandemic, when remote learning was the norm.
When students regularly failed to bring their materials to the class, even after multiple reminders, B resorted to making those students stand during class. This did little to encourage them to participate in the lesson and return to their seats; rather, she says, some students made noise and disrupted the class, displaying disrespectful behaviour when disciplined.
A parent complained about the punishment, leading to B being accused of emotional abuse. She claims she was suspended from teaching without a proper investigation. When B asked to clarify misunderstandings with the parties involved, she says such requests were blocked.
B felt unsupported by the school administration and educational authorities, and pressured to take sick leave. She says she faced threats of being removed from her position, and was plunged into a lengthy, costly and emotionally taxing legal battle.
"After over a year, the judge ruled in my favour with a 'not guilty' verdict. However, the education authorities still imposed disciplinary measures, contradicting the investigation's findings. This resulted in wages not being paid in full, a forced school transfer, and a missed promotion opportunity," 'B' says.
"I still struggle with emotional distress and anxiety disorders resulting from this traumatic event. My physical health has also deteriorated," 'B' says, claiming that "so many other teachers are suffering."
"Parents are using allegations of child abuse as a tool to file malicious complaints and harass teachers, causing them to suffer daily."
The outcry from teachers is a desperate plea for their right to survival to be guaranteed, B says, hoping that practical changes will be implemented.
"I fervently hope that no other teachers will have to endure the injustices that I have, or that they feel compelled to take their own lives."
The education ministry has started taking steps to protect teachers from abusive parents. It has vowed to initiate a new complaint response system where parents will be prohibited from directly contacting teachers with complaints. It also plans to advocate for the legal amendments necessary to distinguish legitimate teacher guidance from child abuse, and to hold students and parents accountable for infringing on teachers' rights.
Starting this week, anyone who calls a teacher will be informed that their conversation may be recorded. The Korean Federation of Teachers Unions has by and large welcomed government efforts but is calling on MPs to promptly pass relevant legislation to "allow teachers to engage in educational activities with peace of mind".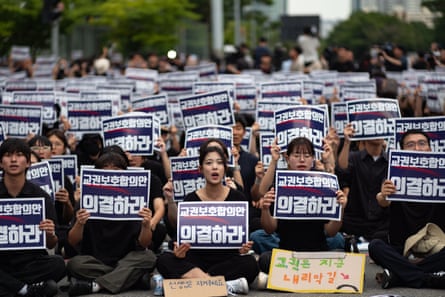 Teacher Park Seo-yoon* recounts an incident involving a hearing-impaired student. A student would whisper offensive remarks behind the hearing-impaired student's back in a barely audible voice to ensure she could not hear.
Park intervened, urging the offending student to stop. However, his actions continued to disrupt the classroom, ultimately leading to him being reprimanded.
The fallout was unexpected. Park received a phone call from a parent of the offending student that night, and was accused of "favouring students with disabilities". A formal complaint was lodged with the school principal and the parent transferred the accused student to another school.
"The principal said I should have been more kind. I began to question my role as a teacher," she says.
Elementary school teacher Kim Ji-soo* believes the teacher evaluation process – which involves a panel of people, including parents, assessing a teacher's performance – and the expansion of the private education market – have created an environment in which parents view teachers as mere service providers.
"With families now having only one or two children, parents live a child-centred life, identifying themselves with their children. This has made it difficult for them to accept any criticism their children receive from teachers. They see it as a direct insult."
"They ask the teacher to apologise [for alleged wrongdoings] and then record it and let their children hear it. If they don't like a teacher, they file complaints under the child abuse law or request a new homeroom teacher," Kim says, creating a situation where teachers avoid properly disciplining children altogether.
"Consequently, other children learn and imitate the wrong behaviour, leading to a disruptive learning environment.
"This problem has been neglected for too long, leaving us in a worse position than service providers and stripped of our authority."
* Name has been changed