US Open Semifinal Predictions: Carlos Alcaraz vs Daniil Medvedev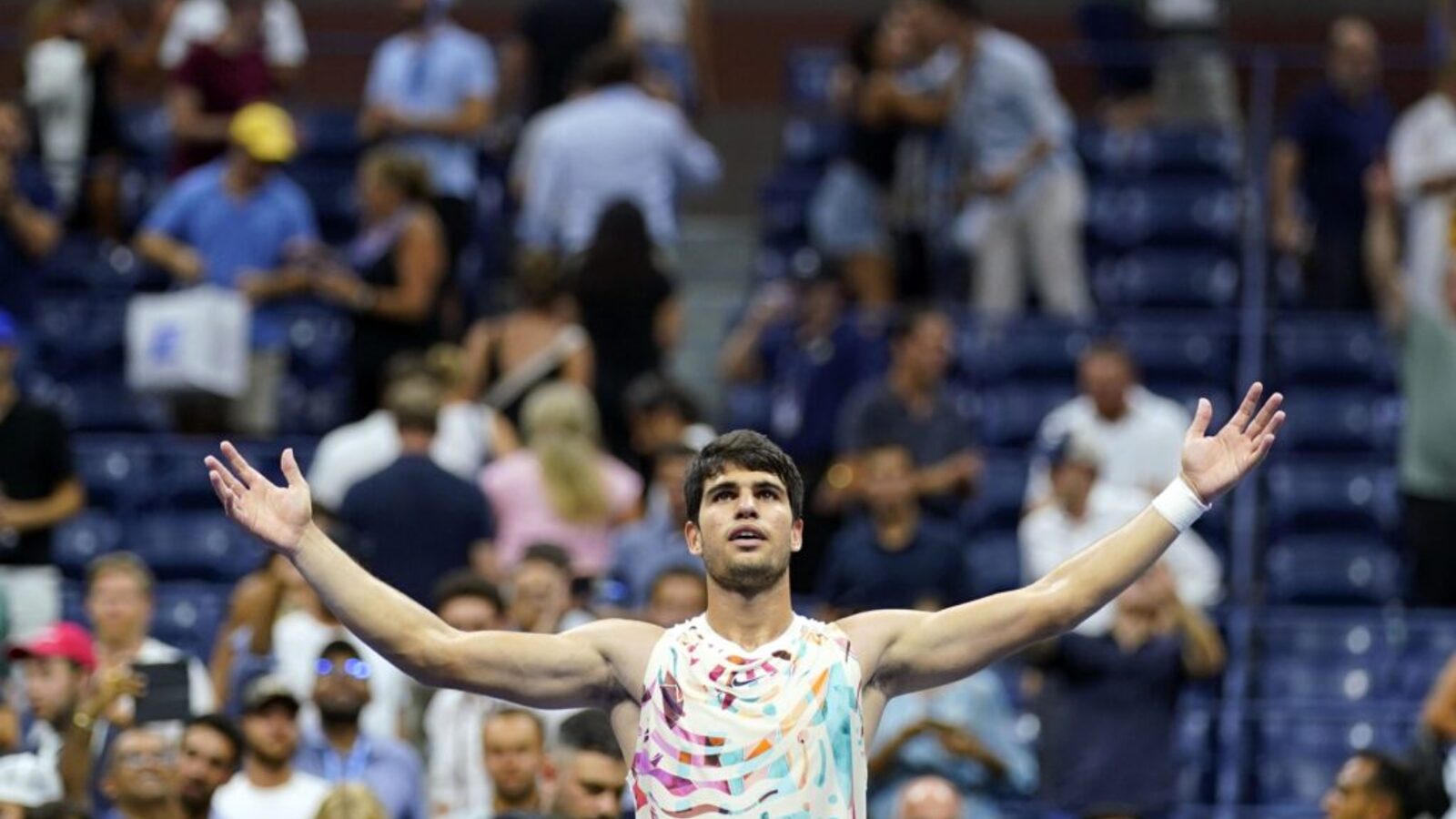 The second of the men's semifinal matches at the US Open is set, and it's a Top 3 battle between the two most recent US Open champions. Carlos Alcaraz won it all last year, while Medvedev upset Novak Djokovic in the 2021 final. Which one of these two will reach the final, where the winner will face the winner of Djokovic vs Ben Shelton? Our writers share their thoughts on this match. Predicting the match are Jim Smith, Damian Kust, Jordan Reynolds, Jack Edward, and Shane Black.
US Open Semifinal Predictions
Carlos Alcaraz vs Daniil Medvedev
Jim:
Alcaraz dismissed Medvedev in pretty short order at Wimbledon a couple of months ago, but this probably won't be as straightforward for the Spaniard. Medvedev has looked really sharp so far at the US Open and he has a great record in these conditions (he did win the US Open two years ago after all). Still, Alcaraz has scarcely put a foot wrong himself in reaching the semifinals and looked particularly ominous in beating Alexander Zverev. Medvedev should be able to push Alcaraz, but there's probably only one man in the draw who can beat him and that man isn't Medvedev.
Prediction: Alcaraz in 4
Damian:
Their last two matches were extremely lopsided and Alcaraz has a perfect skillset for abusing Medvedev's defensive positioning. Can the Russian do anything about it? When he tried moving upwards for the return at Wimbledon, he couldn't get a racket on anything. But that he can maybe work on. His usual comfort zone in the rallies will be tougher to overcome. Despite the tough matchup, I don't feel fully comfortable writing off Medvedev. He's just way too good for that. But the reality is that it would take something special from him to win this or a really bad day at the office for Alcaraz, the kind that would make him start questioning his judgement and tactics.
Prediction: Alcaraz in 4
Jordan:
Is Medvedev the man to stop the Alcaraz vs Djokovic rematch that so many want? The two hard court Grand Slams certainly represent the most realistic possibility. The conditions at Flushing Meadows this year can help Medvedev somewhat too. Yet I still do not see him getting particularly close to Alcaraz. The Spaniard's game is a true nightmare for the 2021 champion. His serving and volleying to counter his opponent's deep return position, and short slice to draw Medvedev to the net in particular are weaknesses the Spaniard exploits better than anyone. Not even a favorable hard court will be enough for Medvedev to stop him.
Prediction: Alcaraz in 3
Jack:
There are fundamental roadblocks in the Medvedev/Alcaraz match-up that will make this a third fairly routine victory in a row for Alcaraz.
1. You just cannot afford to give Alcaraz time on the ball. Medvedev's deep court stance allows Alcaraz to play aggressor, suiting last year's champion's style of play to a tee.
2. Alcaraz is more than adept at bringing the game to the forecourt via drop shots and well-timed forays to the net. This is another perfect way of countering Medvedev's court positioning.
Maybe Medvedev serves well, maybe Alcaraz feels the heat, but there's no doubt the odds are stacked in favour of the Spaniard.
Prediction: Alcaraz in 4
Shane:
Alcaraz has dominated Medvedev in their two meetings this year. He has not lost more than three games in any of the five sets they have played. That said, Medvedev has been one of the best hardcourt players in the world over the last five years. He is 26-3 at the US Open since 2019. He has been solid off both wings this tournament, not giving away any points to his opponents. Alcaraz must use his world-class variety to move Medvedev forward and backward. As the match progresses, it will wear down Medvedev, who has been complaining about the heat in New York.
Prediction: Alcaraz in 4