Turkish teams race to rescue sick American in 1km-deep cave
Turkish rescue teams are racing to save an American who developed internal bleeding while exploring a cave more than 1,000 metres (3,300ft) below ground level.
Turkey's caving federation said on Thursday that 150 rescuers were trying to reach Mark Dickey, 40, who developed gastrointestinal bleeding while deep inside the Morca cave, near Turkey's Mediterranean coast.
"The operation is logistically and technically one of the largest cave rescues in the world," the federation said in a statement.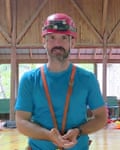 Dickey fell ill at a depth of 1,120 metres while accompanied by an international team of explorers. He was placed under observation at a base camp located 1,040 metres underground, where he was given an infusion of blood delivered by rescuers and medics, the federation said.
The federation launched a rescue operation with the help of Turkey's emergency response service on Tuesday. Several international teams, including Croats and Italians, were assisting, the federation said.
A phone line to reach a depth of 1,040 metres had been set up and Croatian rescuers were setting up an additional "CaveLink" communications system as backup, it said.
The DHA news agency said Dickey first fell ill on Sunday.
"Mark's condition is becoming stable," the caving federation said. "His bleeding has stopped and he can walk with help, but it is not possible for him to get out without a stretcher."
The Morca cave is Turkey's third-deepest, according to the federation, running to a depth of 1,276 metres. Rescuers said it could take several days to safely bring Dickey out.
Footage from the operation showed rescue teams setting up tents and cables outside the sinkhole.
With Reuters