New York's plan to save birds from crashing into buildings: lights out
In a few days, two beams will illuminate the Manhattan sky in a tribute to those killed in the September 11 attacks. But the blazing columns of light also attract thousands of migratory birds, causing them to veer off course. They become trapped and disoriented, circling the spotlights until they are switched off.
New York can be a deadly place for birds. Each year, songbirds, hummingbirds, shorebirds and birds of prey cross the city on their way to and from breeding and wintering grounds across the western hemisphere. And each year, sanitation workers sweep the streets of carcasses after up to a quarter of a million birds collide with buildings.
The culprit, experts say, is the city's architecture, notably its glassy buildings and their illumination at night. There are now moves to get New York to turn out the lights and save its visiting birds.
New York City is positioned on the Atlantic Flyway, one of the four main US routes that birds travel. During migratory seasons, millions of birds of more than 200 species traverse New York City as they make their way up the east coast. Before the city existed, there were wetlands and grasslands that created a perfect habitat for the birds passing through. Today, the remnants of the once lush archipelago – in the form of the Hudson River and Central Park – still guide them.
But modern architecture poses perils.
"When they're foraging and looking for food, they see a reflection of the tree and that's when they hit windows," said Rebekah Creshkoff, who in 1997 started checking for birds in the vicinity of glass buildings in lower Manhattan after a melancholy encounter. "I was taking the subway to Wall Street station and all these people pouring out of the subway station were parting, going around this little yellow bird that was on the sidewalk." It was perhaps a dainty yellow warbler.
Most collisions happen at ground level, she says, and shrubbery or plants inside the building lobbies can attract birds. If there is an open space through which birds can see to the other side, they might spot a promising tree, try to take a shortcut and fly right into the glass.
A "completely glass facade is the worst situation possible for birds", agreed Dustin Partridge, director of conservation and science at the New York City Audubon. Each spring and fall, more than 140 volunteers from the organization walk along routes with glass-covered buildings, looking for dead and injured birds. Through this regular surveying, the group can pinpoint which structures are the deadliest and push for solutions. Culprits include buildings in New York's financial district – such as the World Trade Center and Brookfield Place shopping mall – as well as Deutsche Bank Center and an 11-story apartment building near Central Park.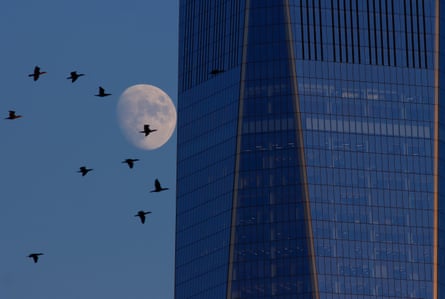 At night, meanwhile, artificial lights can bewilder the birds. Drawn to them, birds may find themselves confused by reflective glass.
This is why one of the most significant reductions in migratory bird deaths can come from turning building lights off at night. A 2021 study done in Chicago found that shutting off half the lights in large buildings can reduce collisions by six to 11 times.
"Why walk past these dead birds on the sidewalk when we can do something as simple as [flip] a light switch to prevent it?" said Francisco Moya, a New York City councilmember.
Moya has introduced legislation that would require a number of commercial buildings to turn off their lights through the night.
Government buildings such as courtrooms, libraries and public schools already turn off lights overnight during migration season. If it passes, the new legislation would mandate that commercial buildings turn off their night-time lighting unless someone is working inside. It would not apply to landmark buildings or to small retail stores. Each violation of the law would result in a fine of $1,000. "I strongly believe in legislation that not only benefits our environment, positively impacting our city's carbon footprint, but our wildlife as well," Moya said in an email to the Guardian.
"Hopefully it's going to help the city get a little bit darker at night," said Partridge.
In the meantime, there are smaller-scale attempts in the city to save birds.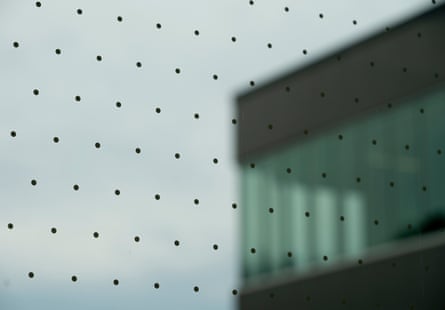 In Brooklyn's Green-Wood Cemetery, a mausoleum with over 8,000 sq ft of highly reflective window glass is being covered with bird-friendly film, which is mostly transparent except for dots spaced two inches apart. The hope is that birds will seek to avoid it. Cemetery staff previously observed up to 20 birds a year colliding with the Hillside Mausoleum.
A New York hotel, mail facility and ferry terminal have also adopted this strategy. An all-glass science building at Columbia University is covered with a film that is mostly transparent.
"Birds are a way to connect to something outside yourself," Creshkoff said, on the importance of reducing bird collisions. "It's a way to be tuned in to nature without even trying."