Barbiecore and 'spicy cough': pop culture and the pandemic deliver updates to the Macquarie Dictionary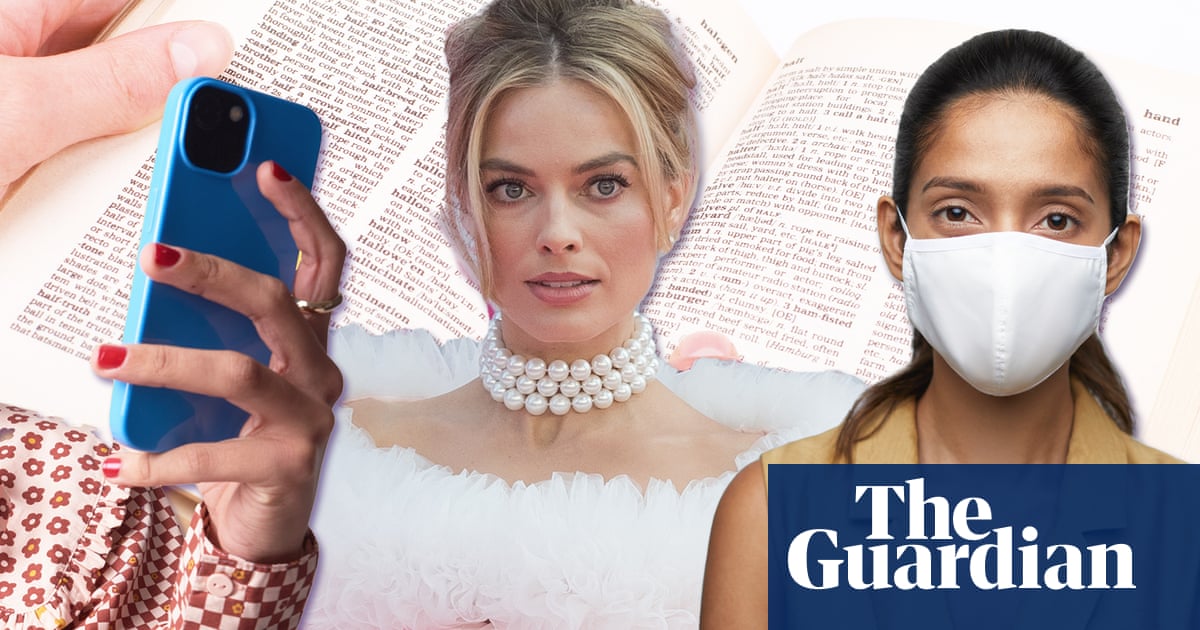 Situationship, Barbiecore and "spicy cough": these are among the 3,000 new entries in the latest update to the Macquarie Dictionary.
Emphasising that dictionaries are in a constant state of playing catch up, Macquarie's managing editor, Victoria Morgan, says a number of pandemic-era and more recent colloquial nouns have trickled into the ninth edition of Australia's collection of vocabulary.
There's "goblin mode" (a pattern of behaviour characterised by an embrace of indolence and slovenliness), "menty-b" (a breakdown in one's mental health), and "doomscrolling" (the practice of continuing to read news feeds online or on social media, despite the fact that the news is predominantly negative and often upsetting).
Morgan says editors found the new words and phrases "in absolutely everything".
"The main role of the editors who work for the dictionary is to always have our eyes open," Morgan says.
"It doesn't matter whether we're reading or watching or listening to something for pleasure, or for work.
"Anything that just seems a little bit unfamiliar, we'll jot it down and research later."
This includes words like "situationship" (a relationship between two people in which they may engage in outings, sexual activity, etc, but do not consider each other a partner) and the phrase "bachelor's handbag" (a takeaway roast chicken).
Language evolves rapidly, and when there are enough new words being read, spoken, written or heard, it is time for an updated edition to make its way to our shelves.
Rapid evolution in technology, escalation of environmental catastrophes, and a global pandemic in the last three years has introduced new terms for phenomena that would not have crossed our radars a generation ago. Think "metaverse", or "Omicron".
Morgan's personal favourite from this pool is the "spicy cough" – a colloquial label for Covid-19.
"Then there are environmental terms as well."
"Net-zero" has finally made the cut (adjective resulting in an even balance of something specified after all calculations have been made), after the 2015 Paris Agreement.
And pyrocumulonimbus is a new noun (a cumulonimbus which forms above a source of intense heat, such as a bushfire, volcanic eruption, etc) that Australia knows well, after the country had more supersized bushfires creating their own storms in the 2019-20 bushfire season than in the last 30 years.
Some new words label previously-nameless-but-widely-experienced phenomena, such as "orthosomnia" (insomnia thought to be caused by preoccupation with obtaining the amount and quality of sleep recommended by a sleep-tracking device, often resulting in anxiety, which can in turn adversely affect sleep quality and the ability to fall asleep).
Big moves in politics and law leave their mark – like "Teal" and "coercive control" (the control an abuser exerts over their victim by the threat of violence or destitution, often in the form of financial abuse).
Popular culture also has an impact. "Barbiecore" (a fashion characterised by an all-pink colour palette, especially bright pink) following the mass excitement around Greta Hedwig's Barbie film has entered the dictionary. However, the "Barbenheimer" effect did not make the cut.
Emerging from the dictionary is a snapshot of today's Australia, taking the form of words its people have relied on to experience unfamiliar issues, thoughts and feelings together.
If a word "fills a hole" in vocabulary, and is widely used in Australian English, are the dictionary's general tests when considering the relevance of new entries.
Voracious readers can also notify the dictionary of new terms they don't think they have seen.
As author Markus Zusak writes in the ninth edition's foreword: "If we allow ourselves the pleasure, we can spend our lives discovering and uncovering a seemingly infinite combinations of words".
Morgan predicts a very large multivolume dictionary will be on shelves in the near future.
"I think this is where the online dictionary is useful," she says. But the online version is just not the same.
"The limitation of print is space. But I love the feel and smell of books.
"I think with dictionaries in particular, you might be looking for something, and then you're coming across all these things that are sitting right next to it."
"I know you can look for the same things online, but with print you get a lot of enjoyment and satisfaction of finding words within it."