'He works hard': Voters in Turkey's quake zone backing Erdoğan in runoff
Mounds of rubble still block sidestreets in the centre of Kahramanmaraş, three months after two deadly earthquakes destroyed large sections of the town and killed 50,000 people across south-east Turkey. Trucks remove mammoth tangles of metal cables that once supported the shops and restaurants that lined the streets, while workers pick shards of glass out of the destroyed interior of the town's much-loved ice-cream shop.
Some of the towering piles of rubble that dwarfed buildings months ago have been cleared but many buildings remain, bearing jagged cracks in their empty facades. The main signs of change are cabins lining the destroyed streets to temporarily shelter local businesses – along with a few billboards indicating that an election is under way.
An 18-year-old who gave his name only as Can wore a white cap bearing the signature of President Recep Tayyip Erdoğan as he worked to clear a pile of rubble. "He works hard for his country," he said, explaining why he plans to back Erdoğan in Sunday's runoff round of the presidential election, a vote with far-reaching consequences for Turkey and its neighbours, as well as relations with allies from Europe to Moscow.
Turkey's presidential elections offers voters a chance to end Erdoğan's two decades in power, where he oversaw sweeping reforms and a construction boom as well as a growing financial crisis and a crackdown on his opponents. But what initially appeared to be a referendum on his rule has come to represent a missed opportunity for Turkey's opposition in the first round, leaving Erdoğan's rival Kemal Kılıçdaroğlu trailing in the vote and searching for a path to victory in the runoff.
Nowhere was Erdoğan's unexpected success more glaring than in the areas hit by February's devastating earthquakes, where he won a comfortable majority in seven of the 11 affected provinces. The results upended expectations that public outrage about the government's delayed emergency response, as well as widespread corruption in the construction sector that flourished during Erdoğan's rule, could prompt a radical shift in the electorate even among conservative voters in Kahramanmaraş.
In the event, the outrage did little to dent the president's image, and he won with 72 % of the vote in Kahramanmaraş, a region that encompasses both centres of the initial quakes and some of the worst destruction. While Erdoğan lost only 2% compared with the last election in 2018, the results of the parliamentary vote in Kahramanmaraş show how he himself is increasingly more popular than his Justice and Development party (AKP), which lost over 11% of votes since the last ballot. Many voters attributed problems in government, including the earthquake response, to the AKP but not Erdoğan.
Kılıçdaroğlu pulled ahead with a slim margin in Turkey's largest cities, where inflation and a biting economic crisis are most keenly felt. But his message of change failed to touch many of the rural provinces like Kahramanmaraş, where voters said they were unconvinced, pointing instead to Erdoğan's record of revamping public services, overseeing advances in the country's defence industry and developing infrastructure like roads and airports, sidestepping the relationship between corruption in the construction sector and destruction in the earthquake zone.
"If there's a price to pay, this is a burden we share for the sake of the economy," said Hikmet Bülbül, as he watched over racks of dresses and coats in his shop. Bülbül said he'd noticed rising prices but didn't attribute them to Erdoğan's policies.
"Yes, maybe Erdoğan should go, but only if whoever takes his place would deliver the same services," he said.
Other residents complained about the rubble, despite Erdoğan promising to rebuild every destroyed home within a year of the quakes, and telling Kahramanmaraş that debris "had been removed," during a recent campaign stop in the town.
"I thought no one in Kahramanmaraş should vote at all in a show of criticism," said Fatma. "I can't say nothing has been done, but it's been very slow."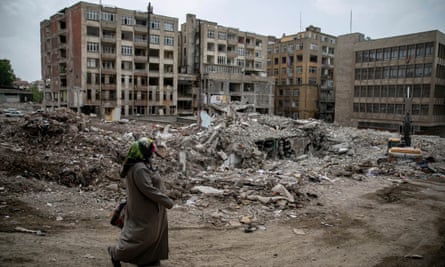 Voters voiced concerns about what an opposition win might bring. They feared that Kılıçdaroğlu's coalition is fragile and that the 74-year-old former accountant is a risky choice, ill-suited to the task of running a country reshaped by Erdoğan's two-decade rule. Many said they didn't trust the opposition to solve their problems including reconstruction after the earthquakes, preferring to trust in Erdoğan's promises. On the outskirts of the town, construction of new homes for those displaced by the quakes continued apace, after state contractors broke ground on multiple sites across the province just weeks after the disaster.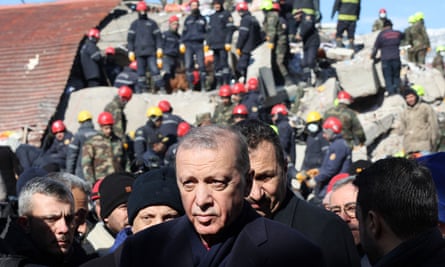 Some voters, including 20-year-old first-time voter Melike Özbulut, also feared that an opposition win would mean a return to the enforced secularism that prevailed in the years before Erdoğan came to power.
"I was born in 2000, I didn't see the 1990s but my parents told me what it was like. Voting for Kılıçdaroğlu means I could be in the same place as women like me were back then, and I don't want to put myself in that position," she said, smiling. "That's why I won't vote for him."
Kılıçdaroğlu's coalition includes religious parties and breakaway groups from the AKP, intended to make socially conservative and religious voters feel safe opting for the opposition. Yet they featured little in the opposition's campaign, and the intended message of safety was lost on voters like Özbulut.
"As you can see, I'm wearing a headscarf but my sister is not …which shows there is freedom in this country," she said. "I'm voting for Erdoğan."
Inside his shop selling silver jewellery in the shaded depths of Kahramanmaraş's old bazaar, Mehmet Ustamazman said he had rebuffed electioneering efforts from forestry minister, Vahit Kirişci, of the AKP, a Kahramanmaraş native who recently visited.
"I asked him why he wasn't here during the earthquake, I told him there is still rubble to be cleared and there are still people in mourning," he said. The Ustamazman family lost 33 of their relatives during the earthquakes.
Ustamazman said he had intended to vote for the six-party opposition coalition until he saw their public spat over Kılıçdaroğlu's candidacy. While he had intended to vote for Erdoğan for president and the opposition's parliamentary coalition in order to challenge the AKP's dominance in Kahramanmaraş, the opposition's bickering made him feel mistrustful, he said. He voted for Erdoğan and the AKP in the first round, and intends to vote for Erdoğan for president again.
"At a local level, we need to push the AKP to do things. But Erdoğan has already been delivering for the people, giving them lots of services," he said.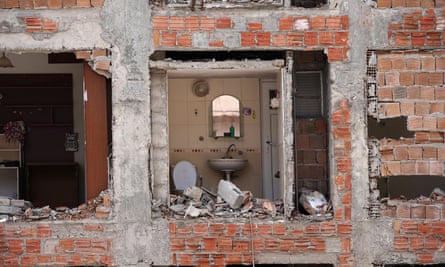 Standing below a row of pendants and pearls, the jewellery twinkling in the light, he explained his choice. "There are two options: One gets the job done. The other is criticising those who get the job done," he said.
His 24-year-old son Harun lent on a glass case filled with silver jewellery as he explained his commitment to protest voting, angry at what he saw as dysfunction in politics. In the first round, he had initially wanted to vote for the fourth presidential candidate, Muharrem İnce, but then İnce dropped out, so he switched to ultranationalist, Sinan Oğan, searching for a way to participate while expressing his dissatisfaction with both of the main candidates.
"I want competition," he said. "Just like here in the bazaar."
Harun has grown frustrated, and like many younger voters remains disenchanted with the AKP, opting instead to vote for rightwing nationalists.
"Change is always good, but the main thing is trust. I would have felt comfortable with the opposition had they rejected the HDP, I'd have felt comfortable voting for them," he said, referring to a majority Kurdish party that threw its support behind Kılıçdaroğlu but did not join his coalition. "But the opposition just can't get me to trust them, I don't feel comfortable with how they do things. They don't engender trust in people."
In the upcoming vote, Harun is planning to vote for Erdoğan, in order to encourage the opposition to improve. "If you want Erdoğan to leave, first you need to change the opposition and then you can change Erdoğan," he said. "Kılıçdaroğlu is not qualified."
He added: "We need a new Erdoğan, someone who can fight their way to get into power, someone young."