Dan Evans says British tennis 'papering over cracks' since Raducanu glory
Dan Evans has suggested that the success of Emma Raducanu has papered over the cracks in British tennis as an alarmingly low number of players are present in the French Open main draw this year.
Only three British men will compete in singles at Roland Garros and the absence of Raducanu, who is recovering from surgical procedures to her hands and an ankle, means there are no British women in the main draw of a grand slam singles tournament for the first time since 2009.
"They've been lucky they had a grand slam champion and she's a very good tennis player but the rankings don't lie, do they? Men's or women's, the rankings don't lie," said Evans. "Men's, not many of us playing qualies, not many main draw. I don't want to sound like a broken record, but there's way further to go than just the top players. It's from the bottom up."
Ten British players were defeated in the men's and women's qualifying rounds for the French Open this week, with none making it to the final round. Only Liam Broady, Jan Choinski and Ryan Peniston were ranked highly enough to play the men's qualifiers. There are not many more players of sufficient rank to regularly compete in the main draw of ATP Challenger events.
Last year's grass season was a positive period for British tennis, with numerous lower-ranked players taking advantage of wildcards throughout the British tournaments to defeat top-ranked players. Few players have made significant gains since those successes.
"I think the grass last year really helped paper over some cracks as well. There were some good results but if you look at the players who did pretty good on the grass last year, who were wildcards etc, rankings don't lie. After the grass, there will be a bit of soul searching I imagine," said Evans. "After their holidays and after the grass, obviously."
Evans stressed his lack of faith in the Lawn Tennis Association's pro scholarship programme (PSP), which offers a handful of British players the highest amount of funding based on who the LTA deems most likely to reach the top 100 within five years. Evans believes that the LTA's considerable financial provisions would be better spread out among a larger number of players.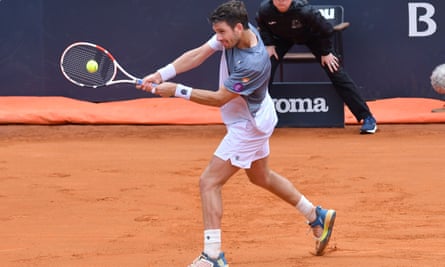 "Argentina got 12 [actually 13] men in the qualies here. They have no money, they have nothing. Not a federation basically," said Evans. "We need to make people love tennis, get involved, but if you're putting five people on PSP, what hope is there for the others? It's just heartbreaking that a guy next door to you is getting 70 grand or something, but you're better than him. But a guy with these stats is telling you: 'No, no, he's better.'"
Asked if the current state of British tennis frustrated or saddened him, Evans's response was blunt as he recounted a meeting he said he had with the LTA's former performance director, Simon Timson, shortly after returning from his drugs ban in 2018.
"I couldn't give a shit about it," he said. "If you've got a guy, Simon Timson, who sat next to me and told me: 'In all due respect to James Ward here and Heather Watson, I put you three in the same bracket. You are close to finishing your career.' And I said: 'Thanks, man.' And that was that meeting. I seem to have done all right since that meeting. He sent me to a psychologist, that was about it."
In a statement, an LTA spokesperson said: "Naturally we would have liked to see players progress from qualifying to main draw at Roland Garros this week. Despite this week's results, we are making longer term progress – but there is more work to do before we consistently have the numbers we would like to see across all levels.
"That's why we are investing in our junior players, staging more international competitions in this country and supporting players development whatever is the best route for them to reach the top of the game, including both professional and the college system routes.
"Of course we need to go further and want players moving up the rankings – but we do believe we are heading in the right direction."
On Sunday, 20th seed Evans will start his campaign against Thanasi Kokkinakis of Australia. Elsewhere, Cameron Norrie will arrive in Paris with concerns about his form after losing 6-3, 6-0 to Francisco Cerundolo in the semi-final of the Lyon Open. Britain's Jack Draper will play Tomás Etcheverry of Argentina in the first round here.