The Republican Primary's Trump Paradox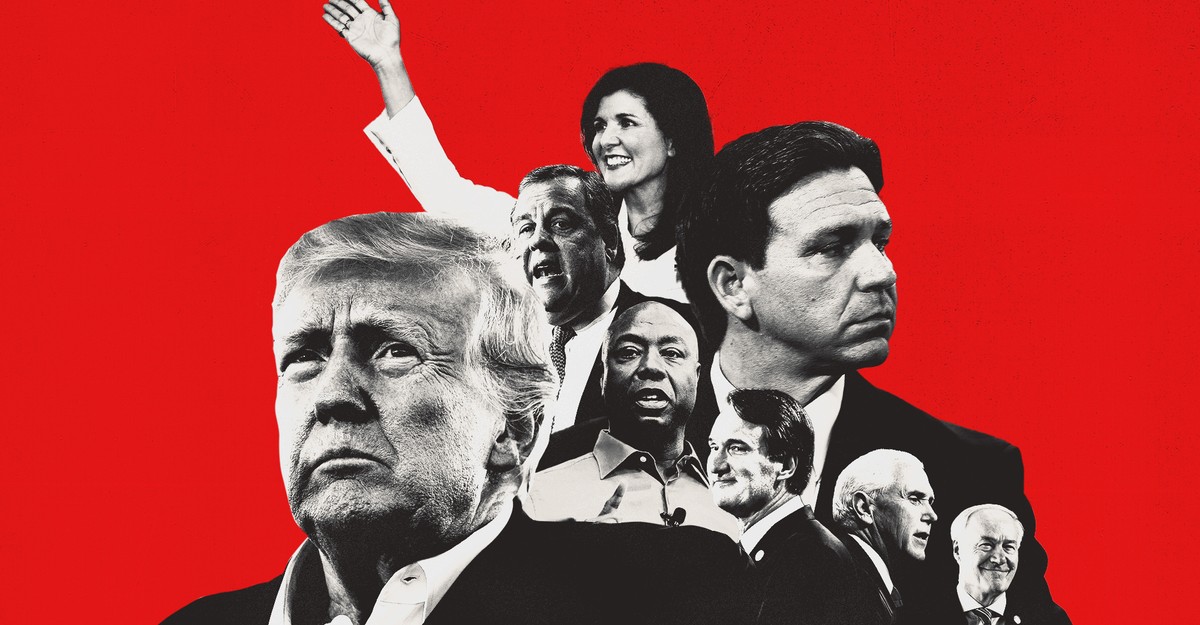 For years, Republican presidential primaries have been chaotic affairs.
In 2008, Rudy Giuliani looked like a prohibitive front-runner until his disastrous decision to forsake campaigning in the calendar's first two states (an indicator of judgment issues to come) created openings for Mike Huckabee and eventually John McCain. In 2012, things got so weird that Michele Bachmann, Rick Santorum, and Herman Cain all led the field at various points. Then 2016 was even weirder—the earliest debate saw 17 participants in two tiers—and culminated in Donald Trump's stunning victory.
But 2024 was supposed to be different. In one corner was Trump, making his attempt at a comeback from an election loss he still hasn't acknowledged. No one was sure whether he was unbeatable or if he was a hollowed figure, outwardly fearsome but ripe for toppling. If the latter, then the man to do it was surely Ron DeSantis, the hotshot young Florida governor who his backers believed had formulated a highly potent version of Trumpism without Trump.
And who knows? That might be where things end up, but it's not where they are now. This week, DeSantis is finally expected to formally enter the race—a leap that some people already believe is coming too late. But rather than consolidating the Trump-alternative space, DeSantis enters a race that is expanding. The growing number of candidates reflects wariness among Republicans about Trump's weakness in a general election, yet a big field could smooth his path to the nomination.
Senator Tim Scott of South Carolina officially announced his campaign yesterday. New Hampshire Governor Chris Sununu, a fairly outspoken Trump critic, is "accelerating" his move toward a bid, according to The Dispatch. Virginia Governor Glenn Youngkin, who earlier this month ruled out a bid "this year" (careful language!) is now acting like a guy who's not ruling out a bid altogether. Former New Jersey Governor Chris Christie, who not long ago was publicly wrestling with the gap between his desire to run and his worry that Trump was unbeatable, is now rumored to be announcing a bid any day now. Former Energy Secretary Rick Perry is, for some reason, thinking about a third stab at the nomination. So is Doug Burgum, who you'll be forgiven for not knowing is the governor of North Dakota.
Yes, a couple of potential candidates, Larry Hogan and Mike Pompeo, have decided against running, but the new entrants join an already large field that includes Nikki Haley, Vivek Ramaswamy, Mike Pence (presumptively), and Asa Hutchinson. All of this happens even as Trump's position has actually improved over the past few months, despite his indictment in New York, legal troubles elsewhere, and a loss in a $5 million civil case for sexual assault and defamation.
The growing candidate list reflects skepticism about both DeSantis's and Trump's chances. DeSantis's estimation has sunk sharply since last fall, as he has appeared lethargic, unsure how to take on Trump, and frankly just a little weird, and some Republicans simply don't believe that Trump is as invincible as he looks. Perhaps this is because they think his legal troubles will eventually catch up with him, or perhaps they are indulging in wishful thinking.
Not every candidate runs because they think they can win. They could be trying to raise their profile for a 2028 run, when Trump will presumably actually be out of contention, or they could be hoping for a Cabinet role under whoever the winner is, or even a good cable-news sinecure. Another reason would be that someone is willing to pay for it. Why not take a chance to bask in attention and travel the country on other people's tab? Any semi-viable Republican candidate has to have some megadonors in his or her corner, or believe he can get one. (Burgum is a billionaire in his own right.)
The important thing is that many major Republican donors are up for grabs. These people tend to be older-school Republicans who want low taxes, a favorable business environment, and not a lot more. They were never all that enamored of Trump, whom they found gauche and whose love of tariffs and dislike of immigration turned them off. They didn't give much to him in 2016, when he ran on a shoestring budget and eschewed them, and although they grudgingly donated in 2020, they didn't like January 6 and worry he can't beat Joe Biden in a rematch.
Initially, many of them gravitated toward DeSantis, but as his polling has faded, so has their ardor. John Catsimatidis, a New York grocery baron, told the Washington Examiner that he wouldn't back DeSantis, asking, "Why would I support somebody to become president of the United States that doesn't return phone calls?" The financial-tech billionaire Thomas Peterffy, sounding uncannily like a Joe Biden ad, told the Financial Times he was cool on DeSantis too: "Because of his stance on abortion and book banning … myself, and a bunch of friends, are holding our powder dry." He then sent a big check to Youngkin's PAC. The financier Ken Griffin, who'd looked like a DeSantis backer, is among those waiting. A fellow Wall Street titan, Stephen Schwarzman, wasn't convinced after a meeting with the Florida governor. Miriam Adelson, the widow of the casino magnate Sheldon Adelson, has said she plans to stay neutral in the GOP primary. The Home Depot co-founder Bernie Marcus, a former Trump backer, hasn't committed to any candidate yet, per Puck. Larry Ellison, who co-founded Oracle, reportedly plans to put millions behind Scott. The hedge-funder Steve Cohen is reportedly backing Christie. (DeSantis did recently pick off the former Trump donor Hal Lambert, the New York Post reports.)
As long as the big money hasn't started consolidating around a few candidates, there's no reason for the field to start contracting. But the splintering is a reminder of why so many donors gravitated to DeSantis in the first place: because they wanted to stop Trump. The irony is that a diffuse field is good news for the former president, just as it was in 2016, when he won the nomination despite plenty of party opposition split among his many rivals. Trump is often described as a chaos agent, but he's happy to be a chaos client, too.