XO, Kitty review – convoluted but charming Netflix teen series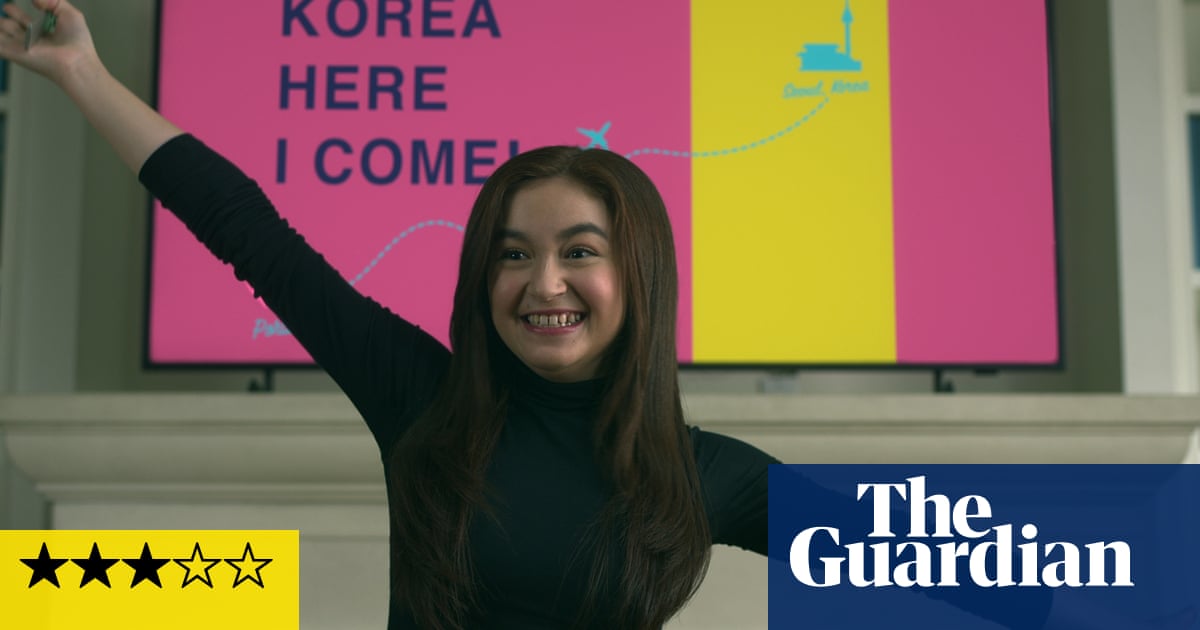 The first episode of the new Netflix romcom XO, Kitty runs through its exposition like a sprint.
It starts with our 16-year-old biracial Korean American protagonist Kitty Song Covey (Anna Cathcart) hopping a plane from her home in Portland to the Korean Independent School of Seoul, or Kiss, her late mother's alma mater. It's also the current school of her long-distance boyfriend, Dae (Minyeong Choi), and she's just enrolled without telling him – an unannounced romantic gesture that, to no adult viewer's surprise, ends in utter disaster. Kitty soon finds out that Yuri, the teen hotel heiress who gives her a ride on their first day of school, is actually Dae's girlfriend. And throughout his relationship with Kitty, Dae's also been lying about his family's economic status: he's struggling to afford tuition, and his father is Yuri's family driver. Yuri's mother, Jin (Yunjin Kim), meanwhile, is the principal of Kiss, and for reasons unknown chooses to lie about having been friends with Kitty's mother, despite a 20-year-old photograph featuring the two of them together. Yuri's got her own secret, too: she's been paying Dae to be her boyfriend, using their fake relationship to cover up her real love for a girl named Juliana.
Got all that? We're only 24 minutes in, and the plot only gets more convoluted from here.
Lighthearted and entertaining, XO, Kitty is the 10-episode spin-off of Netflix's To All the Boys I've Loved Before trilogy, the film adaptation of Jenny Han's bestselling novels of the same name. Cathcart first played Kitty in 2018 as the spunky, bespectacled 11-year-old little sister to main character Lara Jane (Lana Condor). As a spin-off, XO, Kitty is true little sister material, where in lieu of the Jane Austen-caliber romance and longing sexual tension of To All the Boys, Kitty delivers the wholesome hijinks and misadventures of the Disney Channel as she awaits her first kiss. At a maximum 30 minutes each, each action-packed episode flies by. With such little time, the series' Scooby-Doo mysteries are never allowed to simmer; characters are prone to stating solutions outright the moment they encounter the slightest clue. None of this, however, is really a dealbreaker. As far as children's programming goes, XO, Kitty's cutesy love triangles and cliff-hanging endings might be enough to sustain a full-grown adult, at least through folding a pile of laundry.
After a horrifying first day of school, Kitty spots the apparent lack of chemistry between Yuri and Dae almost immediately, being the same preternaturally gifted matchmaker that she was in To All the Boys. But due to a series of improbably timed interruptions, Dae never gets the chance to explain what's really happening, leaving their romance temporarily stalled. The Dae drama periodically takes a backseat to the dramas of the greater Kiss population, an international group of wealthy, overachieving teenagers whose hormones are running high.
Min Ho (Sang Heon Lee), a child of celebrities and Dae's playboy best friend, starts out as Kitty's antagonist but may have an unwillingly change of heart. Half-Iranian, half-Filipino Q (Anthony Keyvan) has a crush on the new French boy at school, and leaves it up to Kitty to work her matchmaking magic. Almost everyone except Kitty effortlessly switches between speaking Korean and English, a pleasant surprise from Netflix; this is the same streaming service that had the French characters of Emily in Paris speaking English to each other just so we'd never have to read subtitles.
Despite Kitty's very public romantic disaster that earns her the nickname Portland Stalker, she stays at Kiss out of a desire to feel closer to her mother, a love that trumps any dashed feelings for Dae. Part of unearthing her mother's past is getting to the bottom of whatever Jin's hiding – potentially a love triangle that also may involve handsome Prof Alex (Peter Thurnwald) or curmudgeonly Prof Lee (Michael K Lee). Throughout the plot's highly unlikely twists and turns, the show is an introductory ode to Korean culture through Kitty's eyes. Part of getting closer to her mother is also learning the joys of Chuseok, a holiday of family gathering akin to Thanksgiving, while her failing grades serve as a recurring joke about the inferiority of an American education. Prestige television XO, Kitty is not, but its charming cast is worth revisiting next semester.