LIV rebel DeChambeau muscles his way into early lead at US PGA Championship
It has been easy to forget the permanent theatre that surrounds Bryson DeChambeau. Not so long ago, golfers both professional and amateur were trying to emulate the approach of this supposed pioneer. Bomb and gouge won the day as DeChambeau prevailed at the 2020 US Open. His ascent took him to No 4 in the world rankings.
Bryson Land has never been dull. This is the man who publicly insisted Augusta National played as a par 67 for a man of his strength. He once signed a Masters flag for a golf fan seeking out past champions of the year's opening major on the basis he would inevitably join that company.
DeChambeau lacerated his equipment manufacturer, became embroiled in a long-running feud with Brooks Koepka and attracted derision for comments about the Covid vaccine. Yet a switch to the rebel LIV tour, some chronic loss of form and a serious hand injury meant DeChambeau had in effect vanished from view until day one at this, the 105th US PGA Championship.
A slimmed-down DeChambeau – his calorie intake is now 2,900 a day from an earlier high of 5,000 – planted himself atop the leaderboard with a first round of 66. As if to prove drama remains a backdrop, he cracked a fellow player with a ball courtesy of a loose second shot to the 17th. Kenny Pigman, who took a blow to the back, was not meaningfully hurt.
For the first time in a while, DeChambeau's performance overshadowed all other matters. "It's a fantastic round of golf at Oak Hill," said the 29-year-old. "It's a prestigious place. Very difficult golf course. As I was looking at it throughout the week, I'm like, man, I don't know how shooting under par is even possible out here. But, luckily, I was able to play some really good golf, hit a lot of fairways, did my job and made some putts."
Naturally – this is DeChambeau – there followed an element of bizarre conversation. "I took a Zoomer peptide test, which essentially tells you what inflames your blood when you eat," he said. "I was allergic to corn, wheat, gluten, dairy. Pretty much everything I liked, I couldn't eat. I took that out. Started taking it out in August and over the course of time I've lost all this inflammation, lost a lot of fat and slimmed down like crazy.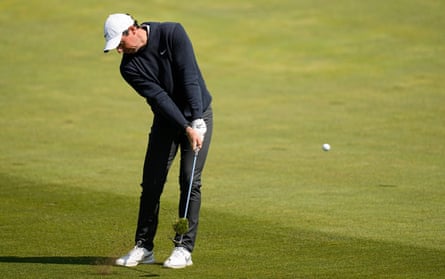 "I lost 18 pounds in 24 days. It was crazy. It wasn't fat. It was all water weight. You know how I looked before, I was not skinny. So a lot of changes in that regard. Obviously, having the hand injury was no fun and then learning to play golf again with a new hand. It's been a while."
Whether DeChambeau can maintain this level over another 54 holes is, of course, open to question. In his favour is that Oak Hill's setup is not dissimilar to Winged Foot when he won that US Open. "I feel really confident but golf is a weird animal," said DeChambeau. Takes one to know one etc.
As DeChambeau completed media duties, Rory McIlroy was battering drives down the range as he sought to iron out swing problems which were once again apparent during a one-over-par 71. McIlroy recovered admirably from the position of plus three after nine but was unconvinced by his golf. "I was not at my best," said McIlroy. "It was pretty messy out there."
The 2012 and 2014 US PGA champion is also short of his physical best. "I'm fighting something," said McIlroy. "I thought I got a great night's sleep last night. I took a look at my Whoop [a fitness tracker] and I was at 22% recovery. My skin temperature was three and a half degrees higher than what it has been. I'm fighting something.
"I actually feel better today than I felt yesterday, so plenty of water and a bit of rest, I'll be fine."
Scottie Scheffler eased his way towards a 67. Corey Conners is also three under par. Ryan Fox, who has only just recovered from a nasty bout of pneumonia, has Viktor Hovland and Keegan Bradley for company at minus two. Jon Rahm, the recently crowned Masters champion, slumped to a 76. Matt Fitzpatrick matched that score after failing to record a single birdie. Justin Thomas, the 2022 winner, and Koepka were among those to sign for a 72.
A large chunk of Thursdayafternoon's wave will have to complete their opening rounds on Friday morning after frost caused a delay of almost two hours to the start of play.