'The height of toxicity for women': revisiting the era of the It Girl
Lose weight. Have money. Give away money. Hire a publicist, even if it bankrupts your daddy. The no-bake recipe for becoming an icon of the 2000s is laid out in the opening salvo of Queenmaker: The Making of an It Girl, Zackary Drucker's fizzy documentary about the founding daughters of a social revolution.
It girls, armed with appurtenances both flashy and furry, have swarmed the earth since the creation of capital. But privacy used to be a cornerstone of privilege, and the gilded-age dictum held that the names of respectable ladies were only to appear in the newspaper when they were born, married or died. Taylor's film chronicles the precise moment when a multitude of women of means dared to court the public's attention. Which isn't to say it was an entirely empowering development.
"It was the height of toxicity for women," Drucker said in an interview from her Los Angeles apartment, backgrounded by a wall of books arranged by color. "I think this film is about misogyny."
Taylor, 40, was living in New York and attending the School of Visual Arts during the time that Queenmaker takes place. She read the tabloids and frequented the downtown nightclubs where the characters that populate her film were VIP deities. Having a parasocial relationship with them was all but inevitable, and they helped shape her sense of self. "I was conceiving my identity as a woman at the time," Drucker said. "I started hormone therapy in 2003."
Rising up, Aphrodite-like, in the ashes of 9/11 were Paris and Nicky Hilton. Ivanka Trump. Casey Johnson, the Johnson & Johnson heiress who died in bed in 2010 at age 30. These young women were reality TV stars before there was reality TV – famous not for doing something but having all the things: bags and jewelry and invites. Many of them also had the help of R Coury Hay, the publicist who is seen in the film calling himself "the Queenmaker". He molded Tinsley Mortimer, a statuesque blond from the south (gasp!) who had a day job (can you even!) into a social swan and future Real Housewives star.
The power publicist made Mortimer quit her job (also a publicist) before agreeing to take her on as a client. He taught her how to show up to seven events a night in as many designer dresses. "I told her it was more of a silent movie game than anything," he said. "That she really shouldn't talk too much." Another queenmaker was Paris Hilton, who figured out how to stir up intrigue without saying much more than "that's hot." The heiress cultivated and dropped best friends, boyfriends and dogs at cheetah speed. "She was committed to constructing a narrative around her that would keep people watching," former gossip reporter Lola Ogunnaike says in the film.
Ben Widdicombe, a one time Page Six reporter and author of the memoir Gatecrasher was among the producers who initially approached Drucker about directing the film. He appears throughout as something of a royal correspondent. "He was very much our Scheherazade," said Drucker.
The shape of the film was dictated by who was willing to sit for interviews. Only a couple of the It Girls themselves agreed to meet with the crew, including Olivia Palermo and Mortimer. "Many of them have elected not to be in the limelight anymore at this point," Drucker said of the challenge. "It could have been more big-picture, but the more specific you are, the more universal it is," he reasoned.
Despite her unorthodox background, it was often Mortimer who was the top-seeded socialite. Nightlife queen Amy Sacco appears in the film to share that Mortimer was her personal favorite, and former blogger Emily Gould made sport of chronicling Mortimer's every move on Gawker. Gould, now a novelist and culture writer, gamely agreed to appear in the film and listen to Drucker read aloud from her posts (eg "In this lengthy interview, Tinsley Mortimer shares her thoughts about the works of Marx and Engels. PSYCH!" or "Debutard Tinsley Mortimer's handbag-line launch featured a worst-nightmare tableau of lookalike Tinsleys".)
The writer's discomfort is palpable, her expressions of horror and anguish serving as signposts for the viewers' own feelings when faced with the values of the culture in which we all participated less than two decades ago.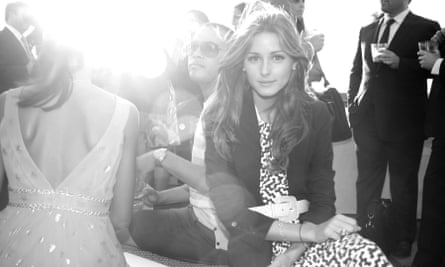 Another blog that fixated on Mortimer was Park Avenue Peerage, which read like a Mortimer fan zine. Its fawning author was eventually revealed to be James Kurisunkal, an awkward college student who updated posts from his University of Illinois dorm room. New York magazine was quick to offer him a gig covering the city's nightlife. "They treated me like I was the second coming of Christ when I walked into the building," the blogger recalls. The gig included another perk: a chance to strike up an IRL relationship with Mortimer. The film-makers recreate their first meeting, with illustrations of Vogue editor Anna Wintour and Graydon Carter, who ran Vanity Fair, glowing in the background. There she was, Tinsley Mortimer, in full glory," Kurisunkal blogged breathlessly. "A vision in Dior. A summer tan, golden heels, and that long blond hair."
Their codependency was soon to fizzle out, along with the entire scene that was suddenly as outmoded as a Fendi baguette. The Occupy Wall Street movement trampled over the prevailing glorification of excess. Mortimer took a run at reality television, appearing in an ill-fated show called High Society. Kurisunkal shut down the blog in 2010. "I'm no longer fascinated by this world" was the explanation.
The former fanboy was ready to become a main character. She is now living as Morgan Olivia Rose, a woman who looks uncannily like Mortimer. In filmed interviews, she sports down-to-there hair, impossibly long eyelashes and pneumatic lips. No longer dependent on each other, she and Mortimer drifted apart. "I felt like I was no longer important, and that was very hurtful," Rose shares in Queenmaker. "She depended so much on me and then it was like … she just didn't care."
When we last see Mortimer in the film, it's late in the pandemic and she is still at it, cuddling a tutu-clad dog at an animal rescue fundraiser in Chicago. She is expecting a visit from Rose, whose affection has waned. "What do I have in common with these people any more? Abso-fucking-lutely nothing," Rose says. "What am I these days? A transsexual call girl."
"It was a great opportunity to evaluate the intersections of women's experiences and to have a trans woman in that milieu," said Drucker. "Nobody ever thinks of the trans person witnessing the thing. [In the aughts] we were just kind of in the cracks and trying to disappear."
The easy-peasy recipe has been updated for the TikTok age: why obsess over the thing when you can be the thing itself?