Shake your Sugar Bum Bum! The return of the classic film capturing calypso's riotous brilliance
During the finals of the 1986 Trinidad Calypso Monarch contest, the defending champion, Black Stalin, was hoping to beat rising stars David Rudder and Duke to keep his crown. One Hand Don't Clap, a beautiful documentary that captured the event, follows the competitors as they prepare to perform – but its director, Kavery Kaul, doesn't seem hugely concerned with who wins.
Her film, newly restored and rereleased, is much more focused on two legendary calypso giants who are attending the contest. Looking on from the sidelines, they reflect on their own lives, their triumphs and setbacks – and their love for their music. Lord Kitchener and his protege Calypso Rose are the film's unrivalled stars.
Lord Kitchener – the stage name given to Aldwyn Roberts – is possibly most famous in Britain for his poignant spontaneous performance of London Is the Place for Me, given when a Pathé journalist stopped him as he and around 500 passengers from the Caribbean disembarked from the Empire Windrush ship on 22 June 1948. The journalist poked a microphone in front of him and said: "I am told you are the king of calypso singers. Will you sing for us?"
Tobago-born Rose, meanwhile, was the first woman to win Trinidad's annual singing contest, forcing organisers to ditch its Calypso King title and rename it the Calypso Monarch prize. Kitchener encouraged her to sing and dance more freely on stage. This was at the start of the career, when she was, as she puts it, "skinny, real skinny like macaroni", and still inhibited by her Baptist minister father's warning that calypso belonged to devil. Rose's observation that "one hand don't clap" – a variation on "it takes two to tango" – is a reference to the support Kitchener gave her as she began to perform.
Intertwined with shots of Trinidad preparing for the contest, with mile upon mile of silver and red fringed tinsel strung up and fluttering in the breeze, the interviews with these two older singers create a rich portrait of a genre they feel has been under-appreciated internationally. "Everyone in the competition is fabulous," says Kaul. "You might root for one, I might root for another. Every year, there will be a fabulous new person winning. But the film is more about the lasting effect of calypso, about a whole nation celebrating with costumes, music."
Kaul, who grew up in New York, the daughter of Indian immigrant parents, heard Kitchener play in a club in Brooklyn in the early 1980s and persuaded him to let her make a film with him. "When I heard Kitchener," she says, "I realised this was a musical genius." Tracing the influences of one generation on the next, Kaul also films Kitchener talking and singing with Lord Pretender as they watch a horse being trained at a race course in Port of Spain, the capital of Trinidad and Tobago, with low clouds hanging over green mountains on the horizon. "Tiger, Growler, Attila the Hun, Invader, Caresser – they were the cream of the crop," Kitchener says, paying tribute to the singers who inspired him.
Kaul defines calypso as "the opinion pages of music", adding: "Sometimes it's about terrorism, sometimes about domestic abuse, or male and female relationships, observations about life – it's the music of dance, party, politics and culture – an intersection of all these things." Rose, now 83 and living in New York, describes calypso as being "about what happened to your neighbour or to the government or to your life". Some of her songs express fury towards men ("Get out of my house / You're a stinking louse"), others are angry about Middle East politics.
Several of the songs performed in the run-up to the contest's grand finale are overtly political. Black Stalin's entry focuses on 400 years of failed, blood-soaked attempts by superpowers to conquer Africa. "The more Africans they kill, the more they'll see coming," he sings, to cheers from the audience. "The more warriors they gun down, the more warriors they come." This is not the carefree, joyous, rum-soaked carnival music of Caribbean tourist board adverts.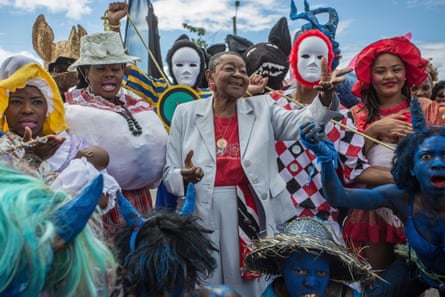 "Calypso started as the music of African slaves who weren't allowed to speak to each other," says Kaul. "Obviously, they had opinions to share and they shared them through their songs. It's a music of resistance – calypso has always been very political." Kaul's film includes an early song by Lord Invader that begins: "If you are a negro, you can plainly see / That you're bound to suffer misery and tyranny."
Some of Kitchener's later songs are a bit more slapstick: he performs Pillow Fight and Sugar Bum Bum to adoring audiences before the 1986 contest finale. Despite his own success, at 64 he is wondering about his future, wrestling with whether he should shift to singing the faster, more popular Soca, or soul calypso, which he notes that people seem to prefer to dance to. "I'm not going to stay on the other side of the river," he says with a laugh. "I'm going to follow the change even though I don't agree with it, because I've got to eat."
Both singers have had their difficulties. Rose is interviewed alongside her adopted mother, who remains sceptical of her career path. "I didn't take to it at all," she says, barely bothering to conceal her regret. "I would have liked you to grow up a nice young lady, religious, following the footsteps of Jesus Christ. I would have liked that very much."
"And now, mummy? You still don't like me singing calypso?" Rose asks, sitting close to her mother on a sofa, both dressed in glamorous diaphanous blue and pink dresses. "It's not the best, but I have to cope with it," her mother replies mournfully.
"It was a struggle," says Kaul. "Nobody in her family really supported her. It was not a very respectable thing to do."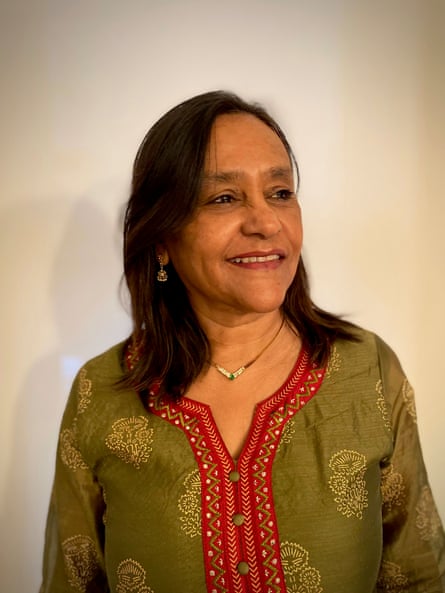 Kaul remembers Kitchener, who died in 2000, as a very honest, modest interviewee, who often broke into song when he tried to explain the significance of his music. He regretted how, at the start of his career "people looked down on calypso and steel bands". Foreigners might like calypso, he says, playing a complex calypso rhythm on his guitar, but they are incapable of really understanding it because they have been born into four-four time – and he mimics a ploddingly pedestrian marching beat.
The optimism Kitchener expressed when he was filmed at Tilbury Docks, arriving in Britain, did not endure. Although he claimed to like the cold and quickly made a career for himself performing in clubs – particularly the Churchill, where Princess Margaret was a regular – after a decade, it turned out London was no longer the place for him.
"He was a West Indian, from a British colony, who went there with hopes and dreams, thinking that good things would be shared with him," says Kaul. "And he found very quickly that he was an immigrant who wasn't looked upon with as much welcome as one would think. He quickly discovered how difficult it was – the alienation, the displacement. But he persisted. He was very determined. He made calypso a big hit in the clubs there. And then eventually, he wanted to go home, back to Trinidad."
Somewhere in the outtakes of the film, Kitchener sings another version of London Is the Place for Me, expressing his disappointment and unhappiness. "That version didn't sell. The wonderful thing about Kitch was that whenever I had a conversation with him, he would immediately start to sing or strum his guitar. So he played a little bit of it for me." She hasn't found the clip yet. "I will continue to look because the two songs side by side would say a lot."
Rose toured with Bob Marley in the 1970s and continues to perform, releasing songs with the French-Spanish singer Manu Chao, and appearing at Coachella in 2019. "I was just 15 when I hit the stage in 1955," she says, "and I've stayed on the scene until right now."
Kaul hopes that the rerelease of One Hand Don't Clap will bring Kitchener and Rose renewed recognition. "I want people to have a sense of, 'Oh my goodness, why haven't I heard this music before? I better go out and listen to it more.'"