'We're going to fight this hard': Labour keen for byelection test in Rutherglen
On Rutherglen's Main Street, the mood of Scottish Labour activists was as bright as the afternoon sunshine as they gathered for some teatime door-knocking. They were with Michael Shanks, their new candidate in the anticipated byelection for a seat currently held by the former SNP MP and Covid rule-breaker Margaret Ferrier.
But the buoyancy had a hard edge: Labour's leaders see this byelection as a crucial test of what polls suggest is a sea change in Scottish politics after Nicola Sturgeon's resignation in February. It is likely to be the last byelection before the general election, and Labour sees it as a way to send a message to voters UK-wide about its electability.
Ferrier, who now sits as an independent, faced national opprobrium after she visited local businesses and travelled to and from the Commons despite knowing she was Covid positive in September 2020 – a criminal offence. She is appealing against a recommendation that she be suspended from the Commons; that appeal is expected to fail, triggering a recall petition. If that is signed by 10% of Rutherglen's voters, Ferrier loses her seat. Repeated visits to the area by the Guardian have found that anger at her behaviour has not abated.
The Scottish Labour deputy leader, Jackie Baillie, put it bluntly as she greeted shoppers with Shanks. "Rutherglen matters – to the UK party and the Scottish party. This is an opportunity for us to demonstrate clearly the difference that Labour would make in this local community, but indeed in local communities across the country. So it's of huge significance to us," she said.
"It's of huge significance to the SNP," she added, "and it really is going to be a contest between the two. So we are going to fight this hard."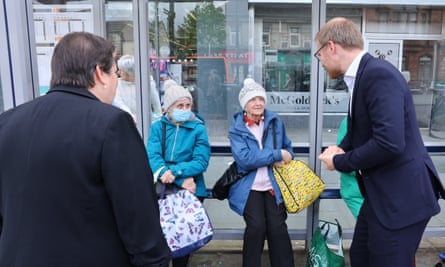 As much as this contest will be a milestone for Labour, it is also a test for the new SNP leader, Humza Yousaf, after a gruelling start to his tenure as first minister. The latest opinion polls show a marked fall in support for the SNP after Sturgeon's resignation, the party's tumultuous leadership election campaign, and the police raids on Sturgeon's home, with the arrest of her husband, Peter Murrell (later released without charge).
There are strong indications that Scottish voters are now less likely to choose which party to back based on their constitutional preferences. Some previous SNP voters are now favouring Labour, as are one-time Tory voters.
A Survation poll for True North, a political consultancy set up by former advisers to Alex Salmond, found that nearly 22% of SNP voters said the police investigation had made it less likely they would stick with the party. Sturgeon's resignation as leader had led 11% of SNP voters to feel less favourable towards the party.
Even so, the poll still put the SNP seven points ahead of Labour, by 38% to 31%, among people expecting to vote in a general election, excluding don't knows. Other recent polls show Labour closer to the SNP.
Yousaf told TalkRadio on Wednesday that he took comfort from those findings. "We've had some of the most difficult six weeks in the party's modern history," he said. "We've had almost wall to wall of negative and difficult coverage for the party, [but] despite all that negative attention, we are still leading and the most trusted by the people of Scotland."
The SNP, now in the process of selecting its candidate for Rutherglen, hopes to combat Labour's surge by sowing doubts in voters' minds about whether Keir Starmer will win an outright majority. Polling experts believe the margin of Labour's victory over the Conservatives in England's council elections was not large enough to translate into a majority in the Commons.
Yousaf said that could leave the SNP "holding the balance of power" at Westminster. He dismissed Starmer's repeated statements that Labour would never do deals with the SNP, arguing that after an election, Labour's position would change.
Speaking to The Take with Sophy Ridge on Sky News, Annaliese Dodds, the Labour party chair, argued that once Labour's surge in Scotland was added to the "crucial" seizure of target seats in England's councils, "I do believe we are on track to form a majority government".
In Rutherglen, Shanks, a modern studies teacher who lives locally, said voters were "crying out for new representation". But his selection – after he briefly quit the party under Jeremy Corbyn's leadership over its "bankrupt" approach to Brexit and "woefully inadequate" tackling of antisemitism – typifies Scottish Labour's determination to weed out potential candidates they fear could undermine Starmer's very carefully choreographed move towards the centre ground.
In the shortlisting process for Rutherglen, the Scottish party executive closely scrutinised candidates' business backgrounds, social media feeds and public statements. There was local anger that two popular councillors did not make the final four put forward for selection, with two constituency parties making complaints about the process to the party's leadership.
Activists who knock doors regularly in the constituency report a tangible shift in reception on the doorstep since the start of the year. Local people who voted the SNP into power 16 years ago are now giving them a hearing, in particular citing Sturgeon's exit as a reason to reconsider.
They are also conscious of the galvanising message that a big win here would send to activists and potential Labour voters across the UK. "We can't just win it, we've got to smash it," said one.