Ukraine can defeat Russia by end of year with western help, Zelenskiy says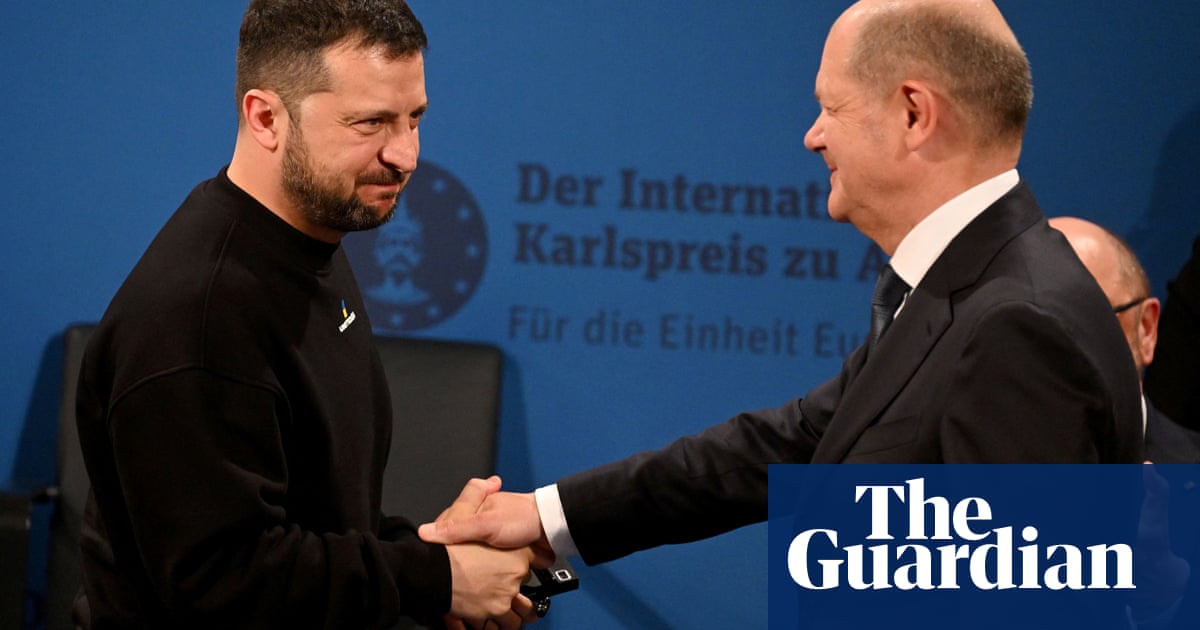 Volodymyr Zelenskiy has said Ukraine can defeat Russia by the end of this year with western help, and thanked Germany during a visit to Berlin for its "big" military and economic support.
Speaking after a meeting with the German chancellor, Olaf Scholz, Zelenskiy said Germany was the second biggest contributor to Kyiv after the US. Scholz's coalition government announced a new aid package to coincide with the Ukrainian president's visit, his first to Berlin since last year's full-scale Russian invasion.
The latest tranche includes more Leopard battle tanks, armoured infantry fighting vehicles and four new air defence systems. Asked if Kyiv now had sufficient weapons to launch its long-awaited counteroffensive, Zelenskiy joked: "It will take one more foreign trip. Then it's enough."
With Ukrainian troops advancing more than 10 miles this week around the city of Bakhmut, Zelenskiy said victory was entirely possible. "We can make the aggressor's defeat irreversible already this year," he said, lauding Germany as a "true friend and reliable ally".
On Sunday, Zelenskiy was on his way to Paris in the latest stop on a European tour. His warm comments in Berlin follow an often turbulent bilateral relationship with Germany. Ukrainian officials have previously accused Scholz of dithering over the supply of lethal weaponry. Last spring, Kyiv cancelled a visit by Germany's president, Frank-Walter Steinmeier, because of his perceived closeness to the Kremlin and to Russia's foreign minister, Sergei Lavrov.
There have been further tensions. German intellectuals have signed public letters calling for "peace" with Moscow, to the dismay of Kyiv. And there has been qualified support for Russia from some on the far-left and far-right of German politics, as well as from citizens living in the former communist East Germany. At one point, Ukraine's former ambassador Andriy Melnyk called Scholz an "offended liver sausage".
At Sunday's press conference, the German chancellor expressed complete solidarity with Kyiv, as previous disagreements were forgotten. He described Russia's war in unambiguous terms as an "imperial attack, which threatens peace in the whole of Europe".
"Russia must pull its troops out," Scholz said, adding Berlin supported a refusal by Ukraine's government to accept any deal dictated by Moscow to end the conflict.
Arriving from a trip to Italy, where he met Pope Francis and the Italian prime minister, Giorgia Meloni, on Saturday, Zelenskiy said Germany's biggest aid package yet was "saving Ukrainian lives". He promised western weapons would not be used to strike inside Russia. "We don't have time and energy for that. We are preparing an operation to liberate Ukraine's illegally occupied territory," he stressed.
During his latest trip, Zelenskiy pressed European partners to supply Kyiv with advanced war planes. Joe Biden's administration has so far ruled out delivering F-16 fighters. The Netherlands has said it is considering Kyiv's request. Ukrainian sources believe EU nations will overcome their hesitancy and eventually agree, as they did with the delivery of battle tanks and long-range artillery.
Ukraine's air force, meanwhile, said it was not responsible for the disastrous crash on Saturday of two Russian war-planes and three military helicopters inside Russian territory. They were shot down in the western Bryansk region, about 50km from the Ukraine border. Yurii Ignat, spokesperson for the air force in Kyiv, said Russia's own air defences were to blame.
Early on Sunday, Russian bombers hit Ukrainian targets again including Ternopil, the home town of the country's Eurovision contestants Tvorchi. Ukraine's state emergency service said there were two attacks. Two people were injured by missile strikes, which saw fires burning until 2.30am and left civilian buildings and cars damaged.
On the battlefield, Ukrainian troops continued to go forward in local attacks. According to the Institute for the Study of War, a US thinktank, Ukraine's troops regained territory on both flanks of Bakhmut, where fighting has raged for months. The advance relieved pressure on a key supply road into the city, which has been under intense Russian artillery fire.
Russia's defence ministry admitted that two of its commanders had been killed in the ongoing battle for Bakhmut. They were named as Col Vyacheslav Makarov, the commander of Russia's 4th Motorised Rifle Brigade, and Col Yevgeny Brovko, the deputy commander of an unspecified army corps. Brovko died in shelling and Makarov was wounded near Ivanivske village, west of the city, and died on the way to hospital.
It is unclear when Ukraine's counteroffensive might start. Speaking late last week, Zelenskiy said "more time" was needed, if large casualties were to be avoided, adding that some heavy weapons promised by the west had yet to arrive. In an interview with the German tabloid Bild on Sunday, Zelenskiy's adviser Mykhailo Podolyak said Ukraine had now seized the initiative. He said recent gains in Bakhmut were a prelude to a counteroffensive.
"It will be a hot spring-summer season. We will see catastrophic events befall the Russian army. It will be forced to leave the occupied territories very quickly," he predicted. Asked when this might happen, he replied: "We don't hint at anything. But there are only 17 days left until summer."