Sam Kerr waits and masters the moment as Chelsea's striker supreme | Jonathan Liew
Sam Kerr waits. Maya Le Tissier waits. There is a throw-in to be taken and a Chelsea player down injured on the turf and everyone else is just sort of milling about trying to look busy. Le Tissier puts a hand on Kerr's shoulder to let her know she's there. Kerr shuffles her feet and feints both ways to let Le Tissier know she could disappear at any moment. But mostly, they wait.
And when you think about it, waiting is perhaps the defining sensation of this job. Waiting on the back row of the bus before it leaves. Waiting for the team meeting to begin. Waiting in hotel rooms and dressing rooms and airport departure lounges and passport control. Kerr is 29 years old, and has been around this sport long enough to know that the vast majority of the moments that make up her day do not matter. And so she waits, priming and preparing herself for the handful of seconds that will define her.
By contrast, Le Tissier is 21 and pretty much everything that has happened to her has happened in a terrific hurry. Top-flight football at 16. Captain of England at every age-group level. Big move to Manchester United at 20. England proper at 20. This season, top of the Women's Super League and one of the players of the season. A World Cup this summer and a Leah Williamson-shaped vacancy in central defence. The talent is sublime. The potential is frightening. In Le Tissier and Millie Turner, United have a centre-back pairing that could last them the best part of a decade.
Up close, you can see why. There is a class and composure that is well beyond her years. Clean short passes into midfield, clean long passes over the top for the wingers to chase. In between times she directs play, shouts at her teammates, sets the tone and tempo. Meanwhile, she has the world's best striker zipped in her kit bag. As United swarm and scuttle all over Chelsea territory, Kerr has just nine touches in the first half. A job well done. But a job half-done. And against Sam Kerr, a job half-done is a job not really done at all.
This, perhaps, is the seal of quality that all the world's great strikers have in common: the ability to wait and not be tired by waiting. This has been perhaps Kerr's toughest season in English football: deprived of key accomplices through injury, doing the hard yards in a suffering team forced to squeeze out results like juice from a prune. In recent weeks, as the minutes have piled up and the niggling injuries have accumulated, she has begun to pare herself back a little, roaming less, conserving her energy, constricting her game to the width of the 18-yard box.
But in a strange way, this is exactly how Kerr wants it. She wants the game turned up to its hardest setting. She wants a puzzle to solve. A Wembley final, with the game taut and shuttered, with the best centre-half pairing in English football intent on stopping her: this is where she comes to eat. And so she perches on the shoulder of Le Tissier, waiting for the throw-in to be taken. Waiting for the space to open up. Waiting for the explosion.
The throw finds its way to Guro Reiten, and in that very instant Le Tissier and Kerr are standing on each other's toes. But Le Tissier has already seen what is coming next. Reiten is unchallenged, Pernille Harder is bursting into the right channel, and her defensive instincts tell her to take a step towards that flank. This is good defending, or at the very least logical defending: glimpsing the danger and trying to anticipate it. But this is the step that finishes her. Because while Le Tissier knows what comes next, Kerr is the only player on the pitch who knows what comes after that.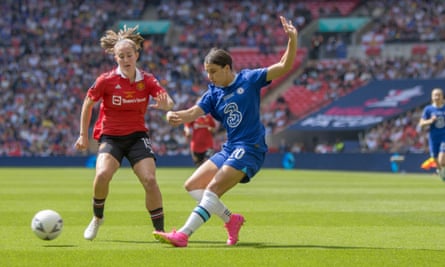 "Le Tissier has to step up for the goal," reckons one bloke on Twitter. "Should be marking Kerr tighter than that," insists another. The fact that these two instructions are diametric opposites of each other illustrates the boss-level difficulty of the assignment. So Le Tissier steps towards the ball and Kerr backs away from it, and suddenly there are five yards between them, and Harder crosses and Kerr scores, and that's how quickly it all happens. One second. One step. Chelsea win. Manchester United lose. Kerr lifts the Cup. Le Tissier is forced to stand in a semicircle watching her.
That, in a moment, is the cruel and summary violence of sport at its most elite level. And as well as United played, it was the mastery of the moment that proved the difference. For Le Tissier, a woman with an insatiable hunger for learning and growth, these are the lessons that will ultimately elevate her into the very top bracket. And as she dragged herself off the pitch, proud but distraught, it was hard not to conclude that the defender who left Wembley was already a better player than the one who entered it.