Chelsea claim FA Cup hat-trick after Sam Kerr sees off Manchester United
There can never be any doubting of Sam Kerr. Ever. Most players would hesitate before brazenly stating that they had "never been [to Wembley] and not won a trophy" on the eve of a FA Cup final, no matter how true. Those are words that could come back to bite and haunt, but for Kerr, the queen of visualisation, there was never any doubt that she would be lifting aloft a third successive FA Cup in front of a record crowd of 77,390 fans, or that she would be the one to step up, once again, and deliver in a season where she has been so heavily relied upon.
This is Chelsea's stage. The Blues have appeared in six FA Cup finals including five of the eight played at Wembley. Emma Hayes's side have played at the national stadium more than they have at Stamford Bridge. Their undefeated record against United, since the Manchester side was reformed in 2018, with only one point dropped, painted a picture of likely dominance.
Injuries have sucked some of the life from Hayes's side this season, with Pernille Harder and Fran Kirby's absences keenly felt, but once again Chelsea are delivering come May, and United were next in line for the sword.
A United win, in that context, would have been unexpected. Except it also wouldn't have been because Marc Skinner's side have been impressive in their swagger and consistency this season. A season which targeted Champions League football but has put them in the hunt for a league and FA Cup Double.
The expected unexpected was almost delivered within 20 seconds when Leah Galton latched on to the ball that Chelsea defender Ève Périsset had attempted to knock out of her path from Ella Toone's cross and turned in. The United fans roared but the flag was up, for Toone being offside in the buildup. It was a frustratingly late call, that punctured the early United party.
Hayes made three changes to the team that put seven past Leicester on Wednesday, with Harder dropped back to the bench as Chelsea manage her return from a lengthy spell out and Jessie Fleming and Maren Mjelde on in place of Jelena Cankovic and Jess Carter.
Meanwhile, there was just one change for United, with captain Katie Zelem back from suspension and Vilda Bøe Risa dropping out.
After a frenetic opening few minutes, where United would go close again, with Ona Batlle's ball in turned away by Mjelde, the first half lacked bite.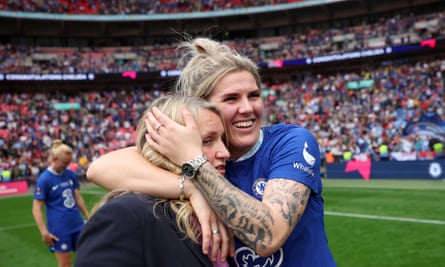 Perhaps the almost-goal had acted as a warning, but there was a tentativeness and stop-start nature to the first half that prompted the crowd to create some entertainment for themselves, with Mexican waves circling the pitch inside half an hour and a giant inflatable ball bounced around the bottom tier with greater enthusiasm than the ball on the pitch.
United did well to stifle the threat of Chelsea's most potent duo this term, Kerr and Guro Reiten, with full-back Batlle doing well to contain the Norwegian forward in particular.
Chelsea goalkeeper Ann-Katrin Berger would be called into action just past 30 minutes to paw away centre-back Millie Turner's effort after Magda Eriksson and Maya Le Tissier fell in a tangle as they vied for a header.
Chelsea had moments too, with an advantage played allowing Lauren James to send a looping header towards the far post that Mary Earps would tip on to the post.
Momentum shifted in Chelsea's favour with the introduction of Harder and Sophie Ingle just shy of the hour mark. Midfielder Erin Cuthbert had sent a warning pre-Leicester when she said if she "saw Pernille Harder coming off the bench, I'd be terrified."
She added: "It's players like her who can be the difference-makers in games which are such fine margins."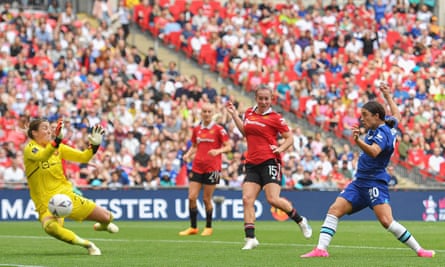 You could be forgiven for thinking that Cuthbert had been prophesising about the impact of Harder at Wembley, because it was so immediate. Within a minute of entering the fray, a mistake from Le Tissiersaw the Australian race free on the left before sending it into the middle for Harder, but it arrived just behind the Dane, whose eventual shot was weak enough for Earps to gather.
Moments later and it would be Harder providing for Kerr, sweeping in from the right, with Earps rooted to her spot, and cutting back towards Kerr but Batlle had read the danger and nipped ahead of the forward to clear.
That the goal came from the combination of Kerr and Harder, who have not been on the pitch at the same time since Harder's return, felt inevitable. Reiten's searching pass was collected by Harder who delivered towards the far post for Kerr to turn in. It was slick, instinctive and scarily easy.
Chelsea are in the driving seat in the league, with a game in hand and one point behind United, and a third successive Double is on the cards. In many respects, in a season where the level has shifted up a step across the league, this one would be the most impressive.