'It's a scary time': Alex Goode on state of Premiership after worrying year
After 15 years as a Saracens player, Alex Goode knows Premiership rugby inside out. At the age of 35, he is also among the league's most respected and perceptive voices. Accordingly, his blunt assessment of the 2022-23 campaign to date has real resonance. "It's been a worrying season," Goode says, softly. "When you're not sure about your livelihood … I think that's a very scary time."
Goode, speaking on the eve of his side's semi-final against Northampton at StoneX Stadium, is referring less to his own club, back in the big time again after their own well-documented salary cap travails, than the domestic game as a whole. There is not a player in the country who has watched the demise of Worcester and Wasps without an involuntary shiver and, with dark financial clouds still hanging over London Irish, even the most thrilling of title run-ins cannot dispel all the gloom.
The players, as so often, find themselves caught in the middle. Take Goode. In the twilight of a fine career, reaching another Twickenham final would mean a lot, but only if the wider game can also extricate itself from its present difficulties. "It's a shame, because there's actually been some of the best attacking rugby in the Premiership we've ever seen," says the man who has played more than 350 games in a Sarries jersey. "The to-ing and fro-ing of teams moving up and down the league has been fantastic and should be really exciting but it's just tinged with real worry.
"Seeing ex-teammates or people you know really suffering … the fear and anxiety so many players have gone through must have been horrendous. You hope that isn't the case again [with London Irish] but you just don't know and you fear the worst when you hear this stuff."
Hence why Goode is not solely preoccupied with Saracens' ability to deny Northampton's razor-sharp attack on Saturday and reach their seventh domestic final in the past 10 seasons. Like many of his peers, he is looking for fresh momentum and seeking more clarity from the game's leaders as the finer details of the new Professional Game Agreement are negotiated. "Certainty is probably the key," Goode says, "because then everyone can get behind Premiership rugby and start to enjoy it. With all that uncertainty around you can't do that.
"I can't speak for other senior players but at some point everyone has to come into a room and find a way. I don't just mean Premiership Rugby, the Rugby Players' Association and the Rugby Football Union. Some of the senior agents need to be in there as well. Agents get a bad reputation but they know what is going on with contracts, they know what clubs are going to do and how to get round it. I think they are important … you need to get everyone in the room and say: 'How do we meet in the middle to find common ground?'"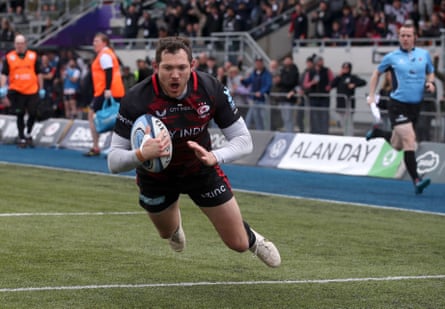 The sport's governance, in Goode's view, also requires an overhaul. "You need an independent person running the Premiership," he says. "You can't just have every owner of each club having their input. Then nothing gets done. The team that wants to bring it down to the lowest level decides what happens and you can't ever grow the game. So having an independent person in charge of Premiership Rugby would be the most important thing.
"Then just get in there and work out how we move the game forward. So that we have a game that is exciting, that people want to be part of but which also has drama and looks after player welfare."
One solution is staring English rugby in the face. On the field it needs to clone a few more Goodes; even in his mid 30s he remains a player with the artful skills to light up any game. Off it, the game could do worse than listen to the full-back reminiscing about the days when the sport was marketed by people who saw the promotional value in increasing neutral interest by stoking rivalries between clubs like Saracens and Northampton. Goode loved the "buzz" that approach generated and cites the former Saracens chief executive Ed Griffiths as a man ahead of his time.
"Some of his ideas were way off the mark but some were bang on [in terms of] trying to be more innovative and bring in different younger fans who have not been fans before," he says.
"Those games at Wembley, the crossbar challenge, the music … I remember him saying he would give Bath fans their money back if Gavin Henson scored any points against us. I said to him: 'You're mad, what are you thinking'? To which he replied: 'Do you know how many away fans are actually coming? About four. It is great publicity.' Things like that are very smart and true."
Which begs another uncomfortable question: how many of today's semi-final players would be instantly recognisable to the average passerby in Barnet or Mill Hill? Maro Itoje and Owen Farrell, possibly. Courtney Lawes? The Premiership is pursuing ways to broaden its fanbase but, ultimately, it is up to the club game to be so attractive and such great value for money that gimmicks become superfluous.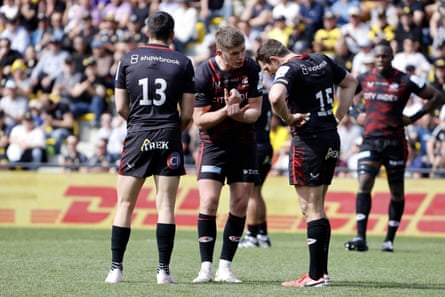 This particular game feels like a prime example. Northampton can be brilliant to watch but rather more porous if the opposition pack start dictating terms in the final quarter. The Saints will need to invoke the spirit of their glorious away semi-final win against the same opponents exactly a decade ago. If not, Sarries will fancy turning defence into relentless attack and the final margin risks being sizeable.
These occasions also tend to bring the best out of experienced players like Goode, who has re-signed at Saracens for another year and is not the type – particularly with Elliot Daly on the bench – to sit around resting on his laurels. "Call me negative but when it comes to knockout rugby it's about winning … I'll take a 6-3 classic win."
Goode is first and foremost a competitor and, having narrowly lost in last year's final, Sarries are no longer blase about hoisting trophies. "I guess when you're younger you think it's going to happen quite a lot. Then you get to my age and you think: 'Is this the last chance I'm going to get?'" Goode says. "You know you've got to take them. If the opportunity to play in a final is not exciting, you're probably in the wrong business."
For all the bad and ugly stuff in the modern English game, there is still some Goode to admire.