Alcaraz and Sabalenka shine but women players feel overshadowed in Madrid
From the moment Carlos Alcaraz took his first steps inside Madrid's Caja Mágica this year, the level of expectations and attention resting on his shoulders was immense. His achievements as a teenager had already commanded so much attention, but in the absence of Rafael Nadal and Novak Djokovic he was, on home soil, the show.
Throughout the fortnight at the Madrid Open, Alcaraz could not train without lines of spectators surrounding his court, who also demanded lengthy autograph sessions of him each time he walked from the practice courts to the locker room. The stadium was filled for every match he played and with an array of Spanish athletes and celebrities who waited afterwards for photographs with him outside the player lounge.
For many other players the unwavering attention would have been crippling, but in regards to Alcaraz it never seemed the title would go to anyone else. It was the lower ranked players, Emil Ruusuvuori and Jan-Lennard Struff, who startled him the most. Both times he showed his growing maturity by making the necessary adjustments to win.
Alcaraz faced four seeds and three top-20 players, Alexander Zverev, Borna Coric and Karen Khachanov, and he dismantled each one in straight sets. He dominated from the baseline off both wings, peppering opponents with drop shots and incessantly closing down the net. Alcaraz's bag is so deep; he can win points in so many more ways than anyone but Nadal and Djokovic, and he has an innate understanding of how best to use his skillset.
This is no longer the free swinging, nothing-to-lose period of Alcaraz's career. Every week brings another enormous result to defend and the 20-year-old is still only a few months removed from a three-month injury layoff that forced him to miss the Australian Open. His response: a 29-2 (94%) record this year and four titles in six tournaments played, including two Masters 1000 events. By merely stepping on the court in Rome later this week, he will head to Roland Garros as the world No 1.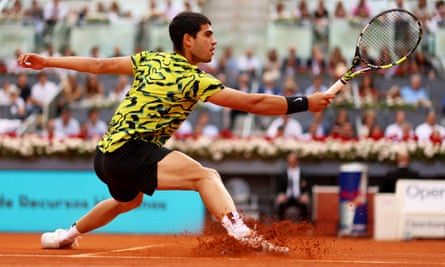 As all the attention in the men's draw rested on one competitor, the women's tournament was notable because of its duo. Immediately after Aryna Sabalenka and Iga Swiatek faced each other in the Stuttgart Open final, the top two underlined their superiority by following it up with another final.
The final on Saturday lived up to its billing. It was an intense and brilliant exhibition of considered attacking tennis. While Sabalenka has evolved into a calmer and more thoughtful player, her ballstriking is as brutal as ever and she continually unloaded winners from all parts of the court. It is a well-suited matchup alongside Swiatek's hybrid style of attack and defence. The No 1 pressured Sabalenka until the end, constantly forcing her into difficult positions, but the winners just kept on flying by.
It was clear by the end of the week that both had embraced the rivalry. While Sabalenka admitted that Swiatek's dominance was a direct inspiration for her to level up this year, the Belarusian has ensured the Pole will have to keep on improving in order to maintain her place at the summit. The more they play each other, the more they will improve as players and the attention will grow.
Despite how the players delivered on the court, one of the defining threads of the Madrid Open was its bitter finish. On Sunday, Victoria Azarenka and Beatriz Haddad Maia defeated Coco Gauff and Jessica Pegula to win the women's doubles final, yet the tournament denied the women a trophy ceremony, as is normally held after all finals and was afforded to the men's doubles champions. Afterwards, Gauff pointedly opted to tweet the speech she was denied in person.
Madrid's treatment of its women players has been a regular talking point since it gained the WTA event in 2009. In the past, the tournament has scheduled the women either extremely early or late in the day and frustration from the women over the years has been palpable, despite the event awarding equal prize money.
Both women's singles finalists had used their own speech to reference other issues, Swiatek mentioning her 1am semi-final finish on Friday morning and Sabalenka quipping about her cake. The contrast in size of the cakes presented to Alcaraz and Sabalenka, who share a birthday, had generated significant attention. To many, it was simply a metaphor of the treatment they receive there.
Andy Murray did not enjoy his time in Madrid after losing in the first round, but he took a wildcard into the strong Aix‑en‑Provence challenger and finished the following week with a title and a top‑20 win against Tommy Paul. It may only be a challenger title but it underlines Murray's resilience and it has afforded him a sensation he has not experienced since 2019 – ending a tournament week without a loss. As Murray's confidence grows, he will look to build on his form and position himself for a strong grass season.