Post Malone review – mesmerising shapeshifter cements his stature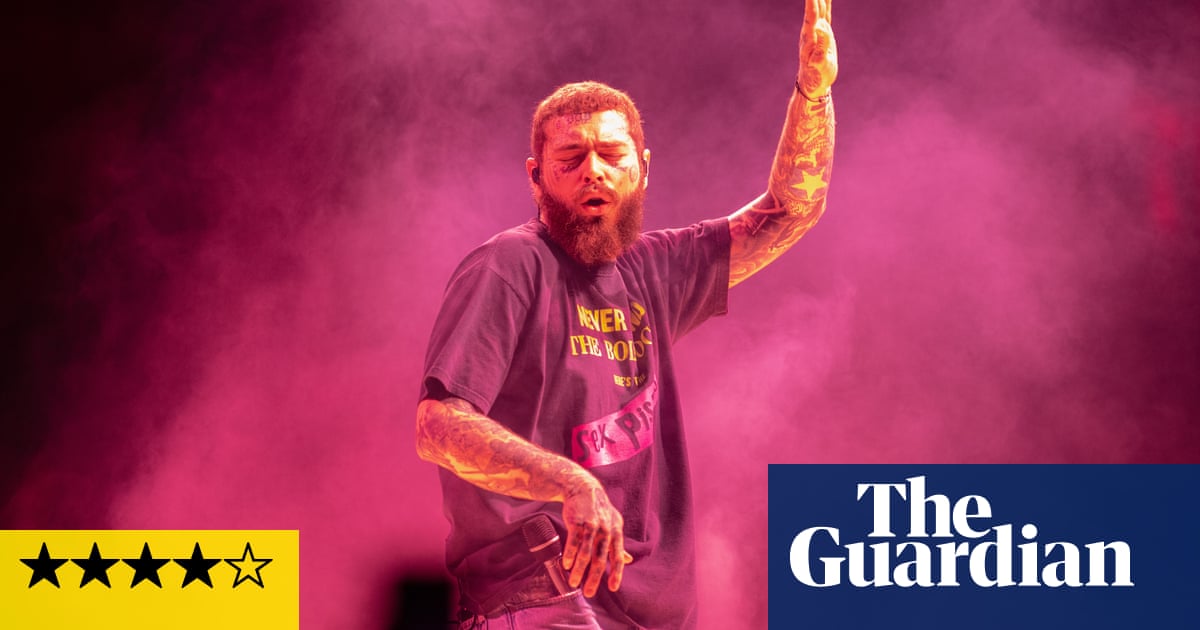 'I came to play some shitty songs and party a little bit while I do it," grins Post Malone, flashing a mouth full of metal, armed with a cigarette in one hand and a plastic cup in the other. Awash in red light, in appearance he is every inch an iconoclast – so tattooed that he's more ink than skin – but his "shitty songs", which have scaled staggering commercial heights, tell a different story.
Having clawed his way from the SoundCloud trenches to notoriety with his warbling trap hit White Iverson in 2015 (one of his many tracks to surpass 1bn streams), he has gone on to make zeitgeist-defining anthems with a rogue's gallery of somebodies, from Justin Bieber to Nicki Minaj and Ozzy Osbourne. A "culture vulture" to his detractors – and at best a musical chameleon – he gave a performance on the first of three stature-cementing nights at the O2 Arena that saw him shapeshift from 808-swelling rapper on the crowd pleasing Wow to warped country balladeer with his acoustic performance of Stay. He tries all these styles on and shrugs them off again, just like the cowboy hat he momentarily wears as a nod to his Texan roots before casting it aside.
Sustaining his restlessness is that voice, that strangled life-or-death delivery which lends its appeal to almost any genre he guns for. His inability to embody a sound beyond treating it as a costume is tiresome, but the sheer emotion with which he sings is mesmerising to behold. The audience are enchanted not as much by his sugary rendition of Sunflower with guest Swae Lee, or by his hollow hip-hop flexing, but by agonised romantic eulogies such as I Fall Apart.
His performance is at its most convincing not when he struts across the stage as he believes a self-proclaimed rock star should, backed with pyrotechnical power as he smashes up his acoustic guitar, but when he is brought to his knees with feeling. As he hands his fans sunflowers and the debris from the instrument's wreckage, it's softness that Post Malone wears best.