'Are the police too PC?' How daytime TV became a hotbed of right-wing politics
'Should protesting be banned?" It's not the type of debate you might expect on the ITV lunchtime chatshow Loose Women, but that's what we got recently, when the show's social media account casually asked viewers for their thoughts on de facto martial law. The call-out was in response to a Just Stop Oil protest disrupting the World Snooker Championship by covering a table with orange chalk, as well as animal rights protesters being arrested at the Grand National.
The show's embarrassing Twitter poll sparked quite a reaction, with almost 100% of respondents voting no, before it was hastily deleted. On the programme a few hours later, the question was rephrased to "Do disruptive protests work?" and, notably, the results of the poll were not read out, as would have been normal. Can't think why.
This gaffe isn't wholly representative of the day-to-day topics covered on Loose Women, a programme on which a rotating panel of women – most of whom came to daytime TV via journalism, acting and reality TV – debate a variety of issues. But the misjudged poll prompted viewers to lament that Loose Women has become much more political in recent years, often feeding into rightwing talking points and culture-war narratives. Writer Nadeine Asbali tweeted that protest-gate was just another example of how British daytime TV is "simply the normalisation of extreme rightwing politics".
Has daytime TV become more rightwing? Since 2016, Nick Walker has been curating Daytime Snaps, an out-of-context Twitter account that showcases the "bizarre, surreal" moments on British daytime TV. "I do feel that the funny, offbeat moments are happening less now," he says, "perhaps as a consequence of them spending more time on newsy topics."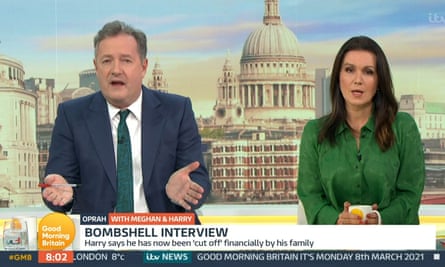 British daytime TV is by no means a monolith, but ITV's morning shows seem to be where the majority of its controversies happen. Walker thinks Piers Morgan's stint as a presenter on Good Morning Britain – a show with a politics-first, fractious agenda – "changed the tone and texture" of the channel's daytime output. "Good Morning Britain," he says, "has now made the 'debate' segments, where opposing guests have a scrap over a news story, a core part of these programmes. Making 'noisy' moments seems to have become the goal."
Now the clashes Walker mentions are appearing on lifestyle-focused shows such as Loose Women and This Morning. These have always been topical, of course, but they didn't always feel so political and conflict-based. A producer who has in recent years worked on Good Morning Britain, This Morning and Loose Women (and who preferred not to be named) tells me that there has indeed been a "Piers Morgan effect", which has changed what is expected of presenters on other ITV shows. "They have genuinely held opinions," says the producer, of Loose Women presenters, "but they'll obviously be amped up. Arguments and confrontation are more exciting than people agreeing."
The shift seems to have been happening for a while. In 2014, actor Lisa Maxwell quit Loose Women after six years as a regular panellist, lamenting that it was "not the same show" any more. "It used to be about a group of women who all know each other really well and have lots of chemistry," she said. "It has become a lot more serious and less personal … Now it's just about giving political opinions." A year later, Coleen Nolan was criticised after comparing support for gay marriage to support for Isis – in a debate about a bakery.
The answer to whether ITV's daytime TV shows are becoming more culture war-focused may lie in where they take their inspiration from. "In the morning," the producer tells me, "we'll go through every paper and find the topics that we think the people of Britain are talking about." Given the majority of papers in the UK lean right, particularly the tabloid press, then it's hardly surprising a more conservative framing finds its way on to these shows.
Looking at This Morning's YouTube archive from 2015 and 2016, there are many clips of benefit claimants – almost exclusively mothers with a lot of children – being grilled by the wealthy presenters over how much money they receive. It's a power dynamic that feels plainly exploitative, but also influenced by the tabloid agenda at the time, where "benefit scroungers" were characterised as a public menace. "This Morning is a tabloid TV show," the producer says, "and it does follow their lead. It's probably closest to the Daily Mail. But it's kind of a vicious cycle, because the more it's on TV, the more the papers cover it and then the more it's on TV again."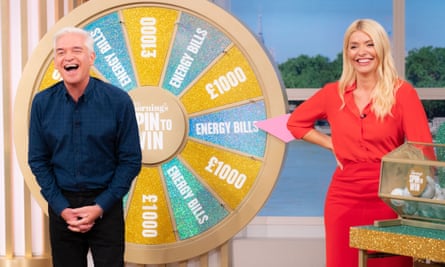 There is a similarly symbiotic relationship between Loose Women and the tabloids, where on-air "clashes" are written up as news stories, which in turn promote the show. The hosts are encouraged to be opinionated because that drives ratings, social-media buzz and coverage. "A lot of the Loose Women are professional journalists," says the producer. "They're not stupid, they know what they're doing."
On This Morning, though, it's now a different story. The producer says the show has been trying to avoid any dramas involving its hosts, after a string of controversies. Earlier this year, Holly Willoughby and Phillip Schofield were criticised for a segment offering viewers the chance to "spin the wheel" and get their energy bills paid. The prize was deemed insensitive during the cost-of-living crisis and quietly removed after viewers complained to Ofcom. Last year, the pair were booed at the National Television awards while accepting the fan-voted award for best daytime show. The previous month, they had been accused of skipping the long queue to pay respects to Queen Elizabeth II in London, with more than 75,000 people signing a petition demanding they be sacked. (They strongly denied skipping the queue and ITV said their jobs were never at risk.)
Social media has put Willoughby and Schofield under a new level of scrutiny. In the 2019 general election campaign, some viewers were unhappy at the difference in optics between the show's interviews with Jeremy Corbyn and Boris Johnson. The presenters were branded "shameful" for posing for a selfie with Johnson, which suggests people expect a level of impartiality from them that they don't necessarily expect of Loose Women.
More recently on Loose Women, they've been debating a politically charged topic: whether the police have, as home secretary Suella Braverman suggests, become "too PC" (70% of respondents replied "yes" on Twitter). A conservative framing in debates on this show is probably to be expected, given its panellists have tended to be disproportionately affluent white women over 40. In recent years, though, the show has made efforts to make its panels – and presumably the viewpoints they express – more diverse, with athlete Kelly Holmes, actor Sunetra Sarker and journalist Charlene White joining the presenting lineup. Reality star Stacey Solomon, who joined in 2016, famously declared she "doesn't see the point" of the royal family, much to the bewilderment of the other panellists.
As a daily opinion show with a varied cast, Loose Women can be a mixed bag. RuPaul's Drag Race judge Michelle Visage criticised the show in 2019 for not being "equipped" to discuss transgender issues after Gloria Hunniford referred to trans women as "he/she". But recently, trans model and writer Munroe Bergdorf appeared on the show to dispel misinformation about trans people. On Prince Harry and Meghan Markle's 2022 Netflix docuseries, it was noticeable how many clips there were of Loose Women in montages of the couple being criticised by the British press. But it also featured Denise Welch, who has been on the show for years, passionately defending them. "The nature of Loose Women is that, occasionally, you're going to hear something offensive," the producer says. "But I would ask: is that – and having those views rebutted – what the viewers want? Probably yes."
Thankfully, daytime viewers who want to avoid conflict and controversy still have plenty of choice on British TV. On ITV, Lorraine seems to have bucked the trend, but it does feel like the channel's morning output is increasingly entwined with the culture wars and a more conservative, tabloid-influenced framing. "It would be very sad if British daytime TV morphed into US cable news and was just extreme opinions and tragedy all day long," Walker says. "Daytime viewers deserve better than that."