Nigel Slater's recipe for orange madeleines with dark chocolate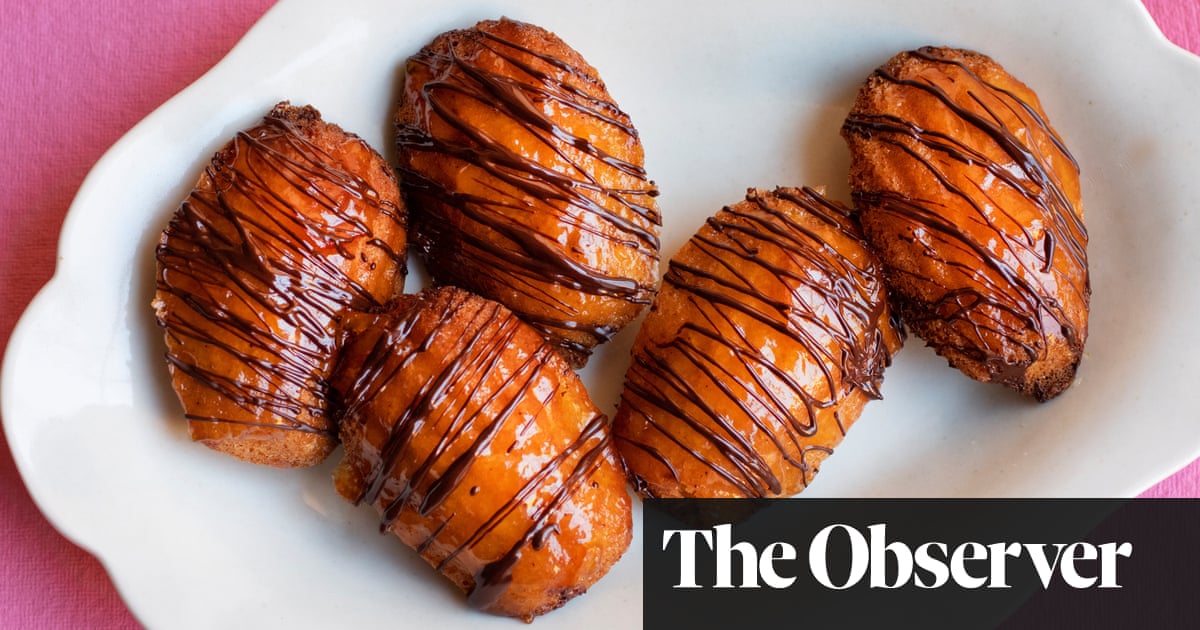 I think of these as Jaffa Cakes for grownups. Preheat the oven to 220C/gas mark 7. Cut 100g of butter into small pieces and put them in the bowl of a food mixer. Add 100g of caster sugar and a couple of drops of vanilla extract then beat until soft and fluffy, regularly pushing the mixture down the sides of the bowl with a rubber spatula.
Break 2 large eggs into a small bowl and beat lightly with a fork or small whisk. Introduce the beaten egg to the butter and sugar mixture a little at a time. Stir in 50g of self-raising flour and 50g ground almonds.
Divide the mixture between 12 madeleine tins or small cupcake cases. Bake for about 10-12 minutes. They are ready when they are lightly firm to the touch.
Remove the madeleines from their tins with a small palette knife and place on a cooling rack. Meanwhile, in a small pan, melt 150g of orange marmalade with 1 tbsp of water and a couple of drops of orange flower water. Brush the cakes generously with the marmalade.
In a small bowl resting over a pan of simmering water, melt 80g of dark chocolate without stirring. Trickle the melted chocolate over the madeleines and leave until the chocolate has set before serving. Makes 10
White chocolate would work well in place of the dark, its extra sweetness is a nice contrast to the marmalade.
Apricot jam, sieved if it has large pieces of fruit in it, is an excellent substitute for the orange marmalade.
As the chocolate melts, push any unmelted chocolate down into the liquid chocolate with a spoon, rather than stirring it, which can cause the chocolate to seize.
Follow Nigel on Instagram @NigelSlater